Ohio State Buckeyes vs. Maryland Terrapins Pick 1/7/20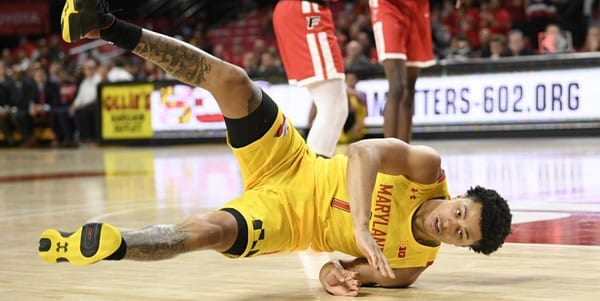 Ohio State Buckeyes (11-3 SU, 10-4 ATS) vs. Maryland Terrapins (12-2 SU, 6-8 ATS)
When: Tuesday, January 7, 7 p.m.
Where: Xfinity Center, College Park, Md.
TV: ESPN2
Point Spread: OHST -2/MD +2 (Best Basketball Lines)
Total: O/U 137
Last Time Out:
Ohio State lost to Wisconsin 61-57; Maryland handled Indiana 75-59.
Scouting the Buckeyes:
There is no doubt about it now: Ohio State is absolutely leaking oil. The Buckeyes' fast start seems to be nothing more than a memory at this point, as Ohio State is coming off a pair of losses to West Virginia and Wisconsin, both of which were played in the Buckeye State. Now Ohio State has to travel to Maryland and face a Terrapins team that looked very good against Indiana.
What's the problem for the Buckeyes? Simple: they aren't taking care of the basketball. Against West Virginia, the Buckeyes coughed up the ball 22 times, and 15 of those were unforced errors. Against Wisconsin, the Badgers scored 16 points off of turnovers and took control of the game. Ohio State still has several solid wins, but the Buckeyes' wins are getting less impressive by the day. Kaleb Wesson is increasingly becoming the only player the Buckeyes look for in clutch situations, as he ended up one of just two players to make a basket in the final 17 minutes of the Wisconsin game. With Kyle Young questionable for the Maryland game, Ohio State is going to depend even more on Wesson unless they find a solution, which looks unlikely.
Scouting the Terrapins:
Jalen Smith only played 17 minutes against Indiana, but it was a very productive 17 minutes. Smith scored 19 points in his time on the court as Maryland blew out the Hoosiers and only allowed the margin to be anything close by backing off in the final few minutes. That was a big step forward for a squad that might have seen its national championship dreams derailed by the Mitchell twins choosing to leave rather than come off the bench, as Maryland showed that it can still be a pretty solid team even without the Mitchells. Anthony Cowan and Smith have to step up and show that they can carry this load, which could be a challenge given that Cowan was already playing almost 33 out of 40 minutes a game. Can that continue?
X-Factor:
Defense. These teams seldom give up open looks to anybody, as Maryland gives up 61.8 points per game, and Ohio State is even better at 58.4 points per game. These two teams know how to keep points off the board and deny good looks at the basket, as they've displayed multiple times this season. To date, Maryland has only allowed four opponents to top 70 points, and Penn State was the only one of those opponents from the Big Ten. Ohio State is even better, only allowing Penn State and Minnesota to top 70. The winner of this game is going to be the team that doesn't get frustrated and knocks down the few looks it gets.
Ohio State will Cover if:
The Buckeyes can take care of the basketball. Ohio State is beating itself over and over with careless mistakes, and if that continues, the Buckeyes will honestly be lucky to finish in the top half of the Big Ten. Ohio State has the talent to win the league, but the Buckeyes are blowing it with careless errors. If the Buckeyes can cut back on the mistakes — no easy task against a defense that ranks 11th nationally — they'll be in great shape.
Maryland will Cover if:
The Terrapins can get another strong game out of Smith. Smith has the hardest job because he's got to worry about Kaleb Wesson, but he doesn't have to win that battle. All he's got to do is fight Wesson to a draw and let Cowan get the job done on the offensive end. If Smith can stay within five points of Wesson, Maryland will be just fine.
Dan's Pick to Cover the Spread: I've been pretty high on Maryland and a lot less high on Ohio State after the past couple weeks. Seeing the Terrapins rout, Indiana only encourages me that Maryland has things figured out, and Ohio State is still trying to find itself. I don't know if Maryland is going to end up the best team in the Big Ten anymore, but I think the Terrapins are where they need to be and should be able to pull off a win here before they face a tough test at Iowa later in the week. Right now, they have to take care of business at home, and I think they're going to do precisely that. Give me the Terps. Where are you betting your pick? Does your sportsbook allow you to bet on games at discounted odds? If not, you need to make the switch to -105 betting at 5Dimes. It will save you tons of money! Click here to check it out today!
100% REAL CASH up to $300

USE BONUS CODE:
PREDICT100