Oregon Ducks vs. Colorado Buffaloes Prediction 1/2/20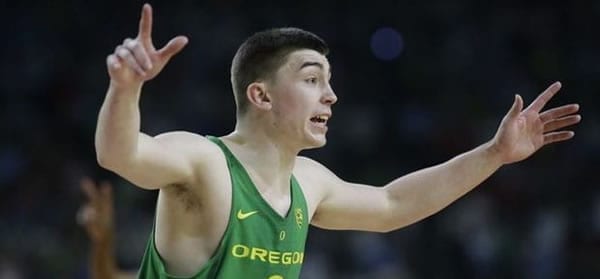 Oregon Ducks (11-2 SU, 10-2 ATS) vs. Colorado Buffaloes (11-2 SU, 5-6-1 ATS)
When: Thursday, January 2, 9 p.m.
Where: CU Event Center, Boulder, Colo.
TV: ESPN2
Point Spread: ORE -1.5/COLO +1.5 (Bovada - Bet this game for FREE by depositing $200 and you get a $100 bet FREE!)
Total: O/U 138
Last Time Out:
Oregon crushed Alabama State 98-59; Colorado routed Iona 99-54.
Scouting the Ducks:
Guard play is the name of the game for the Ducks, and nobody in the Pac-12 does that better than Payton Pritchard. Pritchard can score from anywhere and set up teammates, making him a first-rate option for putting up points in a hurry for the Ducks. Beyond him, Oregon is very much a guard-heavy team that's built around patience. The Ducks don't push the tempo much, but they do a fine job of making sure that they cash in on their possessions. Oregon's lineup shoots almost 50 percent from the floor, and nobody who gets significant playing time for the Ducks shoots less than 43 percent. Plus, Oregon holds its own on the glass, and the Ducks do that despite their top four leading scorers all being guards. In short, this is a smart, well-balanced team that has brought a lot of respect back to the Pac-12.
More Picks: Seahawks vs Eagles Pick ATS >>>
Scouting the Buffaloes:
Say this for Colorado coach Tad Boyle: he's not afraid to make changes to a good situation if he can make it into a better one. Boyle decided to experiment with his lineup against Iona, and while really anything would have worked against the Gaels, this was the perfect time for him to try something new, as the Buffaloes had nothing to lose. Shane Gatling got off the bench, and while he didn't have a breakout game by any means as he did against Colorado State, he did show enough to earn more playing time with his performance.
Colorado's lineup doesn't have any "one star", as its leading scorer McKinley Wright only averages 12.8 points a game. But the Buffaloes win because they're well-coached and get contributions from several different sources, which is why getting Gatling going is so critical for them.
X-Factor:
Elevation. The Rocky Mountain Road Trip is widely seen as the toughest trip in the Pac-12. Simply, because Colorado and Utah are 500 miles apart and are the only schools in the league, which add elevation into the equation, as Salt Lake City sits 4,327 feet above sea level and Boulder is at 5,430 feet. Thin air can make a big difference as far as a team's ability to keep its energy and keep the ball moving. Oregon might be uniquely qualified to deal with the Rockies this season because the Ducks play a slow tempo, but it's not for nothing that the home team is 11-1 in this series since Colorado became a Pac-12 opponent and the Ducks have never won a Pac-12 game in Boulder.
Oregon will Cover if:
The Ducks can get a top performance out of freshman center N'Faly Dante. Dante has only recently become eligible, and he gives Oregon a post presence that it has not had for much of the early part of the season. Obviously, coach Dana Altman is doing his best to work Dante into the rotation, and so far, Dante has been a decent piece for the Ducks. He has to keep up the progression from the eight points a game he's averaging and make himself the force inside that Bol Bol never got to be for last year's squad. Getting more out of him would really help.
Colorado will Cover if:
The Buffaloes can force the Ducks to exhaust themselves in the high altitude. Colorado plays at the highest elevation of anyone in the Pac-12, and that's a rather significant advantage for the Buffaloes, who are used to playing in thin air. Oregon is built around being methodical, so Colorado needs to push the tempo in this game more than it usually does to try to get the Ducks to use up more of their energy early in the game. If Oregon can pace itself, the Ducks can feed off the silence from a CU crowd that hasn't been the best at showing up for the Buffaloes this year.
Dan's Pick to Cover the Spread:
Oregon is an outstanding team, but I cannot ignore the struggles that the Ducks have had in Boulder. During Pritchard's freshman year, Oregon took a truly great team to Boulder, as the Ducks would take their season all the way to a Final Four loss to North Carolina. The Ducks still lost to Colorado by a 74-65 count, which was the only game that they dropped in January. Plus, it was one of only two conference games that Oregon team lost all season, and the other was at a UCLA squad that finished ninth in the nation. That season, Colorado finished seventh in the Pac-12.
So the problems of playing in Boulder are long and well-documented for the Ducks, and I just don't feel comfortable taking Oregon to get the win on the road. Reluctantly, give me Colorado to keep the wins coming for the home team. Where are you betting your college basketball picks? Does your book sock you -110 odds? If so, you're overpaying and need to make the switch to -105 at 5Dimes! It'll save you TONS of money each season! Register for discount odds betting by clicking here!