[et_pb_dcsbcm_divi_breadcrumbs_module hide_homebreadcrumb="off" homebreadcrumbtext="Home" separator="sep-raquo" hide_currentbreadcrumb="off" homebreadcrumborientation="left" _builder_version="3.8″ fontsbreadcrumbs_font="Lato||||||||" fontsbreadcrumbs_text_color="#000000″ fontsbreadcrumbs_font_size="15px" fontsbreadcrumbs_line_height="16px" fontsseperator_font="||||||||" fontsbreadcrumblinks_font="||||||||" fontsbreadcrumblinks_text_color="#2567cf" custom_margin="25px|||" custom_margin_phone="30px|||" custom_margin_last_edited="off|desktop" custom_css_main_element="font-family: Helvetica Regular;" disabled="on" global_module="3641″ saved_tabs="all"][/et_pb_dcsbcm_divi_breadcrumbs_module]
Pacific Tigers vs. Gonzaga Bulldogs Pick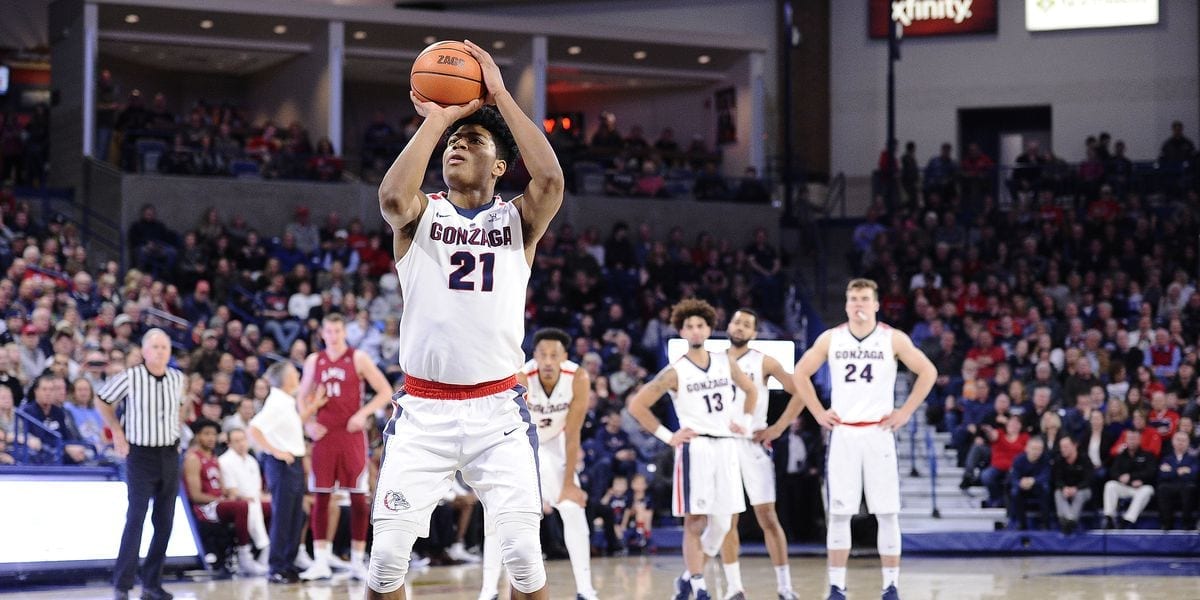 Pacific Tigers (10-7 SU, 8-7 ATS) vs. Gonzaga Bulldogs (14-2 SU, 12-4 ATS)
When: Thursday, January 10, 2019 – 11 PM ET
Where: McCarthey Athletic Center, Spokane, Wash.
TV: ESPN
By: Dan Jamison, College Basketball Handicapper, Predictem.com
Point Spread: PAC +24.5/GONZ -24.5 (Bovada Sportsbook)
Total: O/U 158.5
Last Time Out: Pacific lost 73-64 at San Diego; Gonzaga beat Santa Clara 91-48.
Scouting the Tigers:
Pacific has been struggling for a while now, having lost three of its past four games and barely escaped from the likes of Long Beach State and Texas-Permian Basin, not exactly a murderer's row of opponents. What's made life difficult for the Tigers as of late is that their defense isn't getting enough stops and their offense isn't making up the difference. Pacific has survived almost entirely on its ability to get to the free throw line, as their shooting for the season is a pedestrian 45 percent and they don't rebound the ball well enough to create second chances.
Scouting the Bulldogs:
It seems like it's been forever since Gonzaga's loss to North Carolina, even though it's been less than a month. It just seems like forever because Gonzaga was apparently embarrassed by giving up 103 points in Chapel Hill and has responded by locking down on its past five opponents. Since its loss to the Tar Heels, Gonzaga hasn't even allowed an opponent to reach 60 points, holding its foes to 55, 40, 51, 54 and 48 points respectively. Part of that is because the schedule has gotten much easier than facing the likes of Duke, Tennessee and North Carolina, but part of that is because Gonzaga is just that good.
Bovada Sportsbook launched in 2001. From the beginning, priority was given to the user experience. Most online sportsbooks used one of three out of the box software platforms for their user interface. Bovada spent millions creating its own from the ground up. Its support team was also a focus and offer bettors what they wanted. They were one of the first bookmakers to publish NASCAR odds and driver prop bets like individual matchups. It was so good and friendly, that customers would routinely call to chat about the races when they didn't really need any assistance. Bovada eventually had to incorporate limiting casual conversation into their employee training because players enjoyed using customer service for the social element. To this day, Bovada remains focused on a fun experience for their NASCAR bettors. That includes simple bonus plans like the current offer of 50% CASH Bonus to start your race betting.
X-Factor:
Overconfidence. Can Gonzaga stave it off? The Bulldogs are at the point of their schedule where they're likely just competing against their own standards. Saint Mary's will challenge the Bulldogs as usual, and San Francisco seems to have its best team in years, but otherwise, Gonzaga doesn't look like it's going to get tested much in the West Coast Conference. That can cause college athletes to overlook the likes of a Pacific, which would open the door for the Tigers to make this game closer than people expect.
Pacific will Cover if:
The Tigers can get to the free throw line. Pacific's entire strategy is built around getting to the free throw line and knocking down its foul shots. The Tigers have shot 437 free throws this year, second in the nation only to Central Michigan. Unlike Central Michigan, however, Pacific takes full advantage of its chances from the charity stripe, hitting 76.7 percent of its foul shots. That's good for 14th in the country, and it's the way that Pacific can stay in the game. If the Tigers aren't getting to the line, it's going to be a long night.
FREE PICK: Michigan vs Illinois Basketball – Tonight 8pm EST
Gonzaga will Cover if:
The Bulldogs can force turnovers. Gonzaga has really stepped up its defense in its past five games against lesser competition, and Pacific isn't the greatest at making the right decisions with the ball. The Tigers average just 11 assists to 14 turnovers, a sign of a bad ball-handling team. Given that Gonzaga has forced 18 turnovers on average in its past five contests, that's an open invitations for the Bulldogs to pressure Pacific and create lots of transition opportunities. Cash those in, and Gonzaga won't be stopped.
Dan's Pick to Cover the Spread:
Gonzaga fouls a fair amount, which makes me skittish about taking the Bulldogs to cover such a high margin against a team that is so deadly from the free throw line. But in making this pick, I find myself coming back to Pacific's game against San Diego. The Toreros are not exactly shy about fouling their opponents, and they committed 20 fouls against Pacific, which shot 17-of-23 from the stripe. Yet when all was said and done, San Diego walked off with a nine-point victory.
NFL: Chiefs vs Colts Line Rising
Why? Because Pacific's offense just isn't up to par with the upper echelon of the West Coast Conference. That's a major problem because Gonzaga has its own category above the upper echelon of the WCC. The Bulldogs have embarrassed one opponent after another this season, and there's little to suggest that Pacific is going to break that trend, especially when you consider that they're going up to Spokane to try.
Given that the Tigers don't make great decisions with the ball, what you really have in this matchup is a team that shoots free throw well but does little else to suggest that it can hang around with Gonzaga to even get to the stripe. Unless Gonzaga doubles its season average of 17 fouls, Pacific won't get to the line often enough to have a chance in this game — and even that might not be enough.
There's just not enough here to justify taking Pacific. Despite the high spread, I've got to go with Gonzaga in this one.