Washington Huskies vs. Gonzaga Bulldogs Pick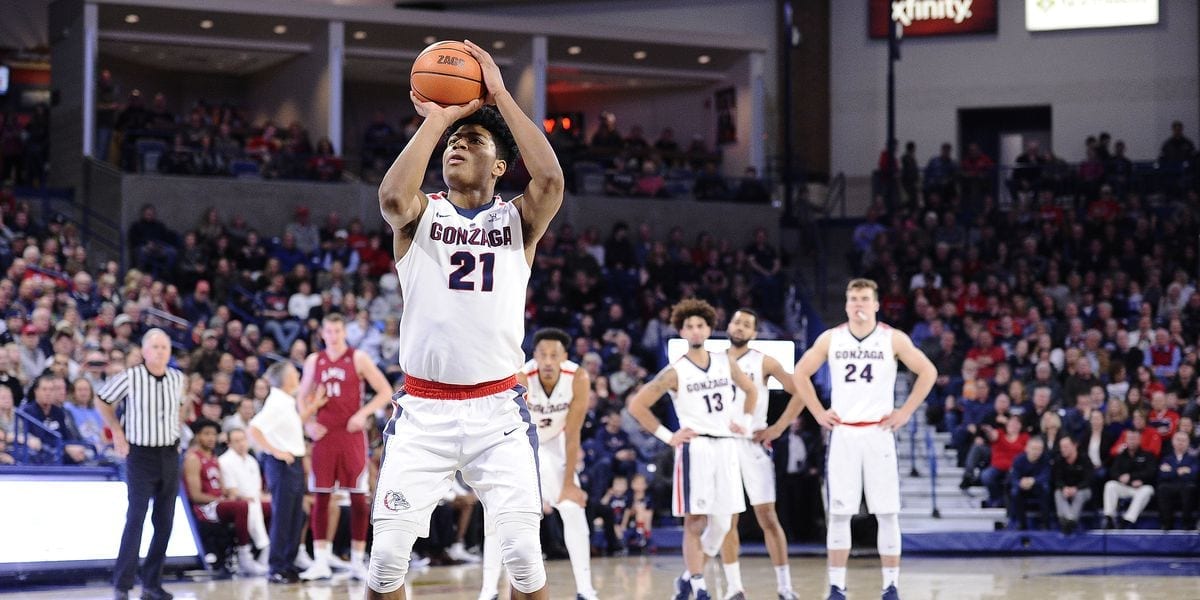 Washington Huskies (6-2 SU, 3-5 ATS) vs. Gonzaga Bulldogs (8-0 SU, 7-1 ATS)
When: Wednesday, December 5, 2018 – 11 PM ET
Where: McCarthey Athletic Center, Spokane, Wash.
TV: ESPN2
By: Dan Jamison, College Basketball Handicapper, Predictem.com
Point Spread: WASH +15/GONZ –15 (Bovada)
Total: O/U 156
Last Time Out: Gonzaga defeated Creighton 103-92 on Saturday; Washington held off UC-Santa Barbara 67-63.
Analyzing the Huskies:
Defense has been the Huskies' bread and butter this year, as they've held all of their opponents below 68 points in their six victories. Matisse Thybulle isn't a great scorer, but he's one of the best defenders in the Pac-12 and more than makes up for his lack of offensive success this year. Plus, the Huskies haven't needed much offense outside of Jaylen Nowell and Noah Dickerson, who have combined for almost half of their points this season.
In this game, they'll need that extra help on offense. Gonzaga averages 105 points per game when playing at home, and there's no way the Huskies can hope to stay in the game if the Bulldogs are anywhere near that level Wednesday.
Today's NBA Pick: 76ers vs Raptors
Analyzing the Bulldogs:
Having a target on its back hasn't hurt Gonzaga at all when playing at home, where the Bulldogs have beaten every opponent by at least 23 points this season. Zach Norvell (18.6 points per game) has blossomed as a sophomore and now serves as Gonzaga's main threat from the perimeter and a nice complement to the inside scoring of Rui Hachimura (21.9). In this matchup, Norvell's shooting has the potential to be critical, as the Washington defense will attempt to choke off the paths to Hachimura and force the Bulldogs to beat them with deep shots. To remain No. 1, Gonzaga will have to get their shooters free and get them to take good looks at the basket.
X-Factor:
How will Gonzaga attack the Washington zone? Remember, the Huskies play the kind of zone that Syracuse has played for years, and the 2-3 zone's biggest weakness has always been the 3-point shot. Gonzaga shoots it well from all over the court and will likely try to find whatever shot it can get on a regular basis. If the Bulldogs take what the Huskies are willing to give them with the zone and start hitting, it's going to be a rough night for Washington. But if Gonzaga tries for the spectacular play instead of simply making the plays it needs to get through this game, Washington has a chance.
Washington Will Cover if:
The Huskies don't lose the rebounding battle by too much. Washington is a good rebounding, but Gonzaga is an even better one, and if the Bulldogs opt to go for the 3-pointer, that lends itself to long, unpredictable rebounds that can extend Gonzaga possessions. Washington has to limit the Bulldogs to one shot per trip as often as possible if it's going to stay in the game.
Gonzaga Will Cover if:
The Bulldogs stick to their game plan. There's no doubt on either side that Gonzaga is the better squad, and the Bulldogs have dominated the Huskies so much that Washington isn't even bothering to pretend that this has been a real rivalry. When you're the better squad and your opponent knows it, all you really have to do to claim victory is play your game from start to finish and trust that the score will take care of itself. If Gonzaga plays like the No. 1 team in the nation and waits for the right moment to shoot, this meeting will be another blowout.
Dan's Pick to Cover the Spread:
There's no reason to overthink this. Gonzaga is the better team, and since 2006, this historically has not even resembled a rivalry, as Gonzaga has won every matchup since then, usually by double digits. Throw in that Washington is struggling badly and lost its only true road game by more than 20 points at Auburn, and there really isn't a lot to like about Washington in this matchup.
The way that you beat a zone is with shooters, and Gonzaga has a nice assortment of shooters who will get an open shot and will hit a fair amount of them. If and when Gonzaga starts hitting, Washington can't score fast enough to keep up. The Huskies have played lock-down defense when they haven't been on the road this season, but there's a major difference between playing Eastern Washington and Gonzaga.
The one concern with the Bulldogs might be their slow start against Creighton, but historically, the Bluejays are a tough matchup for Gonzaga, so there isn't a lot to be gained from reading into that performance. Plus, while Gonzaga struggled with a Big East opponent in Creighton before putting them away, Washington escaped from Cal-Santa Barbara in its most recent game. 99 times out of 100, it's much more alarming for a team to struggle against the Big West than it is for them to struggle against the Big East.
Gonzaga hasn't let anyone stay within 20 points of them in Spokane yet, and I don't see that changing here. I'm laying 15 with the Bulldogs.