Texas Tech Red Raiders vs. Arkansas Razorbacks Picks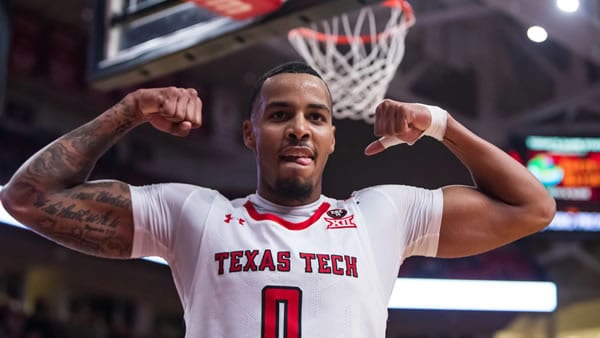 Texas Tech Red Raiders (18-10 SU, 11-17 ATS) vs. Arkansas Razorbacks (23-6 SU, 18-9-1 ATS)
When: Sunday, March 21, 6 p.m.
Where: Hinkle Fieldhouse, Indianapolis
TV: TNT
Point Spread: TTU -2/ARK +2 (Bovada - Offers 50% real cash bonus, best live wagering platform on the planet AND rebates on all your bets; win or lose!)
Total: 140.5
Last Time Out:
Texas Tech handled Utah State 65-53; Arkansas defeated Colgate 85-68.
About the Matchup:
An old Southwest Conference rivalry resumes, as traditional basketball power, Arkansas goes up against new-blood power Texas Tech. Much has changed since these teams were last in the same conference in 1991, as Arkansas has struggled to regain its past glory while Texas Tech has overcome its total lack of history and become a genuine national title contender.
Both teams will be hoping to start off a little better than they did in the first round, as both found themselves behind late in the first half of their respective games before ultimately pulling away for a victory. Texas Tech actually found itself behind Utah State at halftime but responded with 42 points in the second half, the most they'd scored in the second half since beating Iowa State a month ago. But offense-first really isn't the way that Texas Tech wants to play, and it's certainly not how the Red Raiders want to play against Arkansas, as the Razorbacks love to push the tempo and put big numbers on the board. Can Texas Tech play its game and avoid playing into Arkansas' hands?
Scouting the Red Raiders:
The win over Utah State was exactly what Texas Tech wanted it to be in the second half: force opponents to either make mistakes with the basketball or take bad shots. The Aggies did plenty of both, as they turned the ball over 22 times and shot just 4-for-19 from behind the arc. Truthfully, Utah State would have been a lot better off if it had taken shots inside the perimeter, as it actually ended up shooting better overall than Texas Tech did.
That part has to change, and the most obvious spot where it needs to change is from Mac McClung, who shot 6-for-16 in the contest and was the only player in the Texas Tech starting five who was more than one made basket away from hitting half of his shots. Texas Tech is a better team when McClung is doing special things, but he's got to make sure that his shots are going in when he tries to take over the contest. When he succeeds, the Red Raiders are among the most dangerous teams in the field; when he fails and misses too many shots, they can be beaten by almost anyone.
More Picks: Get Rich Crew's expert college basketball picks >>>
Scouting the Razorbacks:
It seems the public only watched the first 15 minutes of Arkansas' first-round matchup with Colgate because the gambling public has swung hard against the No. 3 seed in the South Region. Arkansas made Colgate look like a powerhouse through that stretch, as it fell behind the Raiders 33-19 at the 15-minute mark and had people wondering if they were going to be the first upset victim of this tournament. Instead, the Razorbacks responded with a 17-0 run to lead at halftime and then buried Colgate in the second half. Over the final 25 minutes, the Razorbacks outscored Colgate 66-35 yet won over nobody.
But if Moses Moody doesn't get going early in this game, Arkansas will end up proving the public right. Moody was a non-factor for most of the game against Colgate, despite the fact that he finished with 12 points. What saved the Razorbacks was a double-double from Justin Smith, who came up with 29 points and 13 rebounds and helped swing the game's momentum away from the Raiders. Arkansas can't count on that route to rescue being there again, especially because the Razorbacks are facing a much better defensive squad than the one they just beat. Colgate was happy to push the ball and play at the Razorbacks' preferred speed; Texas Tech won't do either of those things. If the Razorbacks aren't hitting shots, they're in trouble.
Texas Tech will Cover If:
The Red Raiders can keep Arkansas frustrated from behind the 3-point arc. The Razorbacks aren't as dependent on the three as conference rival Alabama, but Arkansas' guards were frustrated by going a combined 2-for-8 from behind the arc. Shooting from deep is all about rhythm and confidence, and the Razorbacks need to get something going in those departments before they get inside their head for this game. A slow start to the game would really help the Red Raiders.
Arkansas will Cover If:
The Razorbacks can push Texas Tech around and force the game played at their pace. The Red Raiders aren't very comfortable with playing at high tempos, and if the Razorbacks can force them to try to keep up because their shots aren't falling, they'll have a significant edge. Pushing the speed also increases the likelihood of exploiting Texas Tech's total lack of depth, as the Razorbacks would have a big advantage if they can force anyone to the bench.
Dan's Best Prop Bets
Since the tournament started, I've found myself playing a lot of first-half bets and potentially giving myself an early win, so I'm going to include a few of those bets here. For me, the best ones on the board both involve the totals, as I think this game could be more low-scoring than people might expect. Given Arkansas' struggles to contain Colgate in Round 1, the Razorbacks might still have some nerves and will likely opt for defense first to feel each other out.
With this being the case, I have to take this game to include another low-scoring first half. The number is 66 for the first half, and Texas Tech has had its past five games come in at that number or lower. I'd also take a shot on under 140.5 for the entire game, as I think Texas Tech slows the game down a fair amount (but not enough to stop Arkansas).
Dan's Pick to Cover the Spread
I'm not sure why the public turned against Arkansas while giving Texas Tech a pass, but I'm certainly not going to look a gift horse in the mouth on this one. This line seems like it should be heading in the other direction, and I doubt I even bother with my free basket in this one. I'll take the Razorbacks on the money line. Rough round 1? Don't redeposit and get NOTHING from your book! You can get a 100% REAL CASH bonus up to $500 at BetNow!
100% REAL CASH up to $300

USE BONUS CODE:
PREDICT100