USC Trojans vs. Gonzaga Bulldogs Odds & Pick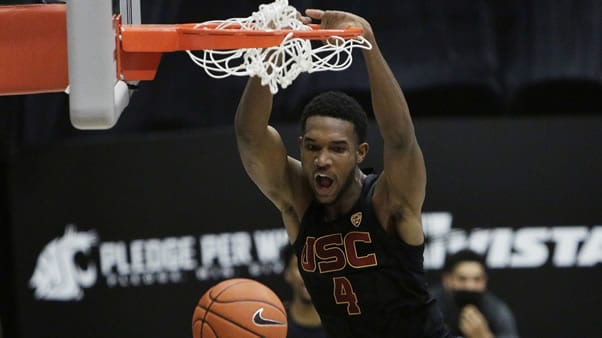 USC Trojans (25-7 SU, 19-13 ATS) vs. Gonzaga Bulldogs (29-0 SU, 15-12-2 ATS)
When: Tuesday, March 30, 7:15 p.m.
Where: Lucas Oil Stadium, Indianapolis
TV: TBS
Point Spread: USC +9/GONZ -9 (Find the best sportsbooks >>> A 100% bonus DOUBLES your bankroll! -105 Reduced odds makes betting cheaper! Take advantage of these great benefits!)
Total: 155.5
Last Time Out:
USC beat Oregon 82-68; Gonzaga defeated Creighton 83-65.
About the Matchup:
Gonzaga is now three wins from making history as the first undefeated champion in 45 years, and they've shown no signs of slowing down yet. However, they're now at the game, which has proven to be one of their biggest hurdles, as they've only made it through the Elite Eight once in four tries. But Mark Few has never had a team quite as talented as this one, a group that's ca-pable of making just about anyone in America look foolish, even when the Bulldogs' opponents play well.
But they face a different kind of foe in USC, which has the height to frustrate Gonzaga inside in the form of the Mobley brothers. Neither Drake, Kansas, nor Oregon had any answer for USC's combination of inside and outside basketball, as the Trojans combined great defense with excel-lent guard play in dismissing the Ducks. Andy Enfield has finally broken through in Los Angeles, and the Trojans are in the Elite Eight for the first time in 20 years. In that game, they were also a No. 6 seed facing the assumed national champions in Duke. But that one didn't go so well for the Trojans, as they fell by 10 to the Blue Devils and missed out on their first Final Four trip since 1954. Can they end Gonzaga's bid for perfection and make a little history of their own this time?
Scouting the Trojans:
The Mobleys present a tall obstacle at both ends of the floor, but it's the defense that has really put Southern California in this position. Through three games, only Oregon has broken 60 points against USC, and the Ducks were so far out of the game when they did do it that it didn't even matter. That's because the guard play, long a weakness for SC, has stepped up when it matters most.
In truth, what SC has done so effectively is use the Mobleys' reputation against their opponents, which has freed up Isaiah White and Tahj Eaddy to take and make good shots. Against Oregon, the SC guards were 15-for-21 from the field and 7-for-11 from behind the 3-point arc. To make matters better for SC, their effectiveness hasn't stopped at the offensive end of the court. The Trojans have only allowed one opponent — Oregon — to shoot above 30 percent from the floor. Throw in a slow tempo, and it's clear that this is a tough team to play against, especially if you haven't seen USC before.
More Picks: Get betting analysis and free expert picks >>>
Scouting the Bulldogs:
Once again, Gonzaga ran into an opponent that actually played pretty well. And once again, Gonzaga was just that much better, as it eviscerated Creighton on its way to an easy win. Of course, when you shoot 59.6 percent from the floor, it doesn't really matter much what your opponent does, you're almost certain to win the game.
The big question is whether the Bulldogs can do that again because USC is a much stronger team inside than Creighton was. Drew Timme was able to do whatever he wanted in scoring 22 points, but he's probably not going to do the same thing against the Mobleys, which means this will be a game where the Gonzaga guards have to step up. That didn't happen against Creighton, as Joel Ayayi and Jalen Suggs combined to shoot 8-for-20 and ended up with eight turnovers out of an uncharacteristic 16 for the Bulldogs. If not for Timme's work inside, Gon-zaga might have been in trouble.
That speaks to both the fact that the Bulldogs are human and just how difficult it is to beat this team. Gonzaga didn't play particularly well against Creighton outside of Timme, but they still smashed the Bluejays by 18 points. If you don't catch the Bulldogs on an off night, you have lit-tle chance against them.
USC will Cover If:
The Trojans can keep up their hot shooting. Given that Gonzaga shoots over 55 percent, USC probably isn't holding this team under 40 percent shooting. But the Trojans can keep the points coming if their guards keep up their strong play, and if they do, they can stay with Gonzaga. It's not by accident that USC has destroyed all three of its opponents in this tour-nament, and if the Trojans can keep up what they've done, this game could be close.
Gonzaga will Cover If:
The Bulldogs take care of the basketball. Gonzaga is the best offensive team in the nation by a mile, and as long as they make smart plays and don't allow the shot dis-parity they did against Creighton, they should be in control of this game. Giving up an extra 12 shots the way they did against the Bluejays, however, could keep this game closer than people expect.
Dan's Total Bets
This number seems to be a little high, given that both teams can play pretty good defense and would have to get themselves near the 80s in order to trigger this number. Gonzaga has gone under the total in three out of five games in the postseason, and USC has seen its past four games come in under this number. I can't see this one being incredibly high scoring, and I'll take the under here.
Dan's Pick to Cover the Spread
Gonzaga's only had one team stay within 10 points all season, so any time you're able to get the Bulldogs and less than 10 points, you just take it and call it a day. USC has had a great run and looks Final Four-worthy, but Gonzaga is on another level entirely. It's hard to go against the Tro-jans, but if the Bulldogs play the way they're capable of playing, they'll hit this number. Give me Gonzaga. Question: Did you know that you could be betting point spreads and totals at -105 odds instead of -110? It doesn't sound like much, but it's a HUGE savings over the course of a year! Read more on betting at reduced odds here! It costs you nothing!