Utah Utes vs. Oregon Ducks Pick 2/16/20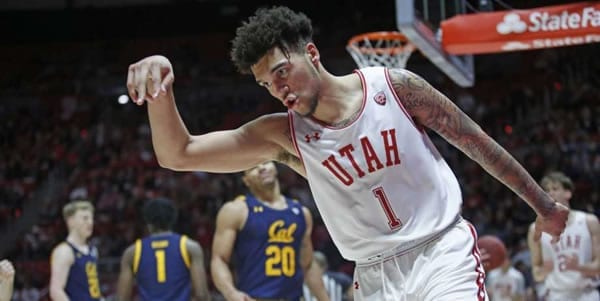 Utah Utes (14-10 SU, 13-11 ATS) vs. Oregon Ducks (19-6 SU, 14-11 ATS)
When: Sunday, February 16, 9 p.m.
Where: Matthew Knight Arena, Eugene, Ore.
TV: FS1
Point Spread: UTAH +12.5/ORE -12.5 (SportBet - Best Parlay Odds on the Planet!)   
Total: O/U 137.5
Last Time Out:
Utah lost 70-51 to Oregon State; Oregon defeated Colorado 68-60.
Scouting the Utes:
This is do-or-die time for Utah, as the Utes' record has crashed to the point that they're probably not going to be doing much of anything in March without winning the Pac-12 tournament. There's probably still a small chance that Utah could find its way into the NCAAs without winning the Pac-12 if it ran the table, but I'm not buying it based on what I've seen from other teams. The Utes are a ways off from the NCAAs, and most of the reason is the fact that they haven't done much of anything on the road.
Since opening the year with a win at Nevada (a team that's a shell of itself compared to the past two years), Utah is 0-7 on the road, having lost to Coastal Carolina as well as Colorado, Arizona, Arizona State, USC, UCLA and Oregon State. What's made matters worse for the Utes is the fact that most of their results have been one-way traffic in the wrong direction. Of their road losses, only a four-pointer at USC was ever in doubt, while the others were double-digit routs that were seldom close after the first half. A great example was the loss to Oregon State, where the Beavers went up 12 after 11 minutes of play, and Utah never got the lead back under double digits again in a 19-point loss that saw only Branden Carlson reach double digits. If Utah has given up on the season, it won't really matter what Timmy Allen does with his shot moving forward.
Get all of our handicappers' daily expert NCAA basketball picks >>>
Scouting the Ducks:
It looked like a collapse might really be in the works for Oregon, but the Ducks fought through the adversity and now seem to be back on track for their goals for this season. Oregon has been prone to a few head-scratchers this season, namely the 11-point loss at Washington State and a 10-pointer at Stanford. In fact, of the Ducks' four conference losses, Colorado was the only one against a team from the top half of the conference.
But Oregon got back on track in the weirdest way possible: allowing Colorado to build a big lead on its home court and then storming all the way back. Thanks to that comeback, Oregon now sits 8-4 in the league, and it has the potential to win the league's regular-season title, given that four of its final six games take place at Matthew Knight Arena, where Oregon hasn't lost all season. To keep that going, what Oregon needs is for someone else, namely Will Richardson, to step up and take the pressure off of Payton Pritchard. Pritchard has been asked to do far too much this year, and if Richardson can show that his 21-point, nine assist outing against the Buffaloes was no fluke, the Ducks will be in much better shape as they head toward the most important games of the season.
X-Factor:
Mentalities. Where is each team right now? On the Oregon side of the ledger, the Ducks are right back in the race for the Pac-12 title despite their struggles thanks to beating Colorado. All Oregon has to do is win out, and it will clinch no worse than a share of the Pac-12 title and likely earn the chances to get a high seed in the West Regional. For Utah, are the Utes still playing with hope, or have they thrown in the towel? With little chance of an at-large bid, there's a decent chance that the Utes have simply packed it in and lost focus on their remaining regular-season games.
Utah will Cover if:
The Utes can hit a few shots and build their confidence. Shooting a basketball well might not be a skill that gets lost over time, but there's no question that your mentality has a lot to do with how well you shoot. When you're in the right frame of mind, it's easy to step up and take good shots. When your confidence is lacking, even a short shot can seem impossible. Right now, Timmy Allen is at the wrong end of the spectrum after a 1-for-8 performance in Corvallis, and the Utes have to get him on track to have any chance.
Oregon will Cover if:
The Ducks can force turnovers. Oregon's game is all about forcing a team out of its comfort zone by maximizing its own possessions and forcing them to play too fast for their preferred tempo when they have the ball. The Ducks average more than eight steals per game, and if they can force Utah into mistakes — something they couldn't do when the teams met in Salt Lake City — they'll have a rather easy go of it.
Dan's Pick to Cover the Spread:
This spread might seem a little high at first glance, but I really think that Utah is done. The Utes just don't seem to be interested in playing quality basketball away from Salt Lake City, and they're up against a high-quality opponent that seems to be right back on track after a pair of setbacks.
If this were a month ago, when Utah had Both Gach going for 24 points and Allen pounding away at the glass for easy second-chance points, I'd be worried. But Utah hasn't been able to establish any level of consistency and especially hasn't been able to do it away from home. I don't see this game being any different. Give me the Ducks for the win. Where are you betting your college hoops picks? You could be betting cheaper! You're laying -110 odds. You would only have to lay -105 if you made the switch to 5Dimes! Be smart! Save loot! Click here to sign up today!
100% REAL CASH up to $300

USE BONUS CODE:
PREDICT100