[et_pb_dcsbcm_divi_breadcrumbs_module hide_homebreadcrumb="off" homebreadcrumbtext="Home" separator="sep-raquo" hide_currentbreadcrumb="off" homebreadcrumborientation="left" _builder_version="3.8″ fontsbreadcrumbs_font="Lato||||||||" fontsbreadcrumbs_text_color="#000000″ fontsbreadcrumbs_font_size="15px" fontsbreadcrumbs_line_height="16px" fontsseperator_font="||||||||" fontsbreadcrumblinks_font="||||||||" fontsbreadcrumblinks_text_color="#2567cf" custom_margin="25px|||" custom_margin_phone="30px|||" custom_margin_last_edited="off|desktop" custom_css_main_element="font-family: Helvetica Regular;" disabled="on" global_module="3641″ saved_tabs="all"][/et_pb_dcsbcm_divi_breadcrumbs_module]
Villanova Wildcats vs. Florida State Seminoles Pick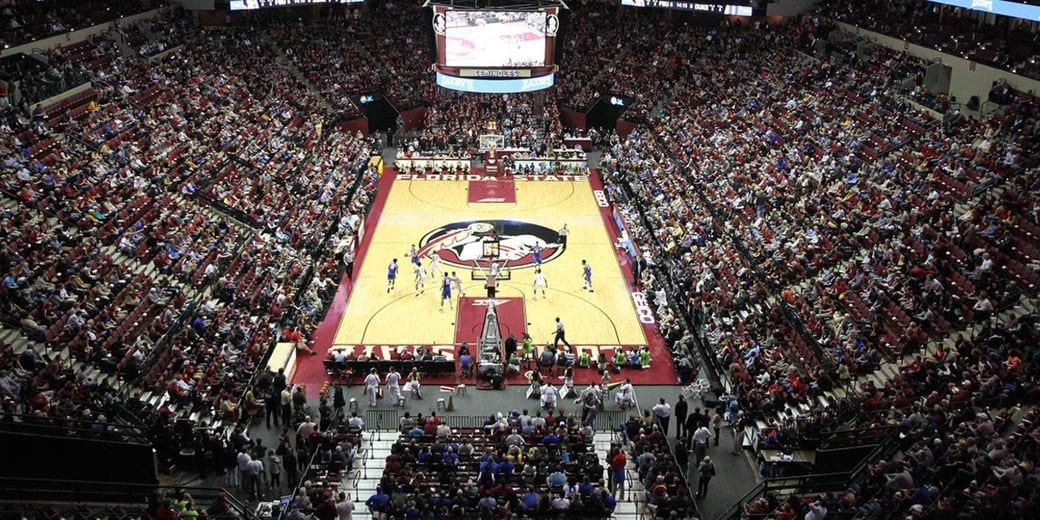 Villanova Wildcats (4-2 SU, 3-3 ATS) vs. Florida State Seminoles (5-0 SU, 3-1-1 ATS)
When: Sunday, November 25, 2018 – 1pm ET
Where: HP Field House, Lake Buena Vista, Fla.
TV: ESPN
By: Dan Jamison, College Basketball Handicapper, Predictem.com
Point Spread: VILL +2/FSU -2 (5dimes)
Total: 144
Last Time Out: Villanova defeated Oklahoma State 77-58, Florida State outlasted LSU 79-76 in overtime.
Analyzing the Wildcats:
This year's version Villanova is not the juggernaut that has won two of the past three national titles, but it seems to be on the right track after suffering a shocking home loss to Furman. The Wildcats bounced back with a thumping of Oklahoma State, built largely on the 3-point assault of Eric Paschall and Phil Booth. The two stars combined to shoot 11-for-21 from deep against the Cowboys, which created an easy win for Jay Wright's squad in the tournament semifinals. When Villanova is shooting 40 percent from behind the arc, there aren't a lot of teams that will best the Wildcats.
Today's NBA Pick: Clippers vs Blazers
Analyzing the Seminoles:
This is the season that Florida State basketball fans have been waiting for, and with experience and talent on their side, the Seminoles are more than living up to their hype through their first five games. Terance Mann has led the way so far in both points and rebounds, but the Seminoles also get strong contributions from Mfiondu Kabengele and M.J. Walker. What makes Florida State so dangerous is that the Seminoles defend as well as they score, holding each of their first five opponents to fewer than 70 points in regulation while topping 80 in all but their win over LSU. Plus, the Seminoles get contributions from all over their roster, with eight different players averaging at least five points a night for Leonard Hamilton's crew. If Florida State has a real weakness, it's that the Seminoles don't take great care of the basketball, turning it over 15 times per game. However, it hasn't come back to hurt them yet this year.
X-Factor:
The amount of energy expended in the first two rounds. Both teams are playing their third game in three days, and both teams depend a lot on their star players. How much energy will each team have after playing two games in 48 hours, and in the Seminoles' case, going to overtime? Whichever team is able to dig down and find something extra to get them through to the finish line will be the one that lifts the trophy.
Villanova Will Cover if:
The Wildcats can get the kind of looks they got against Oklahoma State and get them to drop. However, it's no guarantee that they'll be able to do so. When Villanova faced its first major test this season against Michigan, the Wildcats shot 3-for-15 from behind the arc and got mauled at home by the Wolverines. Florida State doesn't defend quite as well as Michigan's top-ranked defense, but the Seminoles do rank 14th in the country on defense, according to Ken Pomeroy's ratings. This will be Villanova's toughest test since facing the Wolverines, and it'll show whether or not the Wildcats have made any real progress since that debacle.
Florida State Will Cover if:
The Seminoles take care of the basketball and get the job done on the glass. Florida State grabbed 22 offensive rebounds in its win over LSU, which kept possessions alive and lifted the Seminoles into the championship game. Given Villanova's tendency to shoot the 3-pointer, this could be a similar kind of game. If Florida State does its job on defense and forces Villanova into less than ideal looks from deep, that means that there will be a lot of rebounds to grab, which favors the Seminoles and their size. An ideal game for Florida State would involve limiting the Wildcats to one contested shot per trip, and if that happens, the Seminoles will be in great shape.
Dan's Pick to Cover the Spread:
Villanova has things moving in the right direction with its young team, but Florida State is a much tougher test than anything that it's faced since Michigan. The Seminoles are deep and experienced and play the game well at both ends of the court. The last time the Wildcats faced a team that played tough defense, it ended with a 27-point home defeat.
That probably isn't going to happen this time around, but it's unlikely that Villanova has come far enough since losing to Michigan and Furman to get itself to Florida State's level. The Seminoles are playing like a team that has the Final Four on its mind, and they've got the talent to get themselves there. That's a daunting task given what happened the last time Villanova played a likely NCAA tournament team.
A year ago, it would have been crazy to pick the Seminoles in this spot, but the reality is that Florida State has the talent to match Villanova now and a level of experience that the Wildcats simply cannot match. Throw in that the matchup is near Orlando and there's a good chance that Florida State would get a home crowd in this contest to help buoy it to victory. As long as Florida State is playing the way it has in its first five games, there's no way I'm picking against them. Go with the Seminoles -2.
<aside><!-- [et_pb_line_break_holder] --><div class="widget105"><!-- [et_pb_line_break_holder] --><h4 class="cash">Biggest Sportsbook Bonuses</h4><!-- [et_pb_line_break_holder] --><div class="widgetlist"><!-- [et_pb_line_break_holder] --><div class="col1"><!-- [et_pb_line_break_holder] --> <a href="https://www.predictem.com/out/Bovada"><img src="https://www.predictem.com/wp-content/uploads/2018/04/bovada.png" width="" alt="Bovada" /></a><!-- [et_pb_line_break_holder] --></div><!-- [et_pb_line_break_holder] --><div class="col2"><!-- [et_pb_line_break_holder] --><span class="list"><b>50% Cash</b></span><br><!-- [et_pb_line_break_holder] --><span class="list">5x Rollover</span><!-- [et_pb_line_break_holder] --> </div><!-- [et_pb_line_break_holder] --> <div class="col3"><!-- [et_pb_line_break_holder] --><a href="https://www.predictem.com/betting-sites/bovada/"><button class="btn-widget">Review</button></a><!-- [et_pb_line_break_holder] --></div><!-- [et_pb_line_break_holder] --></div><!-- [et_pb_line_break_holder] --><div class="widgetlist"><!-- [et_pb_line_break_holder] --><div class="col1"><!-- [et_pb_line_break_holder] --> <a href="https://www.predictem.com/out/Intertops"><img src="https://www.predictem.com/wp-content/uploads/2018/04/intertops.png" width="" alt="Intertops" /></a><!-- [et_pb_line_break_holder] --></div><!-- [et_pb_line_break_holder] --><div class="col2"><!-- [et_pb_line_break_holder] --><span class="list"><b>50% Cash</b></span><br><!-- [et_pb_line_break_holder] --><span class="list">4x Rollover</span><!-- [et_pb_line_break_holder] --> </div><!-- [et_pb_line_break_holder] --><div class="col3"><!-- [et_pb_line_break_holder] --><a href="https://www.predictem.com/betting-sites/intertops/"><button class="btn-widget">Review</button></a><!-- [et_pb_line_break_holder] --></div><!-- [et_pb_line_break_holder] --></div><!-- [et_pb_line_break_holder] --><div class="widgetlist"><!-- [et_pb_line_break_holder] --><div class="col1"><!-- [et_pb_line_break_holder] --> <a href="https://www.predictem.com/out/Gtbets"><img src="https://www.predictem.com/wp-content/uploads/2018/05/gt-bets.png" width="" alt="GtBets" /></a><!-- [et_pb_line_break_holder] --></div><!-- [et_pb_line_break_holder] --><div class="col2"><!-- [et_pb_line_break_holder] --><span class="list"><b>150% Cash</b></span><br><!-- [et_pb_line_break_holder] --><span class="list">4x Rollover</span><!-- [et_pb_line_break_holder] --> </div><!-- [et_pb_line_break_holder] --> <div class="col3"><!-- [et_pb_line_break_holder] --> <a href="https://www.predictem.com/betting-sites/gtbets/"><button class="btn-widget">Review</button></a><!-- [et_pb_line_break_holder] --></div><!-- [et_pb_line_break_holder] --></div><!-- [et_pb_line_break_holder] --><div class="widget-footer"><a href="https://www.predictem.com/best-sportsbooks/bonuses/">See all sportsbook bonuses</a></div><!-- [et_pb_line_break_holder] --> </div></aside>
<h4 class="widgettitle">NFL Picks</h4><!-- [et_pb_line_break_holder] -->
<div style="width:340px; margin: 0 auto;"><!-- [et_pb_line_break_holder] --> <a class="twitter-timeline" data-width="340" data-height="500" data-link-color="#008156" href="https://twitter.com/PredictemPicks?ref_src=twsrc%5Etfw">Tweets by PredictemPicks</a> <script async src="https://platform.twitter.com/widgets.js" charset="utf-8"></script><!-- [et_pb_line_break_holder] --></div>