Wofford Terriers vs. Duke Blue Devils Pick 12/19/19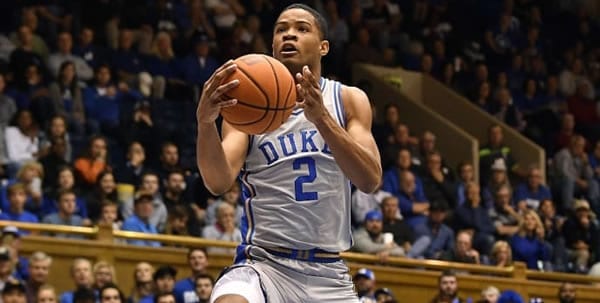 Wofford Terriers (7-4 SU, 4-5 ATS) vs. Duke Blue Devils (9-1 SU, 6-4 ATS)
When: Thursday, December 19, at 7 p.m.
Where: Cameron Indoor Stadium, Durham, N.C.
TV: ESPN2
Point Spread: WOF +19/DUKE -19 (Best Basketball Lines)
Total: O/U 146
Last Time Out:
Wofford defeated North Carolina 68-64; Duke beat Virginia Tech 77-63
Scouting the Terriers:
With one-half of college basketball's most famous rivalry down, can the Terriers really complete the back-to-back? If they do, it'd be their sixth-straight win and easily their most impressive. Wofford hit a low patch in November when it lost four straight in a stretch that included Butler and Missouri, but the Terriers have battled their way back with some strong shooting from behind the arc. Wofford averages just over 11 3-pointers a game, a total that ranks fourth in the nation and goes a long way toward keeping the Terriers in most games they play. Against North Carolina, the shooting was on full display, as the Terriers hit 14 of their deep shots.
However, Wofford's win over Carolina gets a bit of an asterisk, as the Tar Heels were down two starters in the loss. That's not the case against Duke, as the Blue Devils have been off for nearly two weeks.
More Picks: Bahamas Bowl: Buffalo/Charlotte Pick ATS >>>
Scouting the Blue Devils:
Inconsistency, thy name is Duke. Specifically, it's the individual parts that make up Duke. The Blue Devils have won three in a row since their shock loss to Stephen F. Austin, but it's not been a consistent thing as to where the points will come from. Tre Jones has been as consistent as it gets, but otherwise, it's been fill in a name for who will be Duke's second — or sometimes first — option. Such is life when you're as reliant on freshmen as Duke is, even when you're blessed with freshmen as talented as what the Blue Devils have. This contest should be a game where Vernon Carey dominates, as Wofford doesn't have anyone who can match him in the paint. With little resistance available inside, look for the Blue Devils to try to pound the ball down low and let Carey go to work.
X-Factor:
Layoff. Duke hasn't played since Dec. 6, and the Blue Devils are such a young team that the time off for finals can go one of two ways. Either Duke will have used the time to get some needed practice in and come back stronger for it, or the Blue Devils will come back rusty and show some of the same issues that caused the loss to Stephen F. Austin and the struggles against Winthrop. The Blue Devils are more talented than just about anybody, but Mike Krzyzewski is still learning which pieces go where, as this is a team that requires a lot more of his coaching than last year's squad might have. If Duke is rested and ready to play, this could be a blowout. If the Blue Devils are lethargic and don't respond well to the students being on winter break, Wofford has a chance.
Wofford will Cover if:
The 3-pointers go down. This is really academic with the Terriers, as Storm Murphy and friends need to hit their shots against a team that can play as well in the paint as Duke can. The Terriers got creamed on the glass by North Carolina, but it didn't matter because they hit enough of their triples to pull themselves ahead. That is not likely to happen against Duke, but they can hit enough of their shots to keep the game close. Winthrop managed to stick with Duke for most of the way, and Wofford's a better team than Winthrop.
Duke will Cover if:
The Blue Devils get a solid one-two punch from Carey and Jones. Wofford is a good team, but not anywhere near as good as last year's squad that got a seven seed. This Wofford team is a good Southern Conference team, but there are no Vernon Careys in the SoCon. Duke needs to establish the interior early and keep its foot on the gas. If it can do that, it's going to be in great shape.
Dan's Pick to Cover the Spread:
Don't read too much into the Carolina win. Wofford isn't on the level of the Heels when they're healthy and was fortunate to catch Carolina on a night when the Heels were missing two starters. Duke is in much better shape, so a win at Cameron isn't likely to follow the win at Carmichael Auditorium.
But that doesn't mean the Terriers can't cover. Wofford is decent enough to give Duke some scares, and the Blue Devils have had their problems putting away mid-major opposition this season. (See Austin, Stephen F., a game where Duke blew a 15-point lead to lose). With the way Wofford shoots, the game is never really over, and I think the Terriers do enough to stick with Duke.
Winthrop stayed within 13, which means I think this spread is about 10 points too high. At 19 points, give me Wofford.