Alabama Season Wins Over/Under Prediction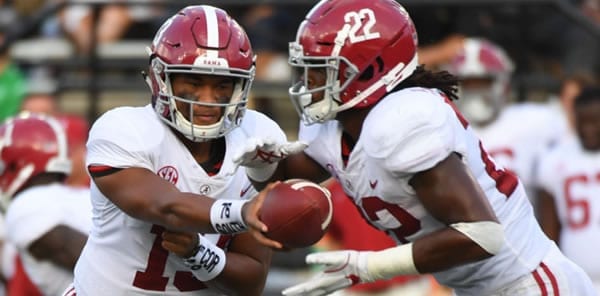 Last year: 14-1
Over/Under Total: 11 (MyBookie)
Reasons for Optimism
Boy is that schedule soft. There's really no such thing as a soft schedule in the SEC, but Alabama's as close as you can realistically get. They have their permanent rivalry game with Tennessee and drew South Carolina from the East, making for about as manageable a pairing as you can get. They don't go to LSU this season, and the only real tough challenge they have away from home until November is Texas A&M. The toughest non-conference game the Tide will face is Duke, and the Blue Devils are without Daniel Jones, making them little more than cannon fodder in the opener. Realistically, Alabama faces four games it could lose, and only one of them is played before November.
Plus, the Tide still have an explosive offense led by Tua Tagovailoa that can score from any point on the field, a secondary that should be among the nation's best and one of college football's true coaching legends in Nick Saban on the sidelines. Alabama will be loaded once again and should absolutely be a threat to win 11 games or more in this campaign.
Reasons for Worry
The SEC isn't really a passing league. Only four teams threw for at least 3,500 yards last season, and one of them was Alabama itself. In fact, one of the tougher challenges on the Tide's schedule, Mississippi State, actually ran for more yards than they passed for last season. Unlike in the pass-happy Big 12, where Alabama's experienced secondary would be a significant weapon, the SEC requires a strong front seven, which Alabama doesn't yet have figured out. The Tide will be talented because they always are, but their inexperience in the trenches could really come back to bite them when they play a tougher foe.
They'll see those tougher foes down the stretch, as three of their November games are among the four toughest on the slate. LSU comes to Tuscaloosa, but Alabama has to go to Mississippi State and Auburn. Both of those games are winnable contests, but Alabama could easily lose either one. Lose both, of course, and this bet goes down in flames.
Toughest Game
It has to be the Iron Bowl. Any time that Alabama doesn't host the Iron Bowl, the trip to Auburn is the toughest of the year. The Tigers are always juiced to play the Tide, and two of Alabama's past three trips to the Jungle have ended in defeat. There's a good chance that Alabama will be 11-0 when it rolls into Auburn, but if not, a lot of people who bet the over will be sweating this one out.
The Over Wins If:
Alabama can get its lines to grow up quickly. The Tide took the heaviest losses on the offensive and defensive lines, and Tagovailoa will need to get time to make the right decisions if he's going to be effective in leading the Alabama offense this season. The secondary will have to take the lead for the first few weeks of the season to give the front seven and offensive line time to get up to speed, but if it happens, Alabama will be in a position to make another run for an undefeated campaign.
The Under Wins If:
Alabama struggles to get consistency from the line, and Tagovailoa ends up regressing as a junior as a result. No quarterback can be genuinely great without time to make his reads, and the Alabama line doesn't yet have the experience needed to get the job done. The talent is there, but the Tide will need to get their young players up to speed during their non-conference slate to ensure that they can compete at an SEC level throughout the season.
Dan's pick
Betting against Nick Saban is usually an awful way to make money. It's an especially awful way to make money when the over/under is concerned, considering that Saban hasn't lost more than one game in the regular season since 2010 and hasn't lost to anyone other than Auburn or Clemson since 2015. Alabama wouldn't face Clemson until well after this bet is over, and by the time it runs into Auburn, the Tide will already have 11 games of experience under their belt.
If the Tide was facing the likes of LSU or Mississippi State early in the season, this bet might be in serious jeopardy. But the reality is that the Tide has plenty of time to get itself ready to face its more challenging opponents, and that means it's likely that Alabama will be Alabama again by the time it faces its toughest tests. Go with the Tide to hit the over, with either a win or push likely.
Attention College Football Bettors! With the season around the corner, it's time to start thinking about where you're placing your bets. Finding the bookie that suits your playing style is key, and that's where we come in. Find the best sportsbooks by category including top net bonus, highest parlay payouts, and reduced juice for max benefit!

1% Cash Back
---
Pay less per bet &
get largest betting menu