Arizona Wildcats vs. Oregon Ducks Prediction & Analysis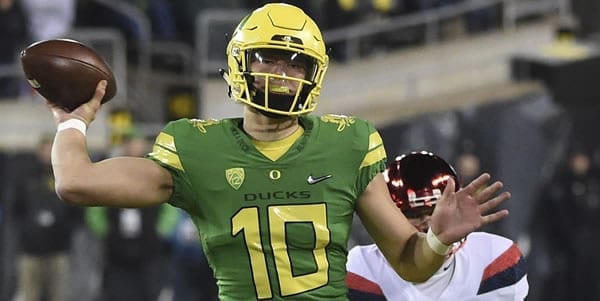 Arizona Wildcats (4-5 SU, 2-6-1 ATS) vs. Oregon Ducks (8-1 SU, 5-4 ATS)
College Football Week 12
Date and Time: Saturday, November 16, 2019 at 10:30PM EST
Where: Autzen Stadium, Eugene, Oregon
TV: ESPN
Point Spread: ARIZ +27/ORE -27 (SportsBet)
Over/Under Total: 68
The Arizona Wildcats come to Eugene for a Pac-12 showdown with the Oregon Ducks at Autzen Stadium on Saturday. Oregon is in a nice spot to thrive this week, looking to make a statement to get in position for some big things potentially. After having last week off, they look to pounce at home. They get a sideways Arizona team coming into town, coming off a loss at home to Oregon State—their fourth straight defeat dropping them below the .500 mark. With a substantial 32-point thumping of USC in their last game and now rested, will Oregon mop up in what appears to be as cushy a conference spot as they're going to find? Or will a pressure-free Arizona that also had last week off, show some of the fire they showed earlier in the season?
Can Arizona Stop the Freefall?
Again, we see a Kevin Sumlin-led team faltering in the second half of the season. After a 4-1 start, they haven't won since October 5. All losses were of the double-digit nature, with the average margin being 20 points over the last month-plus. Granted, the Beavers have shown some signs of life, but a 56-38 loss at home to Oregon State is a tough image to shake, especially as they now take to the road for the third time in four games to face what is likely the cream of the Pac-12. In other words, when you're getting mopped up at home by the bottom half of the conference, what chance do you have against a rested team trying to knock on the door of the College Football Playoff in a tough place to play?
The issues for Arizona are almost too numerous to name. The offense is actually the shining light of the team. They're going between Khalil Tate and freshman Grant Gunnell and averaging nearly 300 yards a game through the air. Tate is more of a dual-threat guy, leading a vital run game with JJ Taylor and Gary Brightwell. The aerial attack features a cabaret approach with nine different ball-catchers in triple-digits receiving yardage. For all the woes of the team, this is one ray of optimism, as they've scored 69 points in their last two games. Against an Oregon defense that has allowed 90 combined points in their previous three games, maybe Arizona's offense can make some noise—at least enough to make a run at this big number.
More Picks: Dan's UNC at Pittsburgh Prediction >>>
The Slapstick Arizona Defense
Seeing scores more reminiscent of a basketball game late in the season is a bad sign for a young Arizona defense that isn't getting better. When it's a veritable feeding frenzy for the offenses of Stanford and Oregon State, that doesn't bode well when about to take on Oregon. At home. Rested. Coming off a rampage over Southern Cal and in a point-making mode. When potential Arizona backers see Justin Herbert and Company picking apart other iffy opposing defenses, it's hard to not bristle at this matchup. In their last four conference games, Oregon has scored a whopping total of 173 points. Those may have been against better defenses than Arizona's—allowing 312 yards aerially per game, while being amply gashed on the ground by opposing backs, some not as good as Oregon's CJ Verdell and Travis Dye.
Too Good?
Looking back at past wagers after a long and bumpy road, one might find their biggest blunders were on games where they were too sure about something. When too many stars line up correctly, something is usually amiss. We see a peaking and rested Oregon team at home looking to pounce on a bottomed-out Arizona team. The Wildcats' defense can't stop significantly worse teams in worse conditions from having big games on offense. Oregon's playmaking defense could pounce on a mistake-prone Arizona offense. The only real angle for Arizona is that their offense vaguely keeps pace, and they take advantage of a possibly-advantageous point spread. It's not a very positive formula for success, though a viable one. The point is that when a case looks crystal-clear, it's odd how often it resonates on the field with a far lesser impact that what paper suggested.
Sometimes, with Mario Cristobal on the Ducks' sideline, you don't get the real push you need to get when looking to cover a big number. You want a team to press, to really get after it. And a lot of signs line up for that. Then you tune in to see the supposed massacre, and you see an approach more geared to safety, with an emphasis more on not screwing things up than really going all-out. The week off came at a good time for Oregon to overcome some injuries. Maybe this is a spot where they don't feel the need to really go berserk. At the end of the day, whether they get into the CFP won't come down to whether they beat Arizona 56-17 or 48-24. And they know it.
Take the Road Dog
While fading, the week off maybe jarred some things into perspective for Arizona on that sideline, with players and coaches alike really needing to make something good happen. And while a win or competitive game is probably out of reach, Arizona has enough offensive merit to make some things happen against an Oregon "D" that has been more exploitable throughout the season. While a coherent case can be made for a Ducks' free-for-all, something about it stinks. I'm taking the Wildcats and the points.
Loot's Pick to Cover the Point Spread: I'm betting on the Arizona Wildcats plus 27 points.