Big 12 Team Season Wins O/U Predictions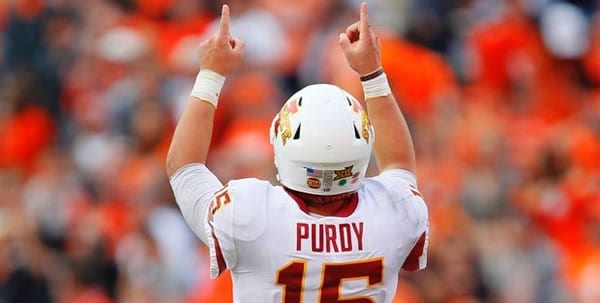 With the college football season now just weeks away, odds have been released for every teams' over/under in wins along with total odds for conference championships. Below you will find over/under win picks for all Big 12 teams plus a breakdown for each team. In addition, I've also included my choice to win the conference — future and prop odds provided from 5dimes.
BAYLOR BEARS
Over/Under: 7.5 wins Odds to win Big 12: +1400
The Bears rebounded from a 1-11 record in 2017 by going 7-6 last season and ending the year with an upset victory over Vanderbilt in the Texas Bowl. Fifteen starters are back in 2018, including eight on an offense that returns their quarterback, top three running backs and seven of their top eight in receptions from 2018. With Charlie Brewer leading the way at QB they should be able to maintain the same momentum that helped them finish 19th in passing and 22nd in total offense a season ago. On defense, Baylor gets seven of their top eight tacklers back from last year, including linebacker Clay Johnston who finished with 99 in 2018, the second-highest of any returning Big 12 player. Joining him in the middle is Blake Lynch, while James Lynch and Bravvjon Roy lead the way upfront. The defensive backfield will be looking to Raleigh Texada and Chris Miller to help improve on a turnover margin after ending last year ranked 118th nationally. Baylor benefits from an easy non-conference schedule and is a near guarantee to go 3-0 in games against SF Austin, UTSA and Rice. They get the top three in the conference at home with Oklahoma, Texas and Iowa State all having to travel to McLane Stadium to take on the Bears. To be able to clear their over/under line of 7.5 wins, the Bears will need to do well on the road, which is something they have had a lot of trouble doing of late, having gone 2-11 in their last thirteen away games. Counting Oklahoma and Texas as likely losses, this means they would need to go at least 8-2 in their remaining ten matches to clear their over/under. With that along with their road difficulties under head coach Matt Rhule in mind, I will be picking Baylor not to surpass their mark of 7.5 wins.
PICK: BAYLOR UNDER 7.5 WINS
---
IOWA STATE CYCLONES
Over/Under: 8 wins Odds to win Big 12: +800
After seven straight losing years between 2010-2016, the Cyclones have responded with back-to-back eight-win seasons under head coach Matt Campbell. They will need to at least match that total with their over/under set at eight, and a major hurdle in doing so will be their ability to replace running back David Montgomery and wide receiver Hakeem Butler, both of which had at least 1200 yards of total offense and combined for 22 touchdowns. They will need quarterback Brock Purdy to take the next step forward after finishing his first season with sixteen touchdown passes and rushing for an additional five. Purdy went 7-2 as a starter in 2018, and with Butler gone will need to develop a quick rapport with receivers Deshaunte Jones and Tarique Milton in hopes of sparking an offense that finished last year 82nd in scoring and 96th in yards per game. Defensively the Cyclones returns eight starters to what should again be one of the best in the conference. They are at their best on the defensive line, and the linebacker position, with Jaquan Bailey, Eyioma Uwazurike and Ray Lima leading the way up front and Marcel Spearks Jr and Mike Rose the strength in the middle. Amongst the defensive backfield, they will look to last years' team leader in tackles Greg Eisworth to help offset the youth around him with two new starters at cornerback, both of whom are sophomores. Five Big 12 road games await Iowa State on the schedule, which along with a non-conference matchup against in-state rival Iowa provide a tough test for the Cyclones, especially considering they lost four straight to the Hawkeyes and have gone 9-19 in away games over the last five years. A three-week span starting in late October in which they play Oklahoma, Texas and Oklahoma State will likely decide whether they have any chance of conference title glory. They have at least five games that should be wins with matchups against Northern Iowa, ULM, West Virginia, Texas Tech and Kansas State, meaning they would just need to go 3-4 in their remaining seven to at least push their mark. They will have nearly double the starters that Iowa has in their week two matchup, and with that as their hopeful stepping stone to another successful season, I am picking Iowa State to go over their expected 2019 season win total.
PICK: IOWA STATE OVER 8 WINS
---
---
KANSAS JAYHAWKS
Over/Under: 3 wins Odds to win Big 12: +10000
The Jayhawks welcome a new coach hoping to inject some momentum in Lawrence with the offseason hiring of Les Miles. Nearly anything will be an improvement considering they have gone nine straight seasons with three wins or less. They are still recovering from the disaster that was the Charlie Weis era, going a putrid 2-34 in the Big 12 ever since he waddled his way out of town. Their offense finished last year 106th in scoring and 110th in total yards per game, and this season will look to recently reinstated running back Pooka Williams, who was suspended back in December for domestic battery and is coming off a season when he ran for 1,125 yards and scored nine touchdowns. Along with Williams, they will hope that JUCO transfer at quarterback Thomas MacVittie can get acclimated quickly despite having no returning starters at receiver or tight end. On the defensive side of the ball, Kansas is in a bit of trouble as they return just four starters and are expected by many to be one of the worst in the conference. The front seven gets zero starters back, and the team will hope the defensive backfield can help to offset the inexperience around them. Senior safety Bryce Torneden is the third leading returning tackler in the Big 12, and along with cornerback Hasan Defense will need to end their careers at Kansas with a bang if they expect to survive the season against what should be a challenging schedule. Only five away games await Kansas on the schedule, which is a good thing as they have gone 1-47 on the road over the last nine seasons. They have also struggled mightily within the Big 12, as they haven't finished a season with more than one conference win in over ten years. This year they have four chances at wins, the first two weeks against Indiana State and Coastal Carolina and games hosted at Memorial Stadium versus Kansas State and West Virginia. Considering they haven't had over three wins since 2009 and get back an inexperienced lineup with only nine total starters, I think in spite of the energy Les Miles may inject into the program that the smartest wager is to go under on the Kansas win total.
PICK: KANSAS UNDER 3 WINS
---
KANSAS STATE WILDCATS
Over/Under: 5.5 wins Odds to win Big 12: +6000
After coaching at Kansas State for a total of 27 seasons, the immortal Bill Snyder has retired. In comes Chris Klieman, who had spent 2014-2018 at North Dakota State and winning four FCS Championships in the process. There is plenty of room for improvement with the offense after the Wildcats finished last season ranked at the bottom of the Big 12 in scoring, passing and total yards per game. Junior Skylar Thompson remains the starter at quarterback and will have his work cut out for him after losing three of their top four in receptions and only have one player back that had more than ten catches a season ago. The backfield loses their top four in carries and will look to grad transfer Jordan Brown to continue to spark a rushing attack that was the lone bright spot of the offense a season ago. The Wildcats return eight starters to a defense that ranked in the top half of the conference in scoring, rushing, passing and yards per game in 2018. The strength is upfront on the defensive line, featuring Reggie Walker, Wyatt Hubert, and Trey Dishon. The middle is patrolled by linebackers Elijah Sullivan and Da'Wuan Patton, who led the team in tackles a season ago, while cornerback AJ Parker highlights the defensive backfield. Kansas State should start with a 2-1 non-conference record, with likely wins against Nichols and Bowling Green and an expected loss at Mississippi State. Unfortunately, two of their most winnable conference games are on the road against Kansas and Texas Tech, which wasn't necessarily their strong suit a season ago when they went 0-5 in away games. I expect this to be an adjustment season for the team and believe they will be making it back-to-back years without a postseason appearance.
PICK: KANSAS STATE UNDER 5.5 WINS
---
OKLAHOMA SOONERS
Over/Under: 10.5 wins Odds to win Big 12: -120
Expectations are high in Norman as the Sooners enter the season as the favorite to win the conference and coming off of back-to-back seasons with Big 12 titles and BCS playoff appearances. Head coach Lincoln Riley has done exceptionally well in the transition from the Bob Stoops era and will hope that quarterback transfer from Alabama Jalen Hurts might continue the streak to three straight seasons with a Heisman winner coming out of Oklahoma. He will have plenty of talent around him, especially in the backfield where both Kennedy Brooks and Trey Sermon are coming off of a strong season that saw them rush for over a combined 2000 yards and scoring 25 touchdowns. Plenty of targets will be at Hurts' disposal, highlighted by wide receiver CeeDee Lamb and rounded out by tight end Grant Calcaterra and fellow WR Lee Morris. New defensive coordinator, Alex Grinch was brought in to fix a Sooner defense that finished last in the conference in scoring, passing and total yards per game. Last years Big 12 leader in tackles returns with linebacker Kenneth Murray back for his junior season after recording 155 takedowns in 2018. The defensive line is led by Ronnie Perkins and Neville Gallimore, while the best of the backfield are junior namesakes at cornerback Tre Brown and Tre Norwood. The Sooners begin their 2019 campaign with easy non-conference games against Houston, South Dakota and a road trip to UCLA. After that, they enter their Big 12 season, something they have done exceptionally well against in recent history with a 35-3 record against conference opponents over the last four years. Their yearly matchup in Dallas against Texas is easily their hardest game on the schedule, as they also benefit from getting their next two most difficult Big 12 opponents at home with both Iowa State and TCU coming to Norman this season. I see no reason to believe that Oklahoma won't maintain their recent run of dominance and would be truly surprised if they didn't make it three seasons in a row with a BCS Playoff appearance.
PICK: OKLAHOMA OVER 10.5 WINS
PICK: OKLAHOMA BIG 12 CHAMPIONS
---
50% Cash up to $250

---
OKLAHOMA STATE COWBOYS
Over/Under: 7.5 wins Odds to win Big 12: +1800
The Cowboys ended 2018 ranked near the top of the conference in all major offensive categories, but unfortunately, they were also near the bottom of all the defensive ones. They ended the year with a disappointing 7-6 record after finishing the previous three in a row with a record of 10-3, and their season was certainly not helped with five losses in games they were favored to win. This year Oklahoma State will look to redshirt freshman Spencer Sanders to lead the offense, and he will look to make an instant connection with star wideout Tylan Wallace, who finished last season with 1491 yards receiving and 12 touchdowns. Four returning starters to the offensive line should help open things up for new starter at running back, sophomore Chuba Hubbard after he finished 2018 with nine touchdowns and 969 yards of total offense. Only five starters are back for a Cowboys defense that struggled against conference opponents last season, letting up at least 28 points in all nine games. Cornerback AJ leads the defensive backfield after recording 11 pass breakups in 2019, which tied him for sixth in the Big 12. Unfortunately, the front seven returns only one starter, linebacker Calvin Bondage, and may struggle to improve on their disappointing run defense that finished dead last in the conference a season ago. Oklahoma State has gone 32-5 against non-conference opponents over the past nine years, and that success should continue in 2019 with an easy lineup of games against Oregon State, McNeese State, and Tulsa. Those three along with home conference matchups against Kansas State and Kansas should give the Cowboys five wins, while I expect them to drop games against Texas, Iowa State, and Oklahoma. This leaves them needing to go 3-1 in their remaining games against Texas Tech and West Virginia on the road along with Baylor and TCU at home. They have finished the past 13 years in a row with a record over .500, but this year I do not expect them to eclipse the 7.5 regular-season wins needed to beat their total.
PICK: OKLAHOMA STATE UNDER 7.5 WINS
---
TCU HORNED FROGS
Over/Under:
7.5 wins
Odds to win Big 12:
+1800 Gary Patterson enters his 19th season as head coach of the Horned Frogs, having led them to a bowl game in all but two of those years. They have finished with double-digit wins in three of the past five years, and while that sort of success doesn't appear to be in the cards, they certainly have a chance to surpass the 7.5 win total that has been set for them. Senior dual-threat transfer quarterback from Kansas State Alex Delton is expected to get the starting nod at quarterback, and he will look to Jalen Reagor as his primary target after the junior receiver finished last season with 72 catches for 1061 yards and nine touchdowns. Backfield duties will likely be split amongst senior running backs Sewo Olonilua and Darius Anderson, and both will be looking to get into the endzone a lot more often in 2019 after scoring just a total of five touchdowns combined last season. TCU finished at or near the top of the conference in every major defensive category in 2018, but with only one of their top seven tacklers returning they will be challenged to continue a similar line of success. 2nd Team "All Big 12" and NFL prospect at cornerback Jeff Gladney is the best of the defense, and along with Innis Gaines and Julius Lewis lead what is expected to be a strong backfield. Linebacker Garrett Wallow is the returning team leader in tackles and along with Montrell Wilson will patrol the middle of the field, while junior tackle Rock Blacklock is the best of the front line. The Horned Frogs will open the season with a record of at least 2-1, with easy wins against Arkansas Pine Bluff and SMU, though a tough road test at Purdue does await them. They also have to deal with five road conference matchups, a situation that didn't bode well for them last year, going 1-3 in the visitor role including a loss to lowly Kansas as a thirteen point favorite. They should get wins against Kansas, Kansas State, Texas Tech and West Virginia while games against Oklahoma, Texas and Iowa State will see them listed as underdogs. This leaves games against Baylor and Oklahoma State, which along with their non-conf matchup against Purdue will likely be the games that end up deciding whether they go over or under their season win total. With a veteran coach and an annual tradition of a near-lock for a trip to the postseason, I expect TCU to continue that success and get past the 7.5 win total.
PICK: TCU OVER 7.5 WINS
---
Texas Longhorns
Over/Under: 9.5 wins Odds to win Big 12: +360
After taking over a Longhorn team that had finished under .500 for three years in a row, head coach Tom Herman has since led Texas to back-to-back bowl victories along with their first double-digit win season since 2009. Only eight starters combined return to both sides of the ball, which along with a non-conference matchup against LSU and a tough Big 12 slate will undoubtedly provide a challenge for Herman and his Longhorns. Thankfully star quarterback Sam Ehlinger returns after accounting for 41 touchdowns in 2018, and two of his top targets are back as well with senior wide receivers Collin Johnson and Devin Duvernay. Only two are back from the offensive line, though thankfully both are all-conference talents in Zach Shacketlford and Park Bruan, which should help the new starter at running back Keaontay Ingram. The Texas defense loses four of its top five tacklers and returns just three starters including zero to their front six. All hope is certainly not lost as they still have plenty of talent to go around, including safeties Caden Sterns and Brandon Jones, linebackers Jeffrey McCullough and Joseph Ossai and lineman Malcolm Roach and Keondre Coburn. A significant difference between 2017 and 2018 for the Longhorns was their ability to beat ranked teams, improving from 1-4 to 5-2 a season ago. They will need to learn to play with more consistency as a favorite though considering four of their last five losses were in games they were expected by oddsmakers to win. They need to get to ten victories to eclipse their over/under win line of 9.5 and should get seven of those with games against Louisiana Tech, Rice, Oklahoma State, West Virginia, Kansas, Kansas State, and Texas Tech. This leaves just the LSU matchup, their yearly trip to Dallas to take on rival Oklahoma, and road trips to the remaining best teams in the conference in Iowa State, TCU and Baylor. They opened as underdogs against both LSU and Oklahoma, and if those are considered losses will need to sweep the other Big 12 trio to beat their win total. Things certainly don't look easy, but with good odds available to take the over I would roll the dice and take the Longhorns to beat their total.
PICK: TEXAS OVER 9.5 WINS
---
---
TEXAS TECH RED RAIDERS
Over/Under: 6.5 wins Odds to win Big 12: +2300
The Kliff Kingsbury era is over in Lubbock, with the former quarterback off to the NFL after getting fired for going 35-40 over a six-season span that included just one bowl win and never once going over .500 in conference play. In comes Matt Wells, who will hope to turn the program around, though the bar is somewhat low considering they have finished with double-digit wins just once in 44 seasons. Wells will rely on sophomore Alan Bowman to take the reigns as starting quarterback after three players shared time at the position a season ago and Bowman went on to lead them in all stats including a 69.4 completion rate. They lose a lot of production with two of their top receivers gone and will rely on TJ Vasher to continue his success from last season when he had 54 receptions for 687 yards and seven touchdowns. Four returning starters to the offensive line should help Bowman along with sophomore running back Ta'Zhawn Henry, who is expected to lead the way at the position. There is plenty of room for improvement from the Texas Tech defense after finishing last season ranked 108th in yards per game and 129th against the pass. They lose four of their top six tacklers but at least get back their leader in the category Jordyn Brooks along with fellow linebacker Riko Jeffers. Upfront they will rely on Broderick Washington to lead the way and amongst the defensive backs will look to budding star in the making, sophomore safety Adrian Frye, who led the Big 12 in interceptions last season with five while also finishing third in pass breakups with twelve on the year. The Red Raiders start the season with two easy games at home against Montana State and UTEP, but then face a non-conference challenge when they go on the road to take on Arizona. From there they face five Big 12 road games, which isn't a good thing considering they need all the help they can in the conference after finishing the last nine seasons in a row with a record under .500 against said opponents. Two of those away matchups are against Kansas, and West Virginia, who represents a pair of their best chances at wins within the Big 12, and other than a home matchup against Kansas State will likely find themselves underdogs in every other conference game. With a new head coach and a tough schedule awaiting them, I can't imagine Texas Tech getting the necessary seven wins to clear their over/under team wins and think betting against them is one of the top wagers of any of the preseason bets in the Big 12.
PICK: TEXAS TECH UNDER 6.5 WINS
---
WEST VIRGINIA MOUNTAINEERS
Over/Under: 5.5 wins Odds to win Big 12: +2500
Last season started promising for Mountaineers, opening their campaign with an 8-1 record and entering the final two weeks of the regular season ranked 7th in the country. From that point on, they lost their last two games of the regular season and then went on to drop their bowl game as well. They have to replace quarterback Will Grier along with their top four in receptions from 2018, and will now rely on either Oklahoma transfer Austin Kendall or Miami transfer Jack Allison to lead them at quarterback with Kendall the current favorite. The real highlight of the offense is expected to be the backfield, led by 3rd team All Big 12 running back Kennedy, who is entering his senior year after rushing for over 800 yards and scoring nine touchdowns a season ago. The West Virginia defense lost their best player when 1st Team "All Big 12" safety Kenny Robinson entered the transfer portal in early June. The defensive backfield was supposed to help offset a weak front six that returns just two starters, but with Robinson gone its not a sure bet that they will be able to do so, even with the returning talents of cornerback Joshua Norwood and safety Jovanni Stewart. Sophomores Dante Stills and Josh Chandler will be relied upon to strengthen things upfront. A tough schedule awaits the Mountaineers, with five Big 12 road games and non-conference matchups against Missouri and North Carolina State that will surely challenge their recent run of non-conf success that has seen them go 51-16 against such opponents over the past 14 seasons. They outrank only Kansas State and Kansas within the Big 12, both of which they have to travel to play. With just nine returning starters overall and a daunting schedule awaiting them, I don't expect the Mountaineers to add to their streak of having a winning record in 16 of the last 17 seasons.
PICK: WEST VIRGINIA UNDER 5.5 WINS
---
STOP LOSING TODAY! START WINNING WITH DOC'S TEAM OF PROFESSIONALS! GET A FREE NO STRINGS ATTACHED $60 FOR THIS WEEKEND'S GAMES!