Football Pick: Boise State vs. Oklahoma State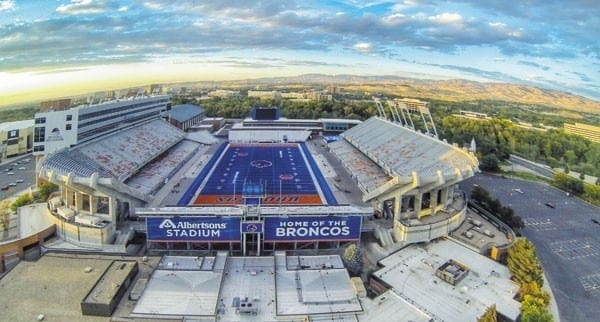 Boise State (2-0 SU, 2-0 ATS) vs. Oklahoma State (2-0 SU, 1-1 ATS)
College Football Week 3
When: Saturday, September 15, 2018 at 3:30PM EDT
Where: Boone Pickens Stadium, Stillwater, Oklahoma
TV: ESPN
By: Loot Levinson, NCAA Football Handicapper, Predictem.com
Spread: BSU +3/OKST -3
Total: 63.5
The Boise State Broncos make the trip to Stillwater in week three to take on the Oklahoma State Cowboys on Saturday. It would appear to be a tough road assignement for a Mountain West squad like the Broncos, making a long trip to take on a perennial Big 12 power. Then again, Boise State has been no stranger to the national stage—one of the more successful programs not in one of the main five conferences. Also, with Oklahoma State in a state of some flux, maybe it's not such a pipe-dream after all.
Boise St. has opened the season with some umph. A week one road matchup against Troy that some suspected would be tough was a 56-20 battering, followed by last week's 62-7 thumping of UConn. They return with a fourth-year starter in Brett Rypien at QB, with some familiar faces eager to make a run after an 11-3 season where they won 9 of 10 to close the season. Oklahoma State is coming off a 10-win season, but with QB Mason Rudolph and others having departed, this should be the week where we see where they stand on both sides of the ball.
First Test of a Young Season
Neither team has really been tested, opening the season with two non-conference patsies. Up to this point, it's been window dressing. Boise made mincemeat of Troy and UConn. And Oklahoma State has looked pretty good to open the season with a 58-17 hammering of the FCS' Missouri State, leading to last week's 55-13 hammering of South Alabama. The Cowboys enjoy the luxury of being nice and dug-in at home, with this being their third of four games in Stillwater to start the season.
Naturally, when two programs of this stature begin the season with blowout wins, there is only so much to glean. The general notion might be that Boise is going to be a better Boise team than Oklahoma State is gonna be a good Oklahoma State team. Where these teams intersect on that imaginary fulcrum exactly is another matter. Both teams will be good and have something to prove, but it's easier seeing Boise thriving in the MWC than it is to see the Cowboys doing the same in the Big 12. Alas, the Big 12 is a much tougher conference.
Questions Loom
This is big for Boise, likely the toughest opponent they will play all season and their last chance only in week three to make a big statement out-of-conference. They return a lot of experience. On offense Rypien is an experienced quarterback with good genes. He has gone over 300 yards in both games this season with no picks and 7 TD throws. But can he transcend into one of the better Boise State quarterbacks in his last season? He has enjoyed three good seasons without really making a major impact. Will we see him truly come into his own and bring the rest of the team with him this season?
Oklahoma State has certainly become a top destination for talent. Senior starter Taylor Cornelius has been waiting a long time for the top spot and has thrown for 723 yards in two games. But three picks against the soft opposition he has played thus far underline why he is seeing his first real playing time as a senior. RB Justice Hill, with over 2600 yards rushing the last two seasons, returns and will be a factor. RB Chuba Hubbard is emerging as a versatile threat. Something just tells us, however, that this might not be the most-explosive Oklahoma State offense we've seen in recent seasons.
Offense Will Be There, But What About "D?"
One can call it an institutional problem, as the Cowboys are rarely if ever noted for having a top defense. Offense is the name of the game. But a lack of horsepower on the other side of the ball has kept them as a conference threat that never quite turns over into a national power. Last season, the inadequacies on the defense plagued their entire season. They are certainly adept at winning track meet-type games, but make no mistake; their defense will again be a roadblock to success this season. We've seen issues already and more will likely manifest this week.
Again, there's not much to go on this season with lopsided beatings in their first two weeks, but first signs were perhaps more-positive for Boise State. Last season, their defense largely looked good, but there were enough lapses against the better offenses they played to elicit concern. They collapsed more than once. But they still have perhaps the best back-seven of any team not in a major conference. And up front, they can really bring the heat. This will certainly be the toughest group new Oklahoma State starter Taylor Cornelius has ever seen.
Take the Points on the Road Underdog
One would normally like to take Boise more in their own wheelhouse. They are out of context here in conference, locale, and caliber. It's difficult to remember a Mountain West team winning at a good Big 12 team's home-field. I just see Boise State as being the better team. They have more experience, return almost everyone on offense, and boast of a well-rounded team.
Still, it's a tough spot for Boise, who normally plays in a pretty tight circle, against teams in which they are accustomed. The Big 12 is better than the Mountain West for a reason and we could certainly see some of that resonate on Saturday. But unless my eyes deceive me, Boise looks to have the overall package to give Oklahoma State a little sweat and get the cover in Stillwater.
Loot's Pick to Cover the Point Spread: I'm betting on the Boise State Broncos plus 3 points.