Gator Bowl Pick: Indiana Hoosiers vs. Tennessee Volunteers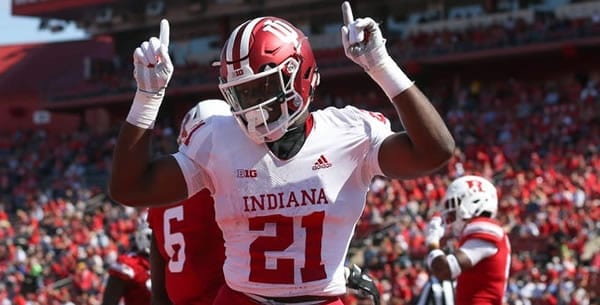 Indiana Hoosiers (8-4 SU, 7-5 ATS) vs. Tennessee Volunteers (7-5 SU, 7-5 ATS)
When: Thursday, Jan. 2, 7 p.m.
Where: TIAA Bank Field, Jacksonville, Fla.
TV: ESPN
Point Spread: IND +2/TEN -2 (BetNow - Bet your Hoosers/Vols pick for FREE by depositing $200 and receiving a FREE $100 Bet!)
Total: O/U 52
Outlook
This matchup looked highly unlikely at the start of the year, as Indiana initially struggled through games with Ball State and Ohio State, and Tennessee managed to lose to the likes of Georgia State. But Indiana has proven that its early issues toughened it up and Tennessee has risen from the dead to make this an interesting matchup. It's also one that features two teams heading in different directions. On the one hand, Tennessee has won five in a row after they stopped playing the likes of Florida, Georgia, and Alabama and instead got to play their lesser foes of the SEC East, sweeping their remaining division games to earn a bowl bid. On the other, Indiana's schedule got a lot tougher down the stretch, as the Hoosiers played Penn State tough before succumbing and got blown out by Michigan before earning their eighth win by besting in-state rival, Purdue. So which is more indicative of how this game will go: the way each team finished or the way each team played against tough competition?
How the Public is Betting the Indiana/Tennessee Game
The line has ticked up from -1.5 to -2 for Tennessee, with the total holding steady.
Find the
Top Sportsbooks
for bonuses, lines, parlay and teaser payouts and more!
Injury Concerns
Indiana:
Running back Stevie Scott is questionable with a leg issue.
Tennessee:
Running back Jauan Jennings is suspended for the first half after a flagrant foul in the season finale. Tight end Austin Pope and defensive back Bryce Thompson are both questionable, with Thompson facing a knee issue and Pope's left undisclosed.
When Indiana Has the Ball
With no Stevie Scott on the field, Indiana would see its offense change drastically. First, the job of carrying the ball would fall to freshman Sampson James, who performed admirably against Purdue, carrying the ball 22 times for 118 yards and a touchdown with Scott injured. However, that's about the extent of the freshman's work this season. Otherwise, he's come in for a carry here and there but rarely been in the game long enough to get into the flow of things.
Indiana would also lean even more heavily on quarterback Peyton Ramsey and wide receiver Whop Philyor to move the ball. Ramsey initially sat behind Michael Penix at quarterback, but injuries forced Tom Allen's hand, and Ramsey has played very well in his role, completing almost 70 percent of his passes. Philyor had 1,001 receiving yards on the year and hauled in five scores, making him a focal point for the Volunteers' defense. If Scott plays, it will go a long way toward helping Philyor and Ramsey be more effective through the air.
When Tennessee Has the Ball
Don't look for great offense out of the men in orange. Tennessee does just enough to get the job done when it has the ball, preferring to trust its defense to handle the job of actually winning the game. During the five-game winning streak, quarterback Jarrett Guarantano has topped 250 passing yards one time, a 415-yard performance against a Missouri team that was in full-fledged collapse and got its coach fired. Otherwise, Guarantano's numbers read more like a Woody Hayes offense: three things can happen when you pass, and two of them are bad. Tennessee rarely has Guarantano throw more than 25 times in a game, doing so only once in the past ten weeks (again, Missouri). However, unless you want to count Eric Gray's performance against Vanderbilt in the season's final game, the Vols can't really run the ball either. Tennessee played 12 games this season, and in seven of them, the Volunteers failed to have a player throw for more than 250 yards or have a player rush for more than 100 yards. Here's the amazing thing: in games where the Vols had nobody reach either statistical milestone, Tennessee went 5-2, with Alabama and Florida being the lone defeats. When someone did throw for more than 250 or rush for more than 100, Tennessee was 2-3. This is a weird team that's very much defense-first.
Betting Trends
There's no doubt about it: Tennessee is coming in hot. The Volunteers have won six of their past seven ATS, and while that's undoubtedly been helped by the fact that they've been able to play against the lesser opponents of the SEC East, it's also true that Tennessee struggled badly in the early part of the season against even worse competition, so the easier schedule isn't the only reason that Tennessee is getting the job done. Indiana might not seem to be that great in this situation, but there is more than meets the eye when it comes to the Hoosiers: they're 6-2 ATS against a team with a winning record, and the two were the twin terrors of Ohio State and Michigan. This is a solid team that only gets blown out by the truly elite, and they're a lot better than the Hoosiers of old. They're also pretty adept at scoring points, as five of their past six games have managed to hit the over. But that flies in the face of Tennessee's strengths, as the Volunteers have gone under the total in each of their past four games.
Weather Report
Jacksonville's a rather pleasant place to find yourself in January, and that will hold here with 74-degree weather and plenty of sun.
Dan's Pick to Cover the Spread
Both teams have a lot to play for here, with both in a bowl for the first time since 2016. For Indiana, there's a lot of motivation, as the Hoosiers haven't won a bowl game since 1991, losing by 3 to Duke in 2015 and by 2 to Utah in 2016. This time, Tom Allen comes in as the more experienced coach, as Jeremy Pruitt has never led Tennessee to a bowl game. Indiana also comes in with something to prove, as none of the Hoosiers' eight wins came over a team that made it to the postseason, which suggests that Indiana's record is more the product of a poor schedule than it is the result of the Hoosiers taking a step forward as a program. Then again, Tennessee's been hearing much of the same things. The Volunteers did beat a bowl squad in Kentucky and play in the SEC, so they've been getting less of that criticism, but there are definitely some who are less than impressed with a 7-5 Vol squad.
So which team to take here? I'd feel more comfortable if Scott were playing, but I have to lean toward Indiana. I just cannot trust the Tennessee offense to be able to keep pace with the Hoosiers if Indiana puts a couple of scores on the board, and as great as the Volunteers' defense is, I think Penn State's defense is better. The Nittany Lions had to work to hold the Hoosiers to 27 points, which gives an idea of how challenging Indiana is to stop. The only teams to hold Indiana to fewer points were Michigan and Ohio State, both of whom have top 10 defenses nationally.
Plus, Indiana's defense is no slouch itself. The Vols sit at 27th in the country, but the Hoosiers are right there with them at 37th. Indiana can stop Tennessee's weak offense, but I'm not sure the reverse is true. In this game, I want my free two points, which I don't think I will need. Give me the Hoosiers! Bet this game and ALL of your football/basketball picks at reduced odds -105 instead of the more expensive -110 that you've been betting forever! Making the switch to -105 means less risk and that will save you TONS of cash over the long haul! Click here to register for -105 betting at 5Dimes!
100% REAL CASH up to $300

USE BONUS CODE:
PREDICT100