MAC Championship: Northern Illinois vs. Buffalo Pick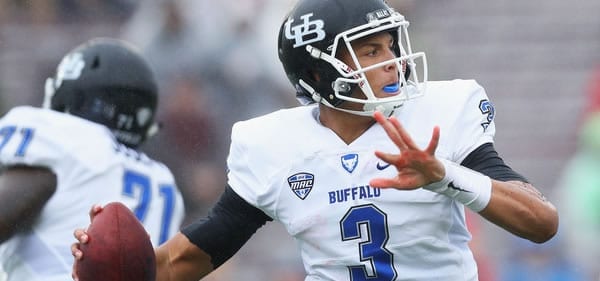 Northern Illinois Huskies (7-5 SU, 6-6 ATS) vs. Buffalo Bulls (10-2 SU, 9-3 ATS)
MAC Championship
Date and Time: Friday, November 30, 2018 at 4PM EST
Where: Ford Field, Detroit, Michigan
TV: ESPN2
Point Spread: NIU +3.5/BUFF -3.5
Over/Under Total: 49
The Northern Illinois Huskies take on the Buffalo Bulls on Friday in Detroit in the MAC Championship Game. The Bulls were the MAC East division champs this season on the strength of a 10-win season and a 7-1 mark in-conference. The Huskies were only 7-5 this season, but their 6-2 MAC record allowed them to prevail in the West division. Buffalo has been in better form lately—one of the many reasons I like them to win and cover the spread and earn their second-ever title in the MAC.
Differing Perspectives
Buffalo is riding high, and this isn't old-hat for them like it is for Northern Illinois. Over the years, the conference titles and double-digit win seasons have come fairly readily for the Huskies. Buffalo, meanwhile, is generally a bottom-of-the-pack team. In the last ten seasons, this is only the second time they will be over .500. This season, they have been excellent, putting together both a 4 and 5-game winning streak and entering this spot with 6 wins in their last 7 games. Last Friday, they beat Bowling Green on the road, 44-14.
On the other hand, you have a Northern Illinois team that isn't flying high into this spot. After a rough start where they were playing out-of-conference teams, they started making mincemeat of conference opponents in a 6-game win streak. But with back-to-back losses to conference also-rans like Miami-Ohio and WMU, they have looked lethargic and a far-reduced version of the team we saw several weeks ago. At the end of the day, we see a team that limped into this spot and has fewer points scored than allowed.
NIU vs. the Balance of Buffalo
There might not be anything Buffalo does that jumps off the chart. Their offense is proficient, without blowing away the opposition. And their defense is sort of a no-frills group, even if they've really been stingy on opposing passing attacks. Offensively, they are a lively group, led by QB Tyree Jackson, who has thrown 25 touchdowns, while running for 7 more. The ground attack is robust, led by Jaret Patterson and Kevin Marks, who have combined for 23 TDs. The NIU run-defense may have been the best part of the team, but even that has waned as they've landed in this title game with a bit of a thud. With NIU not that strong against the pass, Buffalo can wield a lot of different weapons in that area, with receivers Anthony Johnson and KJ Osborn leading the way.
Still, it's the Buffalo defense that appears to be a major matchup issue with a struggling NIU offense. DE Chuck Harris is a fierce pass-rusher. Cornerback Brandon Williams adds a nice playmaking element to a dominant secondary. But they're not a playmaking defense from an overall view, just a stout one. And that's bad news for an NIU offense that goes long stretches in games without much good happening. Still, the Buffalo run-defense isn't the best, and NIU can run it fairly well with Tre Harbison, Marcus Jones, and running-quarterback Marcus Childers. Still, with Childers a bit mistake-prone and without ample aerial weaponry, the NIU offense will be overly-reliant on the run game. Watching that last week doesn't elicit much hope, as WMU had them struggling all day.
Wheels Coming off NIU?
You hate to see Northern Illinois limping into this game. Their formula for success was pretty tenuous even when they were doing well. There were a lot of narrow wins along the way, and it's very unusual for a team to be in a conference title game with a negative point differential. But whereas they had a knack for keeping their nose above water earlier in the season, they seem to have lost their edge. The dip in emotion has been palpable.
Buffalo has a more positive attitude and energy, but let's also be a bit cautious. This will be their third straight road game, and a few weeks ago, they were smashed on the road, 52-17 at Ohio, before beating a bad Bowling Green bunch last week. They are 7-1 in conference, and that's what counts. Holding them to the standard of perfection would be missing the point of where they are and how hard they had to work to get here. Still, as we bemoan the way NIU finished the season, they reserve the right to improve, and Buffalo has shown they are far from infallible.
Lay the Points on the Bulls
Have the Bulls maybe benefitted from a soft schedule? Have there been some kinks in recent weeks? Sure. But they enter this matchup in far better form. There are some built-in biases with NIU the perennial conference standout and the Bulls the doormat year after year. But based on recent form and some potential matchup issues across the board, I see the Bulls emerging from the Motor City with the conclusive win.
Loot's Pick to Cover the Point Spread: I'm betting on the Buffalo Bulls minus 3.5 points.