Ohio State Buckeyes O/U Wins Pick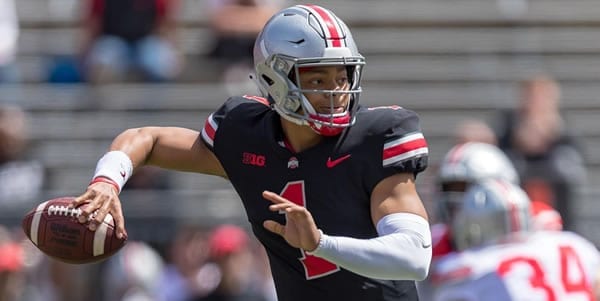 Last year: 11-1 (regular season)
Over/Under Total: 10
After Urban Meyer made the Buckeyes the dominant power of the Big Ten and went through his entire career in Columbus without ever once losing to Michigan, the Buckeyes now hand the reins to Ryan Day. Can he show that his 3-0 run during Meyer's absence last year wasn't a fluke and keep Ohio State at the top of the heap in the Big Ten — or will the Buckeyes struggle to adjust under their rookie leader?
Reasons for Optimism
Head-coach Day didn't look like he was in over his head when he took over for Meyer for the Buckeyes' first three games last season. Granted, the Buckeyes didn't start out with a murderer's row of games, but he did have to beat a decent TCU squad in Arlington last season and got out of Texas with the W, a nice response to those who wondered how he would do as the head man. Now he's got to show he can do it on a full-time basis, and he's doing it with a one-time coveted recruit under schedule.
Justin Fields was a five-star recruit who chose Georgia out of high school but bailed on Athens after one season when it became clear that he wasn't going to be the starter over Jake Fromm and was looking at three years of riding the bench while waiting for his chance. Instead, Fields now gets the opportunity to take over in Columbus with three years of eligibility. He'll have to be ready from the word go to get the Buckeyes' offense moving because the Ohio State offensive line has to rebuild on the fly after losing three starters. Luckily, Fields has the legs needed to escape pressure situations, and he's got a reliable 1,000-yard back in J.K. Dobbins back there with him to help take the pressure off the Buckeyes' passing attack.
Reasons for Worry
Can the Ohio State offensive line match the production that it showed a year ago? And can the defense actually get some stops? Other than a game against the comically inept Michigan State offense, Ohio State's defense got shredded down the stretch, giving up at least 30 points to all of Purdue, Maryland, Nebraska and Michigan, with the first three not exactly known for their high-powered offenses. The Buckeye defense was so weak that in surrendering 51 points to Maryland, it allowed the Terrapins to nearly double the point total they'd put up in a combined four games against Iowa, Michigan, Michigan State and Penn State (27 points total).
That cannot happen again if Ohio State is going to build off a Rose Bowl win and still dominate the Big Ten. The Buckeyes were only bailed out in those games by their outstanding offense, and it's going to take time for Fields and his new offensive line to get on the same page. Ohio State has to get its front seven up to speed in a hurry, or the Buckeyes are going to drop a game or two that they shouldn't.
Toughest Game
Michigan is motivated, Michigan is talented, and Michigan is at home. Ohio State has never won eight straight in The Game, and they've got a chance to do precisely that after Meyer went 7-0 against the Wolverines during his time in Columbus. In fact, Ohio State has won 14 of its past 15 over Michigan, making this a game that the Wolverines absolutely cannot afford to lose. Other than Michigan, the toughest test the Buckeyes face might be in Week 2 against Cincinnati. Bearcats coach Luke Fickell has actually been the Buckeyes' coach for longer than Day has, as he was the interim coach for one season before Meyer came in and will still have more games as the Ohio State head man under his belt than Day when the teams meet in Week 2. Fickell knows his former team well, and if the Buckeyes don't have the kinks worked out, the Bearcats have the talent to spring a surprise.
The Over Wins If:
Fields shows that he hasn't lost anything from his year of sitting in Athens, and the Ohio State defense plays like something that resembles championship caliber. Fields has the talent to bring the Buckeyes another Big Ten championship, but he's got to show that he's ready to play on the college level as a full-time starting quarterback, something that he didn't get to experience at Georgia in his limited appearances.
The Under Wins If:
The Buckeyes' defense remains a sieve and if Fields isn't able to overcome the rust of sitting for a season. Day also didn't have a particularly close game of the three that he coached last season. Until he experiences it, there's always going to be the question of how he handles it when the Buckeyes find themselves in a fourth-quarter showdown, and he's got to make the right decisions to help his team win. Even great coaches struggle at times in their first few times matching wits with more experienced minds, and it's anyone's guess as to whether Day will know the right moves to make for Ohio State this season.
Dan's pick
Change the order of Ohio State's games, and I might pick against the Buckeyes here. But the reality is that Ohio State's first ten games are all very manageable contests. Sure, there's some danger with Fickell and Cincinnati coming up I-71 to Columbus in the second week of the season, and trips to Nebraska and Northwestern won't be easy games by any stretch of the imagination. But realistically, Ohio State should be favored to win every game it plays until its penultimate contest against Penn State — and the Nittany Lions have to go to Columbus this season.
The schedule is set up well for Ohio State to be 10-1 or better when it rolls into Ann Arbor for the regular-season finale, and even if the Buckeyes stumble at Michigan, they'd still have this bet locked up as no worse than a push. I'm going to go with Ohio State to hit the over, or at worst, return the original bet on a push.
Take the Over 10