[et_pb_dcsbcm_divi_breadcrumbs_module hide_homebreadcrumb="off" homebreadcrumbtext="Home" separator="sep-raquo" hide_currentbreadcrumb="off" homebreadcrumborientation="left" _builder_version="3.8″ fontsbreadcrumbs_font="Lato||||||||" fontsbreadcrumbs_text_color="#000000″ fontsbreadcrumbs_font_size="15px" fontsbreadcrumbs_line_height="16px" fontsseperator_font="||||||||" fontsbreadcrumblinks_font="||||||||" fontsbreadcrumblinks_text_color="#2567cf" custom_margin="25px|||" custom_margin_phone="30px|||" custom_margin_last_edited="off|desktop" custom_css_main_element="font-family: Helvetica Regular;" global_module="3641″ saved_tabs="all"][/et_pb_dcsbcm_divi_breadcrumbs_module]
Pick Clemson Tigers: 3 Futures Bets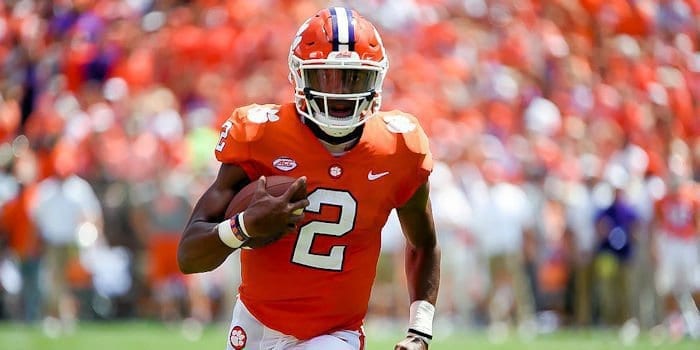 By Mike Mann, Predictem.com
The Clemson Tigers enter their 2018 campaign with the highest of hopes thanks to another stacked roster and one of the best coaches in the game in Dabo Swinney leading the way on the sidelines. All the pieces are in place for another successful run at what would be their fourth consecutive trip to the BCS Playoffs. There are multiple reasons why we think the Tigers are a smart investment for a handful of preseason wagers.
The Schedule
The schedule balances out in Clemson's favor as they face just the 61st most difficult schedule in the country that includes only one team that ended last season ranked. Within conference they avoid both Miami and Virginia Tech from the ACC Coastal division and also benefit from having had a clear upper hand of late against their ACC opponents. The Tigers have dominatFed in conference play in recent history, having gone 25-2 over their last 27 games against ACC foes. Recent history against each individual opponent have been nearly as impressive with the following streaks; 7-0 versus Boston College, 9-0 vs. Wake Forest, 6-0 vs. NC State, 4-0 vs. Louisville, 4-0 vs. Duke, 12-0 at home vs. Syracuse and 3-0 vs. Florida State. They do draw two challenging non-conference opponents in Texas A&M and South Carolina, though they get SC at home, and similar to their sun against ACC opponents, have had the upper hand of late having won four straight against the Gamecocks. The Tigers have also won 18 straight games against non-conference opponents not named Alabama.
Coaching
Entering his eleventh season in Clemson, Swinney has turned the Tigers into an annual title contender after laying the groundwork there over the past decade. His teams have achieved double-digit wins for the past eight seasons in a row, won three straight conference championships, have entered the BCS Playoffs as a minimum of a 2 seed in each in the last three years and was able to win the school's second ever National Championship back in 2016. They are able to maintain such consistency thanks to an influx of recruits that rank as some of the best in college football year in and year out. This year's was no different as they again were able to garner one of the top overall classes. The impressive thing about Swinney is he is able to do all of this without coming across with a snake oil salesman type vibe and genuinely appears to be the real deal when it comes to enthusiasm for his players, fans and the university.
NFL Talent On Defense
There is no stronger part of the Clemson team than their defensive line, with all four players on it fully expected to be playing in the NFL next season. Clelin Ferrell, Christian Wilkins, Dexter Lawrence and Austin Bryant were all members of the All-ACC team a season ago and many expected the entire group to jump to the pros in the offseason, but instead Tiger fans lucked out when their ferocious foursome decided to return for one last shot at a national championship. They are far from alone on a defense that returns eight starters from a squad that finished last year ranked second in scoring, fourth in total yards allowed, fourth against the rush and 13th versus the pass. Senior linebacker Kendall Joseph the best of the remaining bunch, and much like his front seven mates on the line, is projected to be playing at a higher level in 2019.
Senior Leadership On Offense
Just like the defense there is power up front on the offense with two 1st Team All-ACC members remaining on the line with Mitch Hyatt and Justin Falcinelli both returning for their senior season. This will go a long way in helping not only whomever starts at quarterback but also for a strong returning backfield that returns Travis Etienne and Tavien Feaster, who each had 107 carries a season ago and combined to rush for 1,435 yards and 20 touchdowns. The battle to see who begins the year as the team's quarterback will be between incumbent Kelly Bryant and incoming freshman phenom Trevor Lawrence. Both have dual-threat capabilities, and while most expect Kelly to begin the year as the quarterback it remains to be seen how long he will be able to hold off the sensationally talented freshman Lawrence, the clear 'air'-apparent to the position and likely cornerstone at the school much like Deshaun Watson, and Woody Dantzler before him.
in 2017 the Tigers dream of an undefeated regular season was ruined by a shocking upset loss at Syracuse, a game in which Clemson was favored by 23.5 points to win. Starting quarterback Kelly Bryant was lost to injury late in the first half and they were unable to overcome the change in momentum and instead were shut out in the fourth quarter as their chance at perfection drifted away. They lost only three players to the draft from last seasons team, which was the lowest amount picked off any Dabo Swinney team, and with two reliable options at the quarterback position that could easily start on most teams in the country, they no longer have to worry about one injury derailing a game let alone an entire season.
Clemson Picks
There are a variety of quality football picks available for preseason betting on Clemson (5dimes has 35 ways you can bet on Clemson or a Clemson player), including winning the national championship, making the four team playoff and whether or not they will go over/under their projected win total of 11. I do not believe you can go wrong with any of them. At +585 to win the National Championship you are getting nearly 6-1 odds on a team that has been a cornerstone of the BCS playoffs and with its stacked lineup is fully expected to be in the thick of the race again. For that same reason, I would recommend picking Clemson -130 odds to make the BCS Playoffs. There is solid value as I simply can't imagine the Tigers not being involved in the college football final four at seasons' end. Finally, if a strong proponent of Clemson's likely 2018 success, taking them to clear their over in season wins seems like a logical direction to go in as they have one built in mulligan and if they somehow manage to fall into the one game let down that has blighted their regular season the last two years (Pittsburgh in 2016, Syracuse in 2017), the worst you can possibly do is push your wager. 2018 promises to be another dominant season for Swinney and his Tigers and backing them financially in whatever way you can is a wise investment.
<div class="widget105"><!-- [et_pb_line_break_holder] --><h4 class="parlays">Best Parlays</h4><!-- [et_pb_line_break_holder] --><!-- [et_pb_line_break_holder] --><table id="parlay"><!-- [et_pb_line_break_holder] --> <tr><!-- [et_pb_line_break_holder] --> <th><span class="team"></span></th><!-- [et_pb_line_break_holder] --> <th>2 Team Parlay</th><!-- [et_pb_line_break_holder] --> <th>3 Team Parlay</th><!-- [et_pb_line_break_holder] --> <th>4 Team Parlay</th><!-- [et_pb_line_break_holder] --> </tr><!-- [et_pb_line_break_holder] --> <tr><!-- [et_pb_line_break_holder] --> <td><a href="https://affiliates.sportbet.com/tracking/Affiliate.aspx?idBook=2&mediaTypeID=220&AffUrlID=80&LandingPageID=55"><img src="https://www.predictem.com/wp-content/uploads/2018/06/sportbet-sm.png"></a></td><!-- [et_pb_line_break_holder] --> <td>2.74 to 1</td><!-- [et_pb_line_break_holder] --> <td>6.24 to 1</td><!-- [et_pb_line_break_holder] --> <td>13 to 1</td><!-- [et_pb_line_break_holder] --> </tr><!-- [et_pb_line_break_holder] --> <tr><!-- [et_pb_line_break_holder] --> <td><a href="https://record.bettingpartners.com/_5vfuDOH_H2wWPf2JTsWUjGNd7ZgqdRLk/1/"><img src="https://www.predictem.com/wp-content/uploads/2018/06/bovada_sm.png"></a></td><!-- [et_pb_line_break_holder] --> <td>2.64 to 1</td><!-- [et_pb_line_break_holder] --> <td>6 to 1</td><!-- [et_pb_line_break_holder] --> <td>12.3 to 1</td><!-- [et_pb_line_break_holder] --> </tr><!-- [et_pb_line_break_holder] --> <tr><!-- [et_pb_line_break_holder] --> <td><a href="https://record.webpartners.co/_jGZUKO3JWgwmunhzcKAZ62Nd7ZgqdRLk/1/"><img src="https://www.predictem.com/wp-content/uploads/2018/06/mybookie-sm.png"></a></td><!-- [et_pb_line_break_holder] --> <td>2.64 to 1</td><!-- [et_pb_line_break_holder] --> <td>6 to 1</td><!-- [et_pb_line_break_holder] --> <td>12 to 1</td><!-- [et_pb_line_break_holder] --> </tr><!-- [et_pb_line_break_holder] --></table><!-- [et_pb_line_break_holder] --><div class="widget-footer"><a href="https://www.predictem.com/best-sportsbooks/parlays-odds/">See all Sportsbook Parlays</a></div><!-- [et_pb_line_break_holder] --></div><!-- [et_pb_line_break_holder] --><!-- [et_pb_line_break_holder] --><!-- [et_pb_line_break_holder] --><style><!-- [et_pb_line_break_holder] --> #parlay {border-collapse: collapse;<!-- [et_pb_line_break_holder] --> width: 100%; border: 0px;<!-- [et_pb_line_break_holder] --> font-size: 14px!important;}<!-- [et_pb_line_break_holder] --> #parlay td, #parlay th {<!-- [et_pb_line_break_holder] --> border: 0px;<!-- [et_pb_line_break_holder] --> padding: 8px;<!-- [et_pb_line_break_holder] --> text-align: left;}<!-- [et_pb_line_break_holder] --> #parlay th {<!-- [et_pb_line_break_holder] --> padding-top: 5px;<!-- [et_pb_line_break_holder] --> padding-bottom: 5px;<!-- [et_pb_line_break_holder] --> font-weight: bold;<!-- [et_pb_line_break_holder] --> line-height: 14px;<!-- [et_pb_line_break_holder] --> text-align: center;<!-- [et_pb_line_break_holder] --> color: #000;}<!-- [et_pb_line_break_holder] --> #parlay tr {border-bottom: 1px solid #edeef0;}<!-- [et_pb_line_break_holder] --> .team {font-size: 16px;}<!-- [et_pb_line_break_holder] --></style>
<div style="width:340px; margin: 0 auto;"><!-- [et_pb_line_break_holder] --> <a class="twitter-timeline" data-width="340" data-height="500" data-link-color="#008156" href="https://twitter.com/PredictemPicks?ref_src=twsrc%5Etfw">Tweets by PredictemPicks</a> <script async src="https://platform.twitter.com/widgets.js" charset="utf-8"></script><!-- [et_pb_line_break_holder] --></div>