[et_pb_dcsbcm_divi_breadcrumbs_module hide_homebreadcrumb="off" homebreadcrumbtext="Home" separator="sep-raquo" hide_currentbreadcrumb="off" homebreadcrumborientation="left" _builder_version="3.8″ fontsbreadcrumbs_font="Lato||||||||" fontsbreadcrumbs_text_color="#000000″ fontsbreadcrumbs_font_size="15px" fontsbreadcrumbs_line_height="16px" fontsseperator_font="||||||||" fontsbreadcrumblinks_font="||||||||" fontsbreadcrumblinks_text_color="#2567cf" custom_margin="25px|||" custom_margin_phone="30px|||" custom_margin_last_edited="off|desktop" custom_css_main_element="font-family: Helvetica Regular;" global_module="3641″ saved_tabs="all"][/et_pb_dcsbcm_divi_breadcrumbs_module]
UMass Minutemen vs. Georgia Bulldogs Barking Dog Pick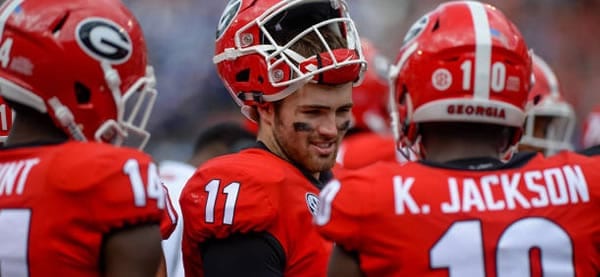 UMass Minutemen(4-7 SU, 4-7 ATS) vs. Georgia Bulldogs (9-1 SU, 6-4 ATS)
NCAA Football Week 12
Date and Time: Saturday, November 17th, 4:00pm EST
Where:Sanford Stadium – Athens, GA
TV: SEC Network
Point Spread: UMASS +44/UGA -44
Over/Under Total: OFF
POWER RATINGS – WEEK 12:
GEORGIA BULLDOGS -44
TAKEAWAYS FROM WEEK 11:
After last week there is not much to take away, especially in this match-up. Georgia is getting healthy still, and their run game is getting better and better. The Bulldogs main focus right now is winning each of these last two games and then hoping to pull off the upset over Alabama for their second straight SEC title and second straight trip to the playoff. As for UMass, they are sitting at 4-7 and have lost four of their last six games. This appears to be a dead season, but in some cases, these are the most dangerous teams for a team like Georgia. A miracle in Athens would be the best thing to ever happen to 95% of UMass' players in their athletic lives, and it would go down as one of the biggest upsets in college football history. Can they do it? Probably not..
HOW THE PUBLIC IS BETTING UMASS AND GEORGIA:
Of course, Georgia has like a 99.999% chance of winning this game outright, but a 44 point spread is a lot, and that is a lot no matter who is playing. As of late Monday evening, 66% of the documented public action liked UMass to keep it closer than the 44 points while 34% of the public thinks Georgia blows them out and covers. On the season, Georiga is 6-4 against the spread and UMass is 4-7. I think this number is right on the money and the spread will be covered or not by just a few points.
THE HISTORICALS:
These two teams have never faced off. This will be the first-ever game played between UMass and Georgia. Comparing programs though, here are some numbers: Georgia has two National Titles, UMass has none. Georgia has two Heisman Trophy winners, UMass…none. Georgia has had 323 players play in the NFL while UMass has only had 23. It is obvious that Georgia is the more accomplished and more talented team here but hey…any given Saturday…right? LOL
INJURY CONCERNS:
UMass has no new injury news since the last few weeks. As for Georgia, they have a number of players who are either listed as Day to Day or Questionable. This includes Cade Mays (OL), Ben Cleveland (OL), Lamonte Gaillard (C), and Jeremiah Holloman. Coach Kirby Smart may let these guys rest up since this is a game that can be won without them and make sure they are ready for Georgia Tech. This has not been confirmed, it just my gut feeling. Either way, injuries should not sway this game one way or the other.
WHEN UMASS HAS THE BALL:
Georgia has a good defense, young, but good. They are nowhere near as talented as last season, and they have had lapses this season where teams were able to move the ball on them. Missouri and LSU both had lots of success on the ground, but since that LSU loss, the D line seems to have tightened up a bit. UMass actually enters this game as a top 20 passing team, and I am pretty sure Georgia will be ready for that. So the question is… Does UMass do what they are good at or do they try and run at Georgia to see if they can shorten this game and open up the passing game. The UMass defense is one of the worst in the country so the only shot they have in this game…as if they really had a shot…is to grind it out and keep the ball in their control. If the Minutemen can get any success going on the ground, it will take pressure off their offensive line and their quarterback, senior, Ross Comis. Comis in 2018 has passed for 1,521 yards with 12 touchdowns and just 2 interceptions. Comis does a great job of protecting the football and not making huge mistakes. However, they have yet to play a defensive front like Georgia, and if the O Line cannot protect Comis, he will be prone to make some bad choices. Again, the key to UMass having success in Athens is to establish a run to open up the pass. Do that, and there is a small chance. Yes, this is easier said than done but it is the only hope they will have. Goodluck UMass!
WHEN GEORGIA HAS THE BALL:
Georgia is a run-first offense, and I can see them coming out with that same mentality early on. The combination of D'Andre Swift and Elijah Holyfield has the Georgia Bulldogs averaging 240 yards per game on the ground, and most of this success has been with a banged up offensive line over the last few weeks. I believe though that once Georgia puts the game away which should be before halftime that we will see more of the freshman sensation, Justin Fields, come in and play QB. Many Georgia fans believe Fields should be starting now, but the sophomore, Jake Fromm has improved week after week over the last two years (with the exception of the LSU game) and has done nothing to lose his job. This offseason in Athens will be very interesting, to say the least. With that said, I see an easy win for Georgia, and I see lots of vanilla playcalling. Additionally, lots of backups getting reps as Georgia prepares not only for their regular season finale against Georgia Tech but the SEC Championship Game against Alamaba that will determine whether or not the Dawgs make it to the Playoff for the second straight year. Going against a defense that allows over 40 points a game, I am pretty sure this is a "Pick Your Score" game for the Bulldogs, the only question is what score will they choose?
BETTING TRENDS:
So here is the deal: Georgia is going to win this game, and they are going to win it easily…BUT, I do like UMass to cover. The Minutemen have played some tough opponents over the years lately, and they nearly beat the Tennessee Volunteers straight up just last season. UMass went into Neyland Stadium and lost 17-13 to a Vols team that at the time thought they could compete for the SEC East. We later found out that was not the case, but the fact that a team like UMass hung in there showed the amount of character they have. Not only do I hate taking favorites that are this high of a spread, but there are actually some historical trends that makes me lean UMass as well. UMass is 7-0 all-time vs. the SEC against the spread, and they are also 7-1 against the spread against teams with a winning record. I like Georgia big in this game but not 44 points big. I think the Dawgs win this game something like 45-10 when it is all said and done.
WEATHER REPORT:
The weather in Georgia is nasty, cold, and rainy all week but come game time on Saturday the forecast calls for mostly sunny skies, no chance of rain, and temperatures that are a high of 66 and a low of 38. It should be a nice day for football.
Bob's Pick to Cover the Point Spread:TAKE UMASS +44 POINTS AGAINST GEORGIA.
<div class="clickable CTA" style="margin: 0 auto; background: #fff; border-radius: 10px; text-align: center; padding: 10px 20px 20px 20px;"><!-- [et_pb_line_break_holder] --> <img src="https://www.predictem.com/wp-content/uploads/2018/05/mybookie-logo.png" alt="MyBookieer" class="cta-image" /><!-- [et_pb_line_break_holder] --> <p style="margin-top: 5px; font-size: 22px; line-height: 30px;"><!-- [et_pb_line_break_holder] --> $1,000 Free Play Offer<!-- [et_pb_line_break_holder] --> </p><!-- [et_pb_line_break_holder] --> <hr class="cta-divider"><!-- [et_pb_line_break_holder] --> <p style="padding-bottom: 20px; font-size: 15px; line-height: 20px"><!-- [et_pb_line_break_holder] --> $1,000 Football Sign Up Bonus<br>Free Play - 15X Rollover<!-- [et_pb_line_break_holder] --> </p><!-- [et_pb_line_break_holder] --> <a href="https://www.predictem.com/out/Mybookie" rel="nofollow" target="_blank"><button class="et_pb_button" style="color: #fff; cursor: pointer; width: 90%;"><!-- [et_pb_line_break_holder] --> Bet Here<!-- [et_pb_line_break_holder] --> </button></a><!-- [et_pb_line_break_holder] --></div>
<div class="widget105"><!-- [et_pb_line_break_holder] --><h4 class="parlays">Best Sportsbooks for Parlays</h4><!-- [et_pb_line_break_holder] --><!-- [et_pb_line_break_holder] --><table id="parlay"><!-- [et_pb_line_break_holder] --> <tr><!-- [et_pb_line_break_holder] --> <th><span class="team"></span></th><!-- [et_pb_line_break_holder] --> <th>2 Team Parlay</th><!-- [et_pb_line_break_holder] --> <th>3 Team Parlay</th><!-- [et_pb_line_break_holder] --> <th>4 Team Parlay</th><!-- [et_pb_line_break_holder] --> </tr><!-- [et_pb_line_break_holder] --> <tr><!-- [et_pb_line_break_holder] --> <td><a href="https://www.predictem.com/out/SportbetP"><img src="https://www.predictem.com/wp-content/uploads/2018/06/sportbet-sm.png"></a></td><!-- [et_pb_line_break_holder] --> <td>2.74 to 1</td><!-- [et_pb_line_break_holder] --> <td>6.24 to 1</td><!-- [et_pb_line_break_holder] --> <td>13 to 1</td><!-- [et_pb_line_break_holder] --> </tr><!-- [et_pb_line_break_holder] --> <tr><!-- [et_pb_line_break_holder] --> <td><a href="https://www.predictem.com/out/BovadaP"><img src="https://www.predictem.com/wp-content/uploads/2018/06/bovada_sm.png"></a></td><!-- [et_pb_line_break_holder] --> <td>2.64 to 1</td><!-- [et_pb_line_break_holder] --> <td>6 to 1</td><!-- [et_pb_line_break_holder] --> <td>12.3 to 1</td><!-- [et_pb_line_break_holder] --> </tr><!-- [et_pb_line_break_holder] --> <tr><!-- [et_pb_line_break_holder] --> <td><a href="https://www.predictem.com/out/MybookieP"><img src="https://www.predictem.com/wp-content/uploads/2018/06/mybookie-sm.png"></a></td><!-- [et_pb_line_break_holder] --> <td>2.64 to 1</td><!-- [et_pb_line_break_holder] --> <td>6 to 1</td><!-- [et_pb_line_break_holder] --> <td>12 to 1</td><!-- [et_pb_line_break_holder] --> </tr><!-- [et_pb_line_break_holder] --></table><!-- [et_pb_line_break_holder] --><div class="widget-footer"><a href="https://www.predictem.com/best-sportsbooks/parlays-odds/">See all Sportsbook Parlays</a></div><!-- [et_pb_line_break_holder] --></div><!-- [et_pb_line_break_holder] --><!-- [et_pb_line_break_holder] --><!-- [et_pb_line_break_holder] --><style><!-- [et_pb_line_break_holder] --> #parlay {border-collapse: collapse;<!-- [et_pb_line_break_holder] --> width: 100%; border: 0px;<!-- [et_pb_line_break_holder] --> font-size: 14px!important;}<!-- [et_pb_line_break_holder] --> #parlay td, #parlay th {<!-- [et_pb_line_break_holder] --> border: 0px;<!-- [et_pb_line_break_holder] --> padding: 8px;<!-- [et_pb_line_break_holder] --> text-align: left;}<!-- [et_pb_line_break_holder] --> #parlay th {<!-- [et_pb_line_break_holder] --> padding-top: 5px;<!-- [et_pb_line_break_holder] --> padding-bottom: 5px;<!-- [et_pb_line_break_holder] --> font-weight: bold;<!-- [et_pb_line_break_holder] --> line-height: 14px;<!-- [et_pb_line_break_holder] --> text-align: center;<!-- [et_pb_line_break_holder] --> color: #000;}<!-- [et_pb_line_break_holder] --> #parlay tr {border-bottom: 1px solid #edeef0;}<!-- [et_pb_line_break_holder] --> .team {font-size: 16px;}<!-- [et_pb_line_break_holder] --></style>