[et_pb_dcsbcm_divi_breadcrumbs_module hide_homebreadcrumb="off" homebreadcrumbtext="Home" separator="sep-raquo" hide_currentbreadcrumb="off" homebreadcrumborientation="left" _builder_version="3.8″ fontsbreadcrumbs_font="Lato||||||||" fontsbreadcrumbs_text_color="#000000″ fontsbreadcrumbs_font_size="15px" fontsbreadcrumbs_line_height="16px" fontsseperator_font="||||||||" fontsbreadcrumblinks_font="||||||||" fontsbreadcrumblinks_text_color="#2567cf" custom_margin="25px|||" custom_margin_phone="30px|||" custom_margin_last_edited="off|desktop" custom_css_main_element="font-family: Helvetica Regular;" global_module="3641″ saved_tabs="all"][/et_pb_dcsbcm_divi_breadcrumbs_module]
UNLV Rebels vs. USC Trojans Week 1 ATS Pick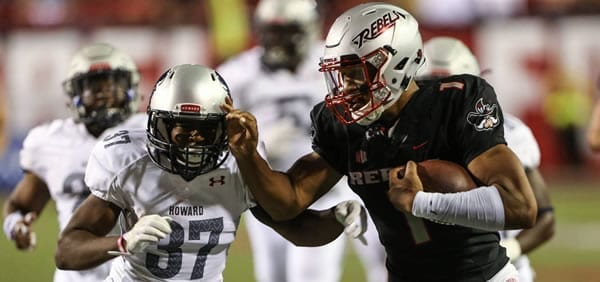 UNLV Rebels (0-0 SU, 0-0 ATS) vs. USC Trojans (0-0 SU, 0-0 ATS)
College Football Week 1
Date/Time: Saturday, September 1, 2018 at 4PM EDT
Where: Los Angeles Memorial Coliseum, Los Angeles, California
TV: Pac-12
Point Spread: UNLV +25.5/USC -25.5
Over/Under Total: 62.5
The UNLV Rebels come to the Los Angeles Memorial Coliseum to take on the USC Trojans on Saturday in week one action. It's a daunting spot for UNLV, a team where success on the football field has been fleeting at best. For a MWC team to go to a cavernous venue like the Coliseum to take on a high-powered USC team is a lot to ask. But at least they have sportsbooks giving them 25.5 points to play with. One would be excused for not knowing, but UNLV has been creeping up the last few seasons. And as USC starts a new era with Sam Darnold having departed, some questions loom.
USC was 11-3 last season, but for a team that was winning straight-up so often; they couldn't cover a spread, with three cash-ins all year. Head coach Todd Helton has done well while losing big in some key spots—preventing them from really accomplishing something big. The QB competition is fierce enough where no one has cemented himself as the starter less than a week before game-time. But a ton of talent exists on this team, with more having been added. The spectrum of different possibilities is vast, but assume the Trojans will be strong this season. How strong? We will see.
UNLV Catching USC at the Right Time?
After two seasons with Darnold at the helm at QB, USC now moves on to another face. With the constant stream of top quarterback talent coming out of Southern Cal, one should assume another star will emerge. Whoever it will be is going to be young and inexperienced, with Darnold having gotten all the recent work behind center. At the same time, there is a transition in place, and with an opponent that won't get their blood pressure up, maybe they won't hit the ground running quite so well.
The powers-that-be at UNLV caught a lot of flack hiring Tony Sanchez out of the high school ranks, with nary a hint of experience at this level. But after three seasons where he took a program that was flat on its butt and guided them to 3, 4, and then 5 wins, they are indeed on the rise. Getting to a bowl game would be a culmination of a lot of struggle. Let's face it, the best young football players in the nation aren't looking to go to UNLV to play ball. And over the second half of last season, they looked about as competent as they have in recent memory.
UNLV has MWC Freshman of the Year in QB Armani Rodgers returning, and he should be good. RB Lexington Thomas also returns after scoring 17 TDs on 1336 yards rushing. Kendal Keys leads a WR unit that could be the strength of this offense. So the offense is looking better. Preventing Las Vegas from really turning the corner last season was a defense that yielded an average of 32 points a game. But some additions, especially on a line that wasn't up-to-snuff, will help.
The signs might be there for UNLV to be a bit tougher than expected, but issues remain, and they're the kind of the problems you can't do anything about. In other words, UNLV's defense might be upgraded, but that will show in games against UTEP and Utah State—not against a good Pac-12 team. Still, even down UNLV teams of recent seasons performed capably in these types of games, covering the spread against Ohio State last season, for example.
What to Expect
There's something to be said for one team playing what seems like a huge game, while it's just a warm-up for their opponent. And USC doesn't always deliver in spots like this under Helton. In game one last season, they labored to beat WMU in a similarly-themed season-opener. Not to mention they were overvalued most of the season in covering three spreads all year. At the same time, 25.5 points doesn't seem like a ton in a spot like this. Usually, a good USC would be a lot heavier of a fave than that against a no-hoper like UNLV.
It speaks to the steps UNLV has taken under coach Sanchez to get on the road of respectability. It's also a testament to the unknown elements of USC, having not even named a successor to Darnold as of press time. One should expect to see a superior team in USC, but one that isn't frothing at the mouth with little UNLV in the opposite corner. And at the end of the day, you hate to bet on a team to do something they're not even really trying to do. USC is looking for the win as a set-up for other things. UNLV, meanwhile, will be looking for something special. And if that doesn't happen, they'd settle for a respectable showing. They might have more skin in the game.
Take the Points on the Road Dog
There's no connection between these two teams having last played in 1997, or roughly, the last time a woman may have found me minimally appealing. USC isn't circling the wagons on behalf of UNLV. Vegas is known for gambling and strippers, not football. But that's part of the reason we like the Rebels. They are in the midst of a genuine upsurge, thoughtfully orchestrated and due to culminate in the form of a bowl berth. I think that campaign begins with a halfway-respectable showing at the Coliseum on Saturday, as they fall short overall, but earn the cover for their backers.
Loot's Pick to Cover the Point Spread: I'm betting on the UNLV Rebels plus 25.5 points and laying my action at a sportsbook that offers -105 lines to lower the risk/reward.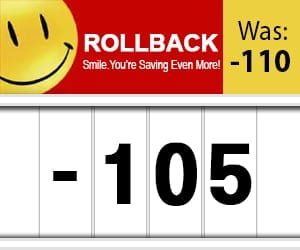 <div style="width:340px; margin: 0 auto;"><!-- [et_pb_line_break_holder] --> <a class="twitter-timeline" data-width="340" data-height="500" data-link-color="#008156" href="https://twitter.com/PredictemPicks?ref_src=twsrc%5Etfw">Tweets by PredictemPicks</a> <script async src="https://platform.twitter.com/widgets.js" charset="utf-8"></script><!-- [et_pb_line_break_holder] --></div>
<div class="widget105"><!-- [et_pb_line_break_holder] --><h3>Biggest Sportsbook Bonuses</h3><!-- [et_pb_line_break_holder] --><!-- [et_pb_line_break_holder] --> <!-- [et_pb_line_break_holder] --><div class="widgetlist"><!-- [et_pb_line_break_holder] --> <div class="col1"><!-- [et_pb_line_break_holder] --> <img src="https://www.predictem.com/wp-content/uploads/2018/04/bovada.png" width="150" alt="" /><!-- [et_pb_line_break_holder] --> </div><!-- [et_pb_line_break_holder] --> <div class="col2"><!-- [et_pb_line_break_holder] --> <span class="list">50% Cash</span><br><!-- [et_pb_line_break_holder] --> <span class="list">5x Rollover</span><!-- [et_pb_line_break_holder] -->  </div><!-- [et_pb_line_break_holder] -->  <div class="col3"><!-- [et_pb_line_break_holder] --> <button class="btn-widget" href="#">Review</button><!-- [et_pb_line_break_holder] --> </div><!-- [et_pb_line_break_holder] --></div> <!-- [et_pb_line_break_holder] --><!-- [et_pb_line_break_holder] --><div class="widgetlist"><!-- [et_pb_line_break_holder] --> <div class="col1"><!-- [et_pb_line_break_holder] --> <img src="https://www.predictem.com/wp-content/uploads/2018/04/intertops.png" width="150" alt="" /><!-- [et_pb_line_break_holder] --> </div><!-- [et_pb_line_break_holder] --> <div class="col2"><!-- [et_pb_line_break_holder] --> <span class="list">50% Cash</span><br><!-- [et_pb_line_break_holder] --> <span class="list">4x Rollover</span><!-- [et_pb_line_break_holder] -->  </div><!-- [et_pb_line_break_holder] -->  <div class="col3"><!-- [et_pb_line_break_holder] --> <button class="btn-widget" href="#">Review</button><!-- [et_pb_line_break_holder] --> </div><!-- [et_pb_line_break_holder] --></div><!-- [et_pb_line_break_holder] --><!-- [et_pb_line_break_holder] --><div class="widgetlist"><!-- [et_pb_line_break_holder] --> <div class="col1"><!-- [et_pb_line_break_holder] --> <img src="https://www.predictem.com/wp-content/uploads/2018/05/gt-bets.png" width="150" alt="" /><!-- [et_pb_line_break_holder] --> </div><!-- [et_pb_line_break_holder] --> <div class="col2"><!-- [et_pb_line_break_holder] --> <span class="list">150% Cash</span><br><!-- [et_pb_line_break_holder] --> <span class="list">4x Rollover</span><!-- [et_pb_line_break_holder] -->  </div><!-- [et_pb_line_break_holder] -->  <div class="col3"><!-- [et_pb_line_break_holder] --> <button class="btn-widget" href="#">Review</button><!-- [et_pb_line_break_holder] --> </div><!-- [et_pb_line_break_holder] --></div><!-- [et_pb_line_break_holder] --><!-- [et_pb_line_break_holder] --><div class="widget-footer"><a href="#">See all sportsbook bonuses</a></div><!-- [et_pb_line_break_holder] --> <!-- [et_pb_line_break_holder] --></div>