USC Trojans vs. Stanford Cardinal Week 2 Prediction ATS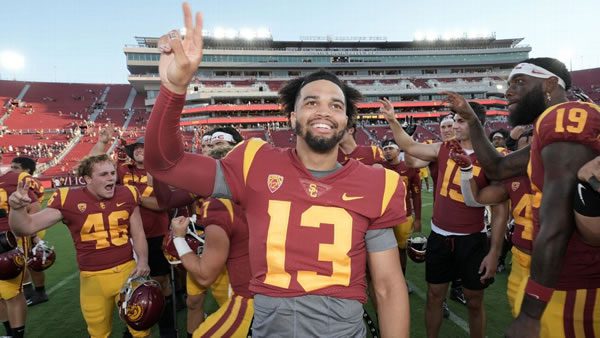 USC Trojans (1-0 SU, 1-0 ATS) vs. Stanford Cardinal (1-0 SU, 0-1 ATS)
When: Saturday, September 10, 7:30 p.m.
Where: Stanford Stadium, Palo Alto, Calif.
TV: ABC
Point Spread: USC -9/STAN +9 (Make Stanford a +29 underdog by inserting them into a massive 20 point college football teaser found at Wagerweb!)
Total: O/U 67
Outlook
Could this be the last time that USC makes the visit to the Farm? With the Trojans on their way to the Big Ten in 2024, this is the last scheduled game between USC and Stanford that will be played in Palo Alto, which should provide plenty of motivation for the Cardinal to play a quality game. If they do, it wouldn't be the first time, as Stanford went into the Coliseum last year and took down the Trojans as a 17-point underdog, their second win in three meetings with the Trojans.
But USC believes itself to be a better team now that Lincoln Riley is in Los Angeles, and so far, they appear to be justifying that belief. USC opened with a shellacking of Rice, and although it was only Rice, it was still a solid start to the season after winning a mere four games last year. With USC not the same team that it was a year ago, there's a lot to like about what the Trojans bring to the table. Whether Stanford can match it will determine how this game will go.
How the Public is Betting the USC/Stanford Game
The public is riding with USC, and the pros aren't pushing back enough to swing the line the other way. The Trojans have held firm at -9.5, although the total has jumped from 65 to 66.5.
Injury Concerns
USC:
Running back Raleek Brown (ankle) is probable. Defensive lineman De'Jon Benton (arm), defensive back Briton Allen (knee), kicker Garth White (undisclosed), defensive back Zion Branch (undisclosed), defensive back Adonis Otey (undisclosed), offensive lineman Jason Rodriguez (undisclosed), linebacker Chris Thompson Jr. (undisclosed), wide receiver Michael Jackson III (undisclosed), defensive back Joshua Jackson Jr. (undisclosed) and defensive back Domani Jackson (knee) are questionable. Quarterback Mo Hasan (Achilles) and tight end Jude Wolfe (foot) are out.
Stanford:
Stanford reports no injuries.
When USC Has the Ball
On the one hand, USC's 66 points last week look quite impressive. On the other, 21 of those points were scored against the Rice offense, as the Owls tossed three interceptions that the Trojans took back for scores. Continuing the argument, however, USC scored every time it touched the ball until the fourth quarter, so the Trojans didn't exactly get any resistance from the Rice defense last week.
Stanford should be a bit tougher of a test, but this still isn't really a great defense that SC is dealing with here. Caleb Williams should have little problem shredding a Stanford squad that gave up 32.4 points per game a season ago and gave up 33 points a game to Pac-12 foes. USC might want to do a little better job of balancing carries in this game so that they get someone in a flow, but overall, it is hard to see Stanford standing up to this team.
When Stanford Has the Ball
The fact that Stanford turned the ball over four times last game and didn't get beaten or even come close to being threatened last week shows just how wide the gap is between Stanford and Colgate. If the Cardinal commit four turnovers this week, they're going to lose by a lot. The key for Stanford is that the Cardinal have to actually hang on to the football this time. Last time out, Stanford lost three fumbles against the Raiders and faced a game that was closer than it should have been for three quarters because of shooting itself in the foot.
The good news is that E.J. Smith looks like a solid back for Stanford and Tanner McKee proved accurate with his throws in that warmup game. The bad news is that it was only Colgate, and Stanford really didn't look like it was on the same page in this matchup. Four turnovers are just going to cause disaster against a team of Southern California's caliber, especially with a Lincoln Riley offense looking to put up points quickly.
Betting Trends
This has quickly become a bad matchup for SC in recent years, as the Trojans have only gone 5-5 SU against Stanford and 4-6 ATS over their past ten meetings. Over the past decade-plus, the spread has been easy for the team that wins the game to hit; you've got to go all the way back to 2010 to find the last time in this series a team won the game but did not cover. To put that in perspective, Stanford's quarterback in that game was Andrew Luck, who has since retired from professional football, while USC has hired and fired three different coaches in that span.
If you're looking for points, this hasn't been the place to find them. On USC's past four visits to the Farm, the Trojans haven't topped 17 points. They've also failed to cover in five straight Pac-12 games, although none of those games were with Lincoln Riley coaching.
Weather Report
After a blistering week leading up to the game, things should cool off a little for this matchup. Temperatures will hit 82 degrees on game day, with the wind blowing north-northwest at seven miles per hour.
Dan's Pick to Cover the Spread
The problem here is whether we can trust Stanford's backs to actually hold on to the football. The Cardinal coughed up the ball far too easily against Colgate last week, and if they're going to shoot themselves in the foot, there's no chance that they're getting the job done against USC. I think Stanford will be a little better this time around, but I don't see that being enough here. I'll take the Trojans. Note: If you're betting teasers, we highly recommend checking out our best football teaser odds page to make sure you're getting the most bang for your buck!