[et_pb_dcsbcm_divi_breadcrumbs_module hide_homebreadcrumb="off" homebreadcrumbtext="Home" separator="sep-raquo" hide_currentbreadcrumb="off" homebreadcrumborientation="left" _builder_version="3.8″ fontsbreadcrumbs_font="Lato||||||||" fontsbreadcrumbs_text_color="#000000″ fontsbreadcrumbs_font_size="15px" fontsbreadcrumbs_line_height="16px" fontsseperator_font="||||||||" fontsbreadcrumblinks_font="||||||||" fontsbreadcrumblinks_text_color="#2567cf" custom_margin="25px|||" custom_margin_phone="30px|||" custom_margin_last_edited="off|desktop" custom_css_main_element="font-family: Helvetica Regular;" global_module="3641″ saved_tabs="all"][/et_pb_dcsbcm_divi_breadcrumbs_module]
USC Trojans vs. Texas Longhorns Picks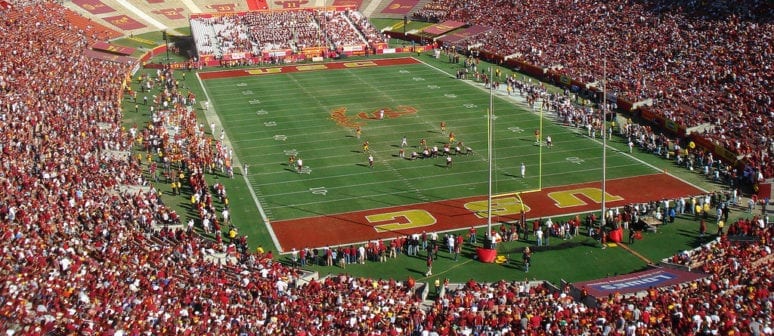 USC Trojans (1-1 SU, 0-2 ATS) vs. Texas Longhorns (1-1 SU, 0-2 ATS)
College Football Week 3
Date and Time: Saturday, September 15, 2018 at 8PM EDT
Where: Royal Texas Memorial Stadium, Austin, Texas
TV: Fox
By: Loot Levinson, NCAA Football Handicapper, Predictem.com
Point Spread: USC +3/TEX -3
Over/Under Total: 49
The USC Trojans come to Austin on Saturday to take on the Texas Longhorns in a big week 3 matchup at AT&T Stadium in Arlington. It's not quite a home game for Texas, with this venue being a three-hour drive—still a lot closer than Los Angeles. A win here would at least get these 1-1 teams pointed in the right direction after a less-than-glorious beginning to the season. The Trojans followed an easy week one win over UNLV with a bad 17-3 loss to the Stanford Cardinal on Saturday. The Longhorns, meanwhile, were able to get in the win-column with a 28-21 victory over Tulsa on Saturday. Who can get the upper hand in this one?
All Sunday NFL Picks Are Released!
Common History
The Pac-12's Southern Cal Trojans and the Longhorns of Texas have a pretty limited history in terms of volume, but when they get together, it sure has been memorable. There was that 2006 National Championship game at the Rose Bowl that is hard to forget for college football fans. After not seeing each other for a while, these teams renewed acquaintances last season and it was a hard-to-forget battle that went to triple-overtime, with USC taking a 27-24 win. Most of the big contributors for USC that day have since departed and if week two was any indication, they might struggle this season. First impressions on Texas aren't exactly great, either.
Who Can Cover Their First Spread?
It's pretty early still, far too premature to be making concrete evaluations. It still wouldn't be rash to say both teams have underwhelmed in their first acts of 2018. Neither has covered a spread. Texas, in particular, hasn't come close, missing the spread by a combined 32.5 points in their first two weeks. As 12.5-point favorites in week one against Maryland, they lost. And as big favorites against Tulsa last week, they won merely by a TD. The Longhorns season will not be judged on how well they did against those teams, but with Tom Herman in his second season after a 7-6 campaign, we see that a possible resurrection of a once-proud program won't occur overnight.
I suppose with the Trojans, there were always going to be some growing pains this season with all the key departures. And with guys like true freshman starting QB JT Daniels having to hit the ground running for a week-two road matchup against Stanford, maybe a slower start should have been more-obvious. The talent is there, but with all the shifting around and voids to fill; the Trojans will spend this part of the season finding their bearings in anticipation of achieving some better conference results. Stanford is unquestionably a top defense, especially at home, but a field goal's worth of scoring shows the good parts of this plot might take some time to manifest.
The Good, Bad, and the Ugly
USC is a veritable factory of quarterbacks. Part of you wants to defer to the track-record of the program and their ability to create stars behind center. We saw on Saturday, however, that sometimes when you take 18 year olds who were in high school last season and throw them in stadiums like the one he sees this week against good college football defenses, there is a learning curve. And maybe Daniels needs a little leash and grace-period as he gets up-to-speed. He also had to leave the game after hurting his hand, another hurdle for the youngster to overcome.

The talent on both sides of the ball for USC is substantial. And the defense has looked pretty good this season thus far, holding Stanford to 17 points while the offense was offering minimal support. But on the other side of the ball, there is a chasm of playmaking from last season, when Sam Darnold was creating stars on the offense. Some of those guys are gone and a difference-maker needs to emerge.
Sam Ehlinger returns for the Longhorns as quarterback, facing the team where he got his first taste of big-time action last season, showing a lot of moxie even in a losing effort. He can run the ball a little bit, as well, with Tre Watson a grad transfer from Cal looking to chip in this season. Freshman Keaontay Ingram looks to have a potential difference-making element to his make-up. Aerially, they still have Lil'Jordan Humphrey and Collin Johnson. It's a dangerous offense that hasn't quite turned over yet.
There is a lot of youth in the key positions on this Longhorns team. Coach Herman hasn't had a chance to see his recruiting prowess fully take hold yet. They are still in search of an identity, giving the impression of a team groping for something, rather than a "together" team that is firmly on its way. And when Maryland is putting up 34 on you and Tulsa is able to go on a big spurt, it shows that the defense may be a playmaking one, but in terms of rigidity, it might not be up-to-snuff. If not, expect a lot more from the Trojans' offense this week.
Take the Over
Last season, USC needed some good breaks and almost 400 yards from Sam Darnold to narrowly avert defeat at home to the Longhorns. Now in Texas, maybe the Longhorns can do one better against a depreciated USC offense. It's odd how often it doesn't work out like that and this game still has the look of being a competitive affair. It also has the feel of a game that is up in the air.
Neither team has seen things go their way in 2018. With each team having a lot of youth, undefined areas, and a wide range of possible success this season, I see this being a more-favorable matchup for both teams. I envision a fun game to watch with a lot of action, as both offenses get unhinged a bit.
Loot's Pick to Cover the Point Spread: I'm betting that the USC vs. Texas game will go over 49 points.
<aside><h4 class="widgettitle">NFL Picks</h4><!-- [et_pb_line_break_holder] -->
<!-- [et_pb_line_break_holder] --><div class="widget-footer"><a href="https://www.predictem.com/nfl/">See all the NFL picks.</a></div><!-- [et_pb_line_break_holder] --><hr><!-- [et_pb_line_break_holder] --><style><!-- [et_pb_line_break_holder] -->ul.postsbycategory {list-style-type: none; margin:0; padding: 0; margin-left: -3px}<!-- [et_pb_line_break_holder] -->.postsbycategory li {padding: 5px 0px; display:block; clear: both; border-bottom: 1px solid #ccc;line-height:16px!important; min-height: 50px;}<!-- [et_pb_line_break_holder] -->.postsbycategory li a{color: #000; font-size: 14px!important;}<!-- [et_pb_line_break_holder] -->.postsbycategory img {width: 85px!important; height: 40px;<!-- [et_pb_line_break_holder] -->float:left; <!-- [et_pb_line_break_holder] -->padding:0px;<!-- [et_pb_line_break_holder] -->margin: 0px; margin-right: 8px;<!-- [et_pb_line_break_holder] -->border: 1px solid #EEE;<!-- [et_pb_line_break_holder] -->}<!-- [et_pb_line_break_holder] --> .widget-footer a {color: #666;}<!-- [et_pb_line_break_holder] --> .widget-footer a:hover {padding-top: 2px;}<!-- [et_pb_line_break_holder] --> </style></aside></aside>
<div style="width:340px; margin: 0 auto;"><!-- [et_pb_line_break_holder] --> <a class="twitter-timeline" data-width="340" data-height="500" data-link-color="#008156" href="https://twitter.com/PredictemPicks?ref_src=twsrc%5Etfw">Tweets by PredictemPicks</a> <script async src="https://platform.twitter.com/widgets.js" charset="utf-8"></script><!-- [et_pb_line_break_holder] --></div>