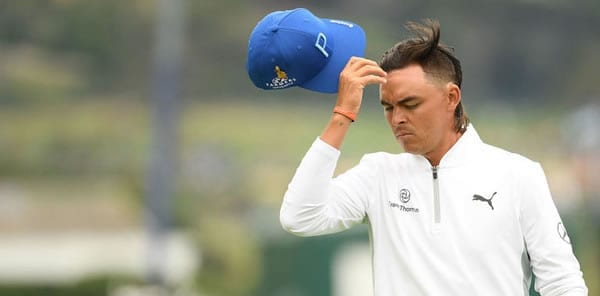 Event: The Open Championship
Date: July 18-21, 2019
Course: Royal Portrush Golf Club - Portrush, N. Ireland
TV: The Golf Channel/NBC
Call it the British Open or just The Open as most of the non-U.S. golf world does but no matter what name you settle on, the year's final Major is here, and there are plenty of storylines to go around at Royal Portrush. Rory McIlroy is playing what amounts to a home game, and the online betting sites have installed him as the overwhelming favorite with Bovada listing McIlroy at 8 to 1 to win. Brooks Koepka has won one Major in 2019 and finished second in the other two, but he is all the way back at 14 to 1 to earn the Claret Jug. Rory's presumed dominance is floating the value on many solid contenders, including the defending champion Francesco Molinari who is 25 to 1 to successfully defend his Open crown. Dustin Johnson and Tiger Woods have settled around 16 to 1 to round out the biggest names on the board, and they will be chased by all the usual suspects like Bryson DeChambeau and Jordan Spieth. Recent Tour winners like Matthew Wolff and Dylan Frittelli are looking to keep their good vibes going, and we haven't even mentioned fan-faves Phil Mickelson or Justin Rose. There are just a few more events to get into the FedEx Playoff field, so there is even more on the line than usual, making this Open Championship one of the more interesting in recent memory.
The Open Championship is contested on some of the oldest courses in the world and this year is no different as the Dunluce Links at Royal Portrush was tailored by Old Tom Morris all the way back in 1888. The course hosted its only Open Championship in 1951 but has been part of Irish Amateur Championships on a regular basis. Portrush was updated in anticipation of this championship, including the re-routing of several holes and a full-on replacement what was the 17th and 18th holes. Portrush evokes images that are sometimes more moonscape than golf course with dunes dominating the property. The course has been lengthened to 7,330 yards and will play at par-71 for the week while presenting a challenge that is somewhat different from your typical British Open course. Players can get away with wayward drives at many Open venues, but that isn't the case at Portrush as OB comes into play on several holes. Most Open courses have 150+ bunker, but Portrush only has 62. The difficulty here is the requirement to play patient and controlled golf as bluntly challenging the course will eventually lead to big numbers. Royal Portrush is more of a shotmakers course as appropriate angles need to be considered and then followed by high-end execution. Of course, the wind and weather will have its say at some point. The forecast is similar for each day with a 50/50 chance of precipitation and moderate but steady winds. Those that are lucky enough to play in the calmest winds will find a course that is score-able, but precision is required regardless of the weather. Players that lack control will find themselves on an early flight home.
Each week, we take a look at MyBookie (Huge Depoit Bonuses) and highlight the best values on the board. We make a short, middle, and long odds pick to win and breakdown a couple of head-to-head matches that can be found at any golf betting outlet. Odds and pairings come courtesy of the board at Bovada. Here are our picks to win the 2019 Open Championship.
Value Picks
Dustin Johnson (16 to 1 odds to win)
DJ has a solid record at the Open with eight cuts made in ten appearances, topping out with a runner-up finish in 2011. He has four top-10 finishes in his last seven Majors, including two "second place" runs, so he is doing everything in these big events outside notching a win. His 6th ranked driving distance will be put to good use, and his overall length will help as he will be able to dispatch the long irons where necessary and still earn short approaches. He enters the week at 42nd in overall putting average with top-10 marks in both birdies and scoring. His tee-to-green game is 5th overall on Tour to produce a total stat sheet that has no actual weaknesses. I think Johnson will dominate the par-5's here and his recent track record at tough courses like Bethpage have him poised to be back in the winner's circle at a Major.
Rickie Fowler (28 to 1)
Fowler is still hunting his first Major championship, and he has to be on the very short list of best players without that big win. Rickie does have three career runner-up finishes in Majors, including one at the 2014 British Open. He has missed just one cut at the Open as a pro and has the 2015 Scottish Open crown to prove he is well versed in links golf. He came over a week early and played the Scottish Open again this season, so he is acclimated to the time difference and all that jazz. The putter is important at any Major, but the Open seems to favor the best guys on the greens, and it helps that Rickie is 23rd in overall putting average and 15th in GIR putting. Fowler is 35th in tee-to-green performance and also solid around the greens. I think he is hungry for a win with plenty of experience behind him, and his value is tremendous this week considering his top-end talent. He will breakthrough for that Major win at some point, and this week looks like a good opportunity.
Louis Oosthuizen (50 to 1)
Oosty is one of the few players with the impressive Silver Slam on his Major record, but he also cashed at the 2010 British Open for his lone Major win. I think his winning window is closing overall, but another Open Championship is still in play and Portrush is an excellent venue for Louis' crisp swing. With shotmaking, the name of the game, it is hard to ignore Oosty's 22nd ranked fairways hit percentage to start off. He is 4th on the Euro Tour in strokes gained off-the-tee and 18th in tee-to-green metrics. His PGA putting ranks 38th in 2019 and that improves to 3rd when measuring his EPGA stats. He won the South African Open to kick off his overseas play last fall, so he isn't looking to end a prolonged winless drought either. The stars need to align for Oosthuizen to get another Major W, but I think they are close to lining up just right.
Head-to-Head Matches
Picks to win based on predicted score after all four rounds. Check with your favorite online betting site for single round pairings and a variety of prop bets.
Rory McIlroy (-155) v. Brooks Koepka (+120) (pick to win: Koepka)
We identified McIlroy as one to bet against last week at the Scottish Open as he was a heavy favorite in many matches just like this and Rory was kind enough to notch a T34 and pay off many of those bets up against talented underdogs. We have a similar situation this week, but the margin is slimmer as no one has been as good as Rory has been at The Open in recent years. Since winning the British in 2014, McIlroy has added three straight top-5 finishes at the event, going a Tour-best, 32-under over that span. What Koepka has in his corner is an ability to answer the Major bell as evidenced by his 2-1-2 run from this year first three Major Championships. There is minimal that separates these two on the stat sheets even with Rory leading the Tour in tee-to-green performance, and total strokes gained. This is a matchup that is heavy with intangibles, and they are notoriously hard to predict, so I am again going with the very high value of an underdog Koepka.
Adam Scott (-120) v. Francesco Molinari (-110) (pick to win: Scott)
Molinari as the defending champ and Ryder Cup darling has a solid recent trend, but Scott has more Open top-25 finishes (9) than Francesco has Open cuts made (7). Scott was 2nd at the 2012 Open and 3rd a year later while last year marks Molinari's only top-5 at the British. Francesco has a solid Major record since that Open win, but Scott has won the head-to-head in three of the last four up against Molinari. All of that points to Scott being a very tough out for anyone at this Championship. That is reinforced in this match by Scott owning solid edges against his opponent in putting, birdie and scoring averages. Scott has hit more greens than Molinari as Francesco has fallen off his elite 2018 pace in that category and Scott is the longer player as well. Both are solid players around the greens in terms of scrambling, and their experience level in big-time events is a wash. Molinari will surely have last year's triumph to spur him, but a venue change takes away any advantage for the defending champ. The better ball-striker here is Scott, and I'm not straying from him at Portrush.
Good luck and good golf!
STOP LOSING TODAY! START WINNING WITH DOC'S TEAM OF PROFESSIONALS! GET A FREE NO STRINGS ATTACHED $60 FOR THIS WEEKEND'S GAMES!