Golf Picks: 2019 U.S. Open Odds & Predictions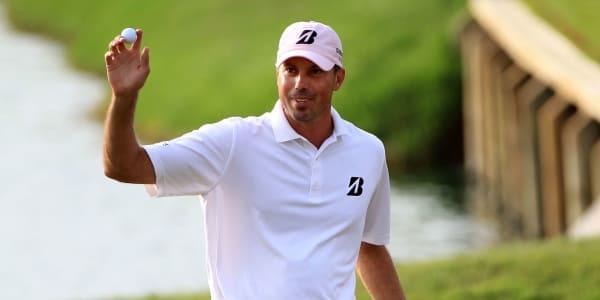 The 119th U.S. Open
June 13-16, 2019
Pebble Beach GL - Pebble Beach, CA
FS1/FOX
This new PGA Tour schedule certainly gives a different feel to the season and we are somehow already at the third Major of the year. It seems like yesterday when Tiger was just finishing up his remarkable career comeback at Augusta but that was two months ago and we breezed through Brooks Koepka dominating the PGA Championship. As we go through the meat of the summer Tour stops, the best usually rise to the top and that coincides nicely with the USGA's mission to identify the best golfer at this national championship. Pebble Beach has been the site of some of the best golf in Tour history, including U.S. Open history, and the legendary track is poised again to be part of another key chapter in the Major Championships story. Can Tiger use his elite ball striking to make another Major run or will the usual suspects like Koepka, DJ, or Rory lead the pack? Has Jordan Spieth applied enough band-aids to his game to be relevant again? Can a grizzled vet like Phil Mickelson or Jim Furyk turn back the clock? We will know the answer to all those questions and more by this time next week, let's take a deeper look at the 2019 U.S. Open.
Betting note: If you are only betting a single golf event before cashing out your winnings, then finding the best golf sportsbook is easy. It's the one with the best ROI. And the best ROI usually comes with the biggest signup bonus and lowest rollover. Check out Predictem's top sportsbooks and easily make the right choice. 
Pebble Beach is one of the most well known courses in the U.S. but the seaside masterpiece will play a little differently with the USGA in charge of the set-up. The yardage for this week will be right around 7,070 yards, which is roughly the same as the par-71 course played for the 2010 U.S. Open. The width of the fairways and length of the roughs have always been a conversation point during Open week and there has been no shortage of complaints from Tour players over the years when those factors are deemed to be too penalizing. The speed of the greens is also a hot topic and new voices at the USGA may be heard this year after Brooks Koepka won last year at Shinnecock at 1-over par. The bottom line is that the greens will be fast, the roughs high and the fairways narrow but I would look for the winning score to be closer to five-under than five-over par. I don't think that anyone is coming close to the 12-under that Tiger shot here in 2000 or the 16-under that Koepka fired at Erin Hills in 2017 but the tournament should see a modest decrease in difficulty with the USGA seemingly less willing to be outright evil in the set-up. That said, there are places around Pebble that will be near unplayable and some of those are just off the greens. There are a few videos from player practice rounds that show some of the thickest and longest roughs adjacent to collection areas and popular miss spots. Saving par from these locations will be a shot-in-the-dark proposition and players that find these trouble spots too often simply won't make the weekend. The crisp drivers and iron players should avoid the stress and at least be in a spot to stay conservative while chasing the few birdie opportunities that do exist. The lack of punishing length brings in a ton of players that favor the low-risk approach and some of the bomb-and-gouge guys will be playing with fire if they try to attack and fail to execute.
50% Cash up to $250

Tiger is a betting favorite (11 to 1 to win at Bovada) but the three time U.S. Open champ has not been relevant in this championship since 2013 with missed cuts in 2015 and 2018 while not playing the 2014, 2016-17 editions. He has made the cut in 16-of-20 career U.S. Open starts and his iron play remains at an elite level. His sometimes wayward driver and spotty putting make him a sketchy option this week as Pebble will play much more like Bethpage than Augusta. Brooks Koepka (8 to 1) is looking to make it three Open wins in a row and his last five Major starts have included three wins and another runner-up finish. Another tee-to-green performance like he showed at Bethpage will have Koepka looking at another victory. Dustin Johnson (8 to 1) has just one Major win in his career but it came at the 2016 U.S. Open and four of his nine career top-5 Major finishes have come at this championship. DJ was a runner-up at both the Masters and PGA this season and another quality finish this week will have him very close to closing out one of the best Major seasons in PGA history. Rory McIlroy is fresh off a Canadian Open win, moving him to 8 to 1 to win this week but the U.S. Open has been his worst statistical Major. Despite winning the 2011 U.S. Open, Rory has struggled in this event, missing the cut in five of his ten career starts. He did perform well outside of an iffy first round at Bethpage, which is a good indicator that he has the ball striking goods to validate his favorite status. Jordan Spieth (20 to 1) rounds out the short odds betting options and the 2015 U.S. Open champ appears ready to re-insert himself in the Major conversation. The 25-year old has just one career top-10 finish at the U.S. Open, that being the win at Chambers Bay, so this may not be his best chance to get back in the winner's circle despite his T3 at the PGA just a month ago.
Each week, we take a look at the online betting sites and highlight the best values on the board. We make a short, middle and long odds pick to win and breakdown a couple of popular head-to-head matches that you can find at just about any golf betting outlet. Odds and pairings for this week come courtesy of the board at Bovada. Here are our picks to win the 2019 U.S. Open.
Patrick Cantlay (20 to 1 odds to win)
Starting with his first PGA win in 2017, Cantlay has been trending toward a Major win and his 2019 Memorial victory, where we actually picked Kuchar in the head-to-head bet, has him looking poised to do so immediately. Patrick has made the cut in six of his last seven Majors with a T9 at Augusta and T3 at Bethpage showing an impressive trend. Cantlay has eight top-10 finishes this season and his stat sheet looks to be made for Pebble. He is 14th in off-the-tee performance and 2nd in overall tee-to-green metrics, making for one of the best ball striking profiles in the field. His top-30 putting on greens in regulation nets the 5th best birdie average and the 2nd best scoring mark. Perhaps the most remarkable stat for Cantlay is that he leads the Tour in scrambling, saving par nearly 70% of the time he misses the green. 27-year olds don't often lead the PGA in that stat category and that talent could be the x-factor if Cantlay does find his way to the top of the leaderboard.
Adam Scott (33 to 1)
Scott seems like a nervous bet considering he has just one career top-5 finish at the U.S. Open with eight missed cuts overall. His T8 at Bethpage showed him as one of the best ball strikers on Tour and that piggybacks his T3 from the 2018 PGA Championship. He hasn't been outside the top-20 since February and his runner-up at Muirfield was his second close-call of the season. Scott is 7th in strokes gained from tee-to-green and his improved putting has helped him to 18th in birdies and 8th in scoring average. A few missed short putts have hamstrung him in big moments this season but it never seems to deter the former #1 player in the world. Scott is 24th in scrambling and has all the requisite Major experience to validate him as a factor this week.
Matt Kuchar (50 to 1)
Kuchar is still firmly atop the list of best players that have yet to win a Major but maybe Pebble 2019 will end all that. Matt has missed six U.S. Open cuts in his career but his best Open finish came in 2010 at Pebble Beach when he finished sixth. His first missed cut of the year came just a couple weeks back but he shook that off with a T4 at the Canadian Open that included a Friday 63. He enters the week 10th in fairways and 3rd in greens hit with both stats being key predictors this week. Kuchar's putter has been more steady than spectacular but his work on the greens has been good enough to produce the 13th best birdie rate and 6th best scoring average. He is a top-10 scrambler, rounding out a complete stat sheet that should fare well at any Major. A win has been a long-time coming.
Head-to-Head Matches
Picks to win based on predicted score after all four rounds. Check with your favorite online betting site for single round matches and a variety of prop bets.
Justin Rose (-115) v. Rickie Fowler (-115) (pick to win: Fowler)
Rose had one of the best runs in recent memory from late 2016 through 2018 as he won all over the world, including an Olympic Gold Medal. He has naturally come off that pace somewhat and that is part of the reason why Fowler is a better play this week. With Rose declining ever so slightly, Fowler's three top-5 finishes in Majors since 2017 clearly shows the better trend. Rickie has also seen the weekend in twelve straight Majors while Rose has missed two of his last three at just the U.S. Open. You can't ignore Rose's 2013 Open win but it is Fowler with the better stat sheet for Pebble. To be honest, the stat sheets are rather close but Ricke has hit more fairways and greens than Justin and there is no such thing as a U.S. Open that doesn't reward the better player in those categories. In what appears to be a very close match, give me the guy that has the better recent trend and ball striking stats.
Jon Rahm v. Xander Schauffele (pick to win: Schauffele)
These two may be the closest statistical players you could pick to pair together but let's not call it a coin-flip yet. After claiming the low amateur crown at the 2016 U.S. Open, Rahm has failed to make the weekend in either of his two professional Open starts. Over that same stretch, Schauffele has T5 and T6 finishes at the U.S. Open and showed his ability to win big events by taking down the Tour Championship and the HSBC Champions event. Xander has been the better player at the Masters and PGA Championship in 2019 and should be able to make it three wins over Rahm in a row with his lower risk approach. Rahm is the kind of player that almost trusts his talents too much and has his foot to the floor at all times. That has led to some trainwreck stretches for Rahm while Schaffele has seemingly learned that Majors require a more measured approach. Rahm will figure all that out eventually and he can always be a force at Augusta or any British Open sites where aggression is often rewarded but I'm taking Schauffele at a USGA-tailored Pebble course.
Good luck and good golf!
50% Cash up to $250