AT&T Pebble Beach Pro-Am Tournament Analysis & Picks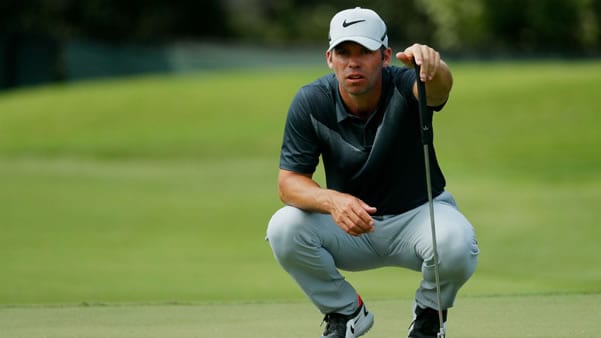 Event: AT&T Pebble Beach Pro-Am
When: February 11-14, 2021
Where: Pebble Beach GL - Pebble Beach, CA
Watch: The Golf Channel/CBS
Note: This golf preview got posted late as we lost it in our mailbox. Please accept our apologies! All is not lost though! You can live bet the Tournament at Bovada!
There are hallowed grounds in every sport, but golf's historic venues are often the star of the show, and that is the case this week when the PGA heads to Pebble Beach for the AT&T Pebble Beach Pro-Am. This is the start of a tremendous stretch that sees the Tour stop at Riviera, Sawgrass, Bay Hill, and PGA National before heading to Augusta. This event will still carry the historic Pro-Am name, but no amateurs will be teeing it up due to Covid precautions. That will take some of the fun out of the event but also provide organizers a bit of room to tighten up the typically soft conditions if they wish. Monterey Peninsula is also taking a year off, so play will be limited to Spyglass and host Pebble. Nick Taylor finished at 19-under to win by four last season, and he will defend his title against a solid field that is led by Patrick Cantlay and Jason Day, who has logged four straight top-5 finishes at this event. Jordan Spieth is looking to build off of a strong finish at Scottsdale, and Phil Mickelson is in search of a sixth title at Pebble Beach. Youth is served with guys like Will Zalatoris and Max Homa coming in on hot streaks, but the vets are well represented with Brandt Snedeker, Jason Dufner, Stewart Cink, and Jim Furyk in action.
Pebble and Spyglass have been kind to scoring over the years, especially as conditions were kept relatively easy by Tour standards to cater to the non-pros. Both courses have historically measured short of 7,050 yards yet play at par-72, and winning totals have reached at least 17-under in each of the last six years, with Brandt Snedeker setting the tournament record of 22-under in 2015. Close finishes are not common, with five of the previous six being decided by at least three strokes, and there has been just one playoff since 1993. The 18th at Pebble is one of the most instantly recognizable holes in all of golf as the fairway sweeps around the ocean. Players can turn this hole into a rather easy scoring opportunity by attacking the hazard, but there is significant risk there as well. Playing it safe can take the water out, but that strategy sets up a difficult second shot, even while laying up, and offers the poorest angle into the green. A gaping bunker may keep an approach shot dry but also makes for a nearly impossible up-and-down chance for someone needing a birdie. A great hole on a truly great course.
Each week, we take a look at the online betting sites and highlight the best values on the board. We make a short, middle, and long odds pick to win and breakdown a couple of popular head-to-head matches that you can find at just about every golf betting outlet. Odds and pairings for this week can be found at Bovada. We hit on Patrick Reed two weeks ago and nearly made it two-in-a-row with Xander Schauffele just missing out on the win last week so let's look to stay hot. Here are our picks to win the 2021 AT&T Pebble Beach Pro-Am.
Paul Casey (18 to 1 odds to win)
Casey was quiet in 2020 and has largely been the same this season, but he is rounding into shape with a T8 his last time out at the AMEX and has missed just one cut since the Tour Championship last fall. He has T8 and T2 finishes in his previous three starts here with rounds of 64 and 65 at Pebble in consecutive seasons. Casey is getting a little grey but is still top-35 in driving distance and improves to 10th in total driving. These are shotmakers courses, and that off-the-tee ability will pay off over the week, as will his top-50 overall tee-to-green game. He is sitting at about the Tour average in putting but putts well enough to take advantage of his birdie chances, and he is good under pressure with the 18th best scrambling rate. Casey isn't a dominant player, but he is versatile, and that will help navigate the challenges present at both courses.
Si Woo Kim (33 to 1)
The former Players Championship winner notched his third career win at the AMEX just two weeks ago, and I think he can win again this week. Kim was 4th here in 2019 and has a very nice profile for these courses. He is a solid driver and ranks 26th in tee-to-green play, and that will set up a volume of birdie opportunities. Kim hasn't been special with the putter overall but improves to 88th in GIR, putting to rank 36th in scoring average. He is one of the best at saving strokes with the 10th best scrambling rate, so he seldom falls down the leaderboard. Kim isn't quite a household name yet, but he is a top-10 talent in this field and getting fantastic value at a place that fits his game.
Chez Reavie (66 to 1)
Reavie is battling in 2021, including missed cuts in his last two starts, but he was 3-under overall in those events, so I think he is closer than some numbers would suggest, and he has a good record here with a runner-up in the 2018 season. Chez remains one of the most consistent drivers on Tour, ranking 28th in fairways hit, and the general lack of length at these courses plays right into his light-hitting ways. The approach game is strong as well, with Reavie sitting at 15th in approach proximity, but the man just isn't knocking home the putts. In 2021, Reavie ranks 224th in strokes gained putting, which has him losing strokes to the field on average. That stat should hit you right in the gut, but Reavie has never been a poor putter, so I am willing to buy low on him here with the thought that he will simply regress to his statistical average and start cashing in on some of those birdie looks. Even a streaky-good couple of rounds should have Chez seeing the benefits of his iron game and in good shape heading into the weekend.
Head-to-Head Matches
Picks to win based on the predicted score for all four rounds. Check with your favorite sportsbook for single round matches and a variety of prop bets.
Francesco Molinari (EVEN) v. Jordan Spieth (-130) (pick to win: Molinari)
It was cool to see Spieth near the top last week, and I am in the camp that he eventually gets back to winning on Tour, but one good week is not going to get me in his corner, especially considering he is still making only about half of his cuts right now. Molinari has been in something of a slump over the long term, but it hasn't been as bad as Spieths and Francesco has gone 2-1 against Jordan in the last three events where they both played and won this head-to-head when the US Open was held at Pebble in 2019. Spieth is hitting about 48% of his fairways, which is near the bottom of all Tour players, so the control edge goes to Molinari, and he is hitting more greens as well. Spieth has some statistical advantages on the greens, but the end result is that both players make about the same amount of birdies per round, and Molinari sits at 35th in scoring, with Spieth back at 129th. Molinari is the better scrambler at this point as well, so his even money status in this matchup is too good to pass on. Keep cashing checks by betting against Spieth.
Kevin Streelman (-120) v. Max Homa (-110) (pick to win: Streelman)
A quick look at these two in recent head-to-heads shows that Homa has won three of the last four when both played, but Streelman has a 3-0 record at Pebble over the last three seasons and is riding a five-year streak of T17 or better finishes at the AT&T. Streelman hits more fairways and greens to be the better ball striker overall, and he sees the scoring edge even though Homa is the bigger hitter. The putting and scrambling are nearly identical for these two, so that shotmaking edge for Streelman should give him the edge over the course of the tournament, and this really isn't a place where Homa is going to gain much with his length. I like Streelman to put in another top-20, and he is also the better bet to log a top-10 while I think Homa is back in the 25-35 range.
Good luck and good golf!