[et_pb_dcsbcm_divi_breadcrumbs_module hide_homebreadcrumb="off" homebreadcrumbtext="Home" separator="sep-raquo" hide_currentbreadcrumb="off" homebreadcrumborientation="left" _builder_version="3.8″ fontsbreadcrumbs_font="Lato||||||||" fontsbreadcrumbs_text_color="#000000″ fontsbreadcrumbs_font_size="15px" fontsbreadcrumbs_line_height="16px" fontsseperator_font="||||||||" fontsbreadcrumblinks_font="||||||||" fontsbreadcrumblinks_text_color="#2567cf" custom_margin="25px|||" custom_margin_phone="30px|||" custom_margin_last_edited="off|desktop" custom_css_main_element="font-family: Helvetica Regular;" disabled="on" global_module="3641″ saved_tabs="all"][/et_pb_dcsbcm_divi_breadcrumbs_module]
Oaklawn Park Racetrack: History and Race Schedule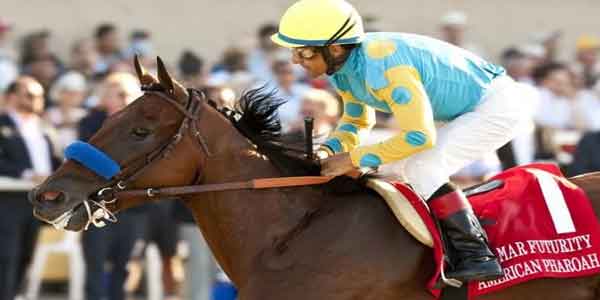 Oaklawn Park sits minutes from the bustling center of Hot Springs, Arkansas. It's conveniently located near many of Hot Springs top attractions. The facility is easily recognizable with its green façade. The infield features beautiful landscaping with a large pond, mature trees and memorial gazebo.
The racetrack also includes a casino as well as numerous bars and restaurants. Additional facilities are being built to allow the racetrack to host larger, regional events and will include a four-star hotel, outdoor pool with cabanas, event lawn for weddings and meeting space as well as a luxury spa. A multi-purpose event center will accommodate up to 1500 guests for concerts or meetings and is designed to complement the local convention center. Additional gaming space for folks to work their Oaklawn picks as well as restaurants and bars will also be part of the $100 million expansion. The expansion is scheduled to be completed by January 2020.
The History of Oaklawn
While it wasn't the only racetrack in Hot Springs, by 1920 it was the only one still standing. The original owners of Oaklawn were John Condon and Dan Stuart. They were also owners of popular night spots in Downtown Hot Springs. They formed the Oaklawn Jockey Club in 1904 deriving the name from the rural community where they track was built.
The pair hired Chicago architect Zachary Taylor Davis to design the glass-enclosed, heated grandstand in 1904. The grandstand was the first of its kind in the country and could seat 1,500. Today, the glass enclosed grandstand is a popular feature of the track, allowing race fans to enjoy racing no matter the weather. The group spent approximately $500,000 to build the track.
The first meet at the new track was held February 13th to March 18th, 1905. They had six races carded daily with a post time of 2:15pm. However, due to the severe winter weather of the year with temperatures well below zero across most of the state, the first racing day was delayed until the 15th. Admission for the first meet was $2 for a box seat, $1.50 for men and $1 for women for regular grandstand admission.
To ensure all race fans could attend, the Hot Springs Railroad Company offered special race-day service starting at 12:30pm. The roundtrip fare was 20 cents.
Oaklawn made history in the Midwest when they had 130 entries on February 28th. Two of the races drew 15 horses and another 14. The racing distances varied wildly during this time. Two of the races were 3 ½ furlongs, with the remaining races being ran at 5 ½ furlongs, 6 furlongs, one mile, one mile and 100 yards and 1 1/16th miles.
Oaklawn continued racing in 1906 and 1907, but the winds of change swept through the state with anti-gambling reform was enacted. The track was closed until 1916. By the time the track could reopen, Condon and Stuart had died. The new owners were the Cella brothers, Louis and Charles, who re-opened the track for a 30-day season in 1916. In 1918, Louis Cella passed away and his brother, Charles, took full ownership. He ran the track until his death in 1940. Charles J. Cella has ran the track since 1968.
In 1917, Oaklawn was scheduled to split the racing season with Essex Park, another track in the Hot Springs area. However, the day after the track reopened, it burned and was never rebuilt.
In 1919, the state decided racing was illegal and the track was forced to close again. It reopened in 1934 with a crowd of 5,000 attending opening day.
Famous Horses of Oaklawn
Over the years Oaklawn has hosted several famous horses in racing. Three of those came just ten years after the reopening.
Pan Zareta – Known as "Queen of the Turf," Pan Zareta was a mare that won all three of her starts in 1916 at Oaklawn. In her final start, she carried 142 pounds and was the front running winner of a $500 handicap sprint. She also split two meetings with the 1914 Kentucky Derby winner, Old Rosebud, in 1917. That season she made six starts, with three in an eight-day time period. Her first match with Old Rosebud was a $600 handicap sprint
The chestnut mare was foaled in 1910 in Sweetwater, Texas. She set or equaled 11 track records. She raced in Mexico, Canada and 8 US states. She is in the National Museum of Racing and Hall of Fame as well as the Texas Horse Racing Hall of Fame. She is buried in the infield of Fair Grounds in New Orleans, where she passed away in her stall from pneumonia in 1918.
Old Rosebud – Old Rosebud, the 1914 Kentucky Derby winner, ran four times at Oaklawn in 1917. He finished third six lengths behind Pan Zareta carrying 137 pounds (24 more than the mare). The second meeting, April 6, he won by two lengths in a $500 allowance race at 7 furlongs, in which he set the track record of 1:25 1/5. Old Rosebud was inducted into the Hall of Fame in 1968 after winning forty of eighty starts. Oaklawn created a stakes race to honor the 1917 Horse of the Year – a one-mile race for 3-year olds. The stakes ran 1990-1997.
Exterminator – Winner of the 1918 Kentucky Derby, Exterminator ran his first two starts in 1919 at Oaklawn. He won the $800 Hotel Como Handicap and the $800 New Era Handicap. The gelding was inducted in to the Hall of Fame in 1957 after 50 wins in 100 starts. He was the unofficial 1922 Horse of the Year. Oaklawn owners, the Cella family, named the barn that sits behind the track's 6-furlong chute the Exterminator barn.
American Pharaoh – Several years later, Oaklawn would host another history making horse. American Pharaoh won the Triple Crown in 2015 as well as the Breeders' Cup Classic. He was the 12th Triple Crown winner in history breaking a 37-year long drought of Triple Crown winners. He was also the first Oaklawn raced horse to capture the Triple Crown after winning the 79th Arkansas Derby on April 11th, 2015.
Gun Runner – 2017 Horse of the Year Gun Runner launched his season by winning the $500,000 Razorback Handicap. He then won four straight grade 1 races culminating his winning season at the Breeders' Cup and winning the $6 million Breeders' Cup Classic.
These are just a few of the history making horses that have launched their careers at Oaklawn or have been hosted by the track. Other famous names such as Cigar, Curlin, Zenyatta, Smarty Jones, Afleet Alex, Smarty, Jones, Rachel Alexandra, Lookin at Lucky and Will Take Charge have all stepped hoof on this historic track.
Famous Jockeys
Oaklawn has also hosted several famous jockeys over the years as well.
Earl Sande – Earl Sande won the Triple Crown aboard Gallant Fox in 1930. He was inducted in the Hall of Fame in 1950. He won Oaklawn's apprentice riding title in 1918. His career included 5 Belmont Stakes wins, 3 Kentucky Derby wins and 1 Preakness win.
Maurice "Moose" Peters – Peters was a North Dakota native who won 33 races during the 22-day season in 1934 at Oaklawn. But he is better known as the jockey who rode Seabiscuit as a 2-year-old in 1935. He also won the Triple Crown in 1937 on War Admiral.
The Arkansas Derby
The Arkansas Derby is Oaklawn's premier stake race. It was first run in 1936 after racing in Arkansas was back on solid ground. The first winner of the 1 1/8th mile race was Holl Image in 1936. He won the race by three lengths and later went on to place sixth in the Kentucky Derby.
The Arkansas Derby was originally run by the Arkansas Jockey Club at Little Rock's Clinton Park in the late 1890s. In 1904, it had a purse of $500 with $1000 added. Nearly every prominent racehorse owner at the time was reserving a stall.
In 1936, the race was worth $5000, which would be $85,000 today. By 2004, the purse was $1 million.
The 2019 Oaklawn Meet
The 2019 Oaklawn race meet starts January 25th and will run until Kentucky Derby day, May 4th. Several stakes races are on the schedule with some of the highlights including:
January 25th – $150,000 Smarty Jones Stakes – 1 mile – 3-year olds
January 26th – $100,000 American Beauty – 6 furlongs – 4 yr. old & Up Fillies & Mares
February 18th – $500,000 Razorback Handicap (G3) – 1 1/16th miles – 4 yr. olds and up
February 18th – $500,000 Southwest Stakes (G3) – 1 1/16th miles – 3-year olds
March 16th – $1 Million Rebel Stakes (G2) – 1 1/16th miles – 3 year olds
April 12th – $500,000 Fantasy Stakes (G3) – 1 1/16th miles – 3 year old Fillies
April 13th – $400,000 Count Fleet Sprint Handicap (G3) – 6 furlongs – 4 yr. olds & Up
April 13th – $750,000 Oaklawn Handicap (G2) – 1 1/8th miles – 4 yr. olds & Up
April 13th – $1 Million Arkansas Derby (G1) – 1 1/8th miles – 3 year olds
April 14th – $700,000 Apple Blossom Handicap (G1) – 1 1/16th miles – $700,000
May 3rd – $200,000 The Oaklawn Mile – 1 mile – 4-year olds & Up
May 4th – $250,000 Oaklawn Invitational – 1 1/8th miles – 3 year olds
May 4th – $200,000 Arkansas Breeders' Championship – 1 1/16th miles – 3 yr. olds & Up (Arkansas bred)
Oaklawn Park Selections
Check back daily as Predict'Em will host free Oaklawn Park picks from expert handicapping service Guaranteed Tip Sheet each day of the live racing meet. Best of luck!
Guaranteed Tip Sheet's
Oaklawn FREE PICKS 2/24/19
| | | | |
| --- | --- | --- | --- |
| No. | M/L | PP | HORSE |
| 1 | 7/2 | 5 | Just for Casey |
| 2 | 9/2 | 9 | Redneck Attack |
| 3 | 5/2 | 13 | We Did |
| 4 | 6-1 | 2 | Getoffmyback |
| 5 | 7/2 | 8 | Hot Item |
| 6 | 3-1 | 5 | Im Busy |
| 7 | 5/2 | 6 | Chocolate Martini |
| 8 | 2-1 | 4 | Bano Solo |
| 9 | 5/2 | 6 | Breaking News |