[et_pb_dcsbcm_divi_breadcrumbs_module hide_homebreadcrumb="off" homebreadcrumbtext="Home" separator="sep-raquo" hide_currentbreadcrumb="off" homebreadcrumborientation="left" _builder_version="3.8″ fontsbreadcrumbs_font="Lato||||||||" fontsbreadcrumbs_text_color="#000000″ fontsbreadcrumbs_font_size="15px" fontsbreadcrumbs_line_height="16px" fontsseperator_font="||||||||" fontsbreadcrumblinks_font="||||||||" fontsbreadcrumblinks_text_color="#2567cf" custom_margin="25px|||" custom_margin_phone="30px|||" custom_margin_last_edited="off|desktop" custom_css_main_element="font-family: Helvetica Regular;" global_module="3641″ saved_tabs="all"][/et_pb_dcsbcm_divi_breadcrumbs_module]
MLB Pick: Arizona Diamondbacks at LA Dodgers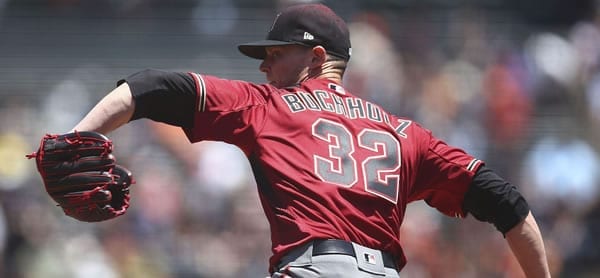 Arizona Diamondbacks @ Los Angeles Dodgers 9/2/18
Time: 4:10 PM ET
Where: Dodger Stadium, Los Angeles, CA
Listed Pitchers: Clay Buchholz (Az) & Walker Buehler (LA)
TV: FS – Arizona, SportsNet LA
Moneyline: Diamondbacks +165/Dodgers -175
Over/Under: 7.5
NL West rivals and playoff hopefuls conclude a four-game series when Arizona and Los Angeles meet a Chavez Ravine Sunday afternoon. The D'Backs took the opener of this series, but the Dodgers have grabbed the last two games. How are we playing Sunday's contest with our daily free MLB picks?
MLB Betting Line
Sunday's MLB betting odds opened Los Angeles at around -160 over Arizona, with an over/under of 7.5 runs. The early betting action then bumped the Dodgers as much as 15 cents, to around -175.
LA could also be found getting around +125 giving the run and a half on the MLB run line.
Set-Up
The Diamondbacks won the opener of this series Thursday night 3-1, but the Dodgers won the next two games by the same score of 3-2. Arizona led Saturday's contest 2-0 into the bottom of the eighth before LA's Matt Kemp bombed a three-run homer for the win.
Friday the D'Backs led 2-1 when the Dodgers scored once in the seventh to tie it and once in the eighth to win it. Moreover, Los Angeles closer Kenley Jansen, who has struggled since coming off the DL, picked up saves the last two days.
With Saturday's victory, Los Angeles is 7-1 over its last eight games.
With Saturday's defeat, Arizona is 3-6 over its last nine games.
Big-picture, with identical records of 74-62 the Dodgers and Diamondbacks are tied for the lead in the NL West, a half-game ahead of third-place Colorado. They also sit a game and a half back of Milwaukee in the battle for the second National League wild-card spot.
Arizona leads the season series with Los Angeles nine games to six.
Sunday's Starters
Buehler (6-4, 3.02), by our strict standards, is 8/17 on quality starts this season and three for his last four. Tuesday he gave up two runs and four hits through four innings against Texas, but over his three previous outings, he allowed just one run and ten hits through 20 innings, with 23 strikeouts. On the season the Dodgers are 10-7 with Buehler, with unders going 10-7.
This will be Buehler's first-ever start against Arizona, which could give him an edge for the first couple of times through the lineup.
Buchholz (7-2, 2.07) is 9/14 on quality starts this year, working on a run of five in a row. Tuesday he held San Francisco scoreless on five hits through seven innings, and over his last five starts, he's allowed just five earned runs through 36 innings. On the season the Diamondbacks are 8-6 with Buchholz, with unders going 9-5.
This outing will be the first start for Buchholz against the Dodgers since 2010 when he was with Boston, and in baseball terms that might as well be 100 years ago.
Both these guys are going pretty good at the moment, but we're going to give Buchholz a short handicapping edge in this pitching match-up.
Sunday's Batting Splits
Arizona owns a .233/.309/.390 batting average/OBP/slugging percentage split against right-handed pitching this season. The D'Backs have also scored a total of just ten runs over their last six games.
Los Angeles owns a .251/.333/.450 split against righties this year. However, the Dodgers have scored a total of 10 runs over their last four games.
Nonetheless, we gotta give LA the advantage with the sticks for Sunday.
The Bullpens
The Arizona bullpen owns a 3.13 ERA and a 1.21 WHIP.
The Dodgers pen owns a 3.85 ERA and a 1.22 WHIP.
We'll give the D'Backs a short edge in the comparison of the bullpens.
Totals Report
Unders are 37-31 in games played at Dodger Stadium this year, which are averaging 8.0 total runs per, sixth-fewest among all ML ballparks.
Unders are 8-0 in Arizona's last eight games, thanks to some outstanding pitching but light hitting by the Diamondbacks.
Unders are 4-0 in LA's last four games, for similar reasons.
Totals are split 7-7-1 in D'Backs-Dodgers games this season.
Free MLB Picks
Arizona gets two of our main handicapping check-marks, and it's getting a nice fat underdog price. We're going with the Diamondbacks and I recommend laying at it a sportsbook that offers the best value for your buck – Reduced juice or MLB Dimelines.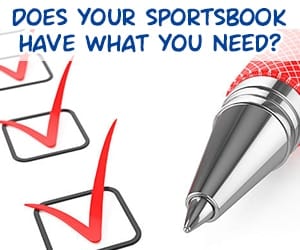 <aside><div class="widget105"><!-- [et_pb_line_break_holder] --><h4 class="baseball">MLB 10¢ Sportsbooks</h4><!-- [et_pb_line_break_holder] --><table id="dimeline"><!-- [et_pb_line_break_holder] --> <tr><!-- [et_pb_line_break_holder] --> <th></th><!-- [et_pb_line_break_holder] --> <th width="110px">10¢ to:</th><!-- [et_pb_line_break_holder] --> <th width="110px">20¢ to:</th><!-- [et_pb_line_break_holder] --> </tr><!-- [et_pb_line_break_holder] --> <tr><!-- [et_pb_line_break_holder] --> <td><div class="col1"><a href="https://www.predictem.com/out/Sportsbetting"><!-- [et_pb_line_break_holder] --> <img src="https://www.predictem.com/wp-content/uploads/2018/06/SportsBettingDark.png" width="150" alt="SportsBetting" /></a><!-- [et_pb_line_break_holder] --> </div></td><!-- [et_pb_line_break_holder] --> <td>-200</td><!-- [et_pb_line_break_holder] --> <td>-279</td><!-- [et_pb_line_break_holder] --> </tr><!-- [et_pb_line_break_holder] --> <tr><!-- [et_pb_line_break_holder] --> <td><div class="col1"><a href="https://www.predictem.com/out/Betonline"><img src="https://www.predictem.com/wp-content/uploads/2018/06/betonline-xs.png" width="150" alt="BetOnline" /></a></div></td><!-- [et_pb_line_break_holder] --> <td>-200</td><!-- [et_pb_line_break_holder] --> <td>-270</td><!-- [et_pb_line_break_holder] --> </tr><!-- [et_pb_line_break_holder] --> <tr><!-- [et_pb_line_break_holder] --> <td><div class="col1"><a href="https://www.predictem.com/out/%Dimes"><img src="https://www.predictem.com/wp-content/uploads/2018/06/5Dimes_sm.png" width="150" alt="5Dimes" /></a></div></td><!-- [et_pb_line_break_holder] --> <td>-195</td><!-- [et_pb_line_break_holder] --> <td>-266</td><!-- [et_pb_line_break_holder] --> </tr><!-- [et_pb_line_break_holder] --></table> <!-- [et_pb_line_break_holder] --><div class="widget-footer"><a href="https://www.predictem.com/best-sportsbooks/mlb-dimeline/">See all Dimeline Sportsbooks</a></div><!-- [et_pb_line_break_holder] --> </div></aside><!-- [et_pb_line_break_holder] --><!-- [et_pb_line_break_holder] --><style><!-- [et_pb_line_break_holder] --> #dimeline {border: 0px;}<!-- [et_pb_line_break_holder] --> #dimeline th{color:#000;}<!-- [et_pb_line_break_holder] --> #dimeline td{padding: 2px; text-align: center;}<!-- [et_pb_line_break_holder] --> #dimeline td, #dimeline th{padding: 8px 2px; text-align: center;border-bottom: 1px solid #bbb;}<!-- [et_pb_line_break_holder] --> .img-hover {border: 1px solid #fff; padding:5px}<!-- [et_pb_line_break_holder] --> .img-hover:hover {background: #edeef0; border: 1px solid #008156; margin-top:1px; padding:5px}<!-- [et_pb_line_break_holder] --></style>