Astros vs. A's Odds & Predictions 5/31/22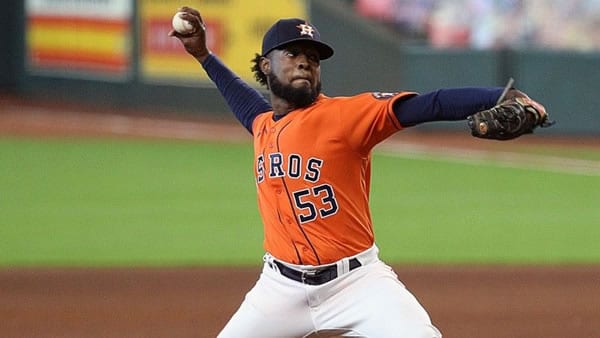 Houston Astros (30-18) vs. Oakland Athletics (20-30)
When: 9:40 p.m., Tuesday, May 31
Where: Oakland Coliseum, Oakland, Calif.
Moneyline: HOU -135/OAK +110 (Bovada)
Runline: Astros -1.5/Athletics +1.5
Total: 7
Starting Pitchers: Cristian Javier (3-2, 2.43 ERA, 0.97 WHIP) vs. Frankie Montas (2-4, 3.28 ERA, 0.99 WHIP)
Two at a Time
There's an old adage that the best baserunning teams attempt to go two bases at a time in order to maximize their scoring chances. Oakland follows it to some extent, but the Athletics certainly aren't living up to the intentions of that mindset with the way that they're scoring runs. On one hand, the A's certainly are trying to go two bases at a time, as they rank fifth in the majors in stolen bases, confirming their commitment to running at every opportunity.
But on the other, Oakland has scored just 173 runs on the year, ranking 27th in the majors. To make matters worse, the Athletics have played 50 games, the most in baseball. When their run total is looked at on a per-game basis, Oakland has just 3.46 runs per game to its name, a far cry from the 4.8 runs per game that the league-leading Angels are putting up. Going two bases at a time is indeed helpful, but it cannot overcome a team batting average of just .215, the worst in the majors. As long as Oakland struggles to get hits, it doesn't matter how many bases at a time the Athletics attempt to go.
No Mistakes Allowed
The lack of offense has had a major impact on Athletics starter Frankie Montas, as he's had to pitch as if he's got no safety net whatsoever. Truth be told, most nights he doesn't have a safety net, as more often than not, he's lucky to get more than a run of support.
The Athletics have lost in seven straight starts from Montas, with him taking the loss personally on three occasions. But you could hardly blame Montas, who received a grand total of one run from his offense in those three starts. Over his past seven trips to the mound, Montas has seen the Athletics' bats produce one run or fewer five times, while his starts have most often gone to waste. Only once did Montas not have it and need to be bailed out by Oakland's bats, that coming in a 9-8 loss to Cleveland in which Montas had to come out after five innings. But even that gets a bit of an asterisk, as Montas overcame his early mistakes and left with he lead despite giving up five runs to the Guardians. However, the Oakland bullpen couldn't do the job, leaving the A's with another frustrating loss in a 9-8 decision.
ROGERS' WORLD SERIES GM 1 GRAND SLAM! 10*!

I won my last two MLB playoff picks and am going for three straight on Friday in Game 1 of the World Series! I had a sparkling run down the stretch (in the regular season), and look to finish in the same fashion in the postseason. Hop on board now!
Slam the Door Early
What Montas likely dreams about is a situation like the one that exists in Houston, where not only do Astros pitchers regularly get run support from a solid offense, but they're only asked to go five to six innings with the lead before they can hand it over and watch it get protected properly. The Astros' bullpen has easily been the best in the majors in 2022, as Houston has a bullpen ERA of a mere 2.48. Houston doesn't produce a ton of save opportunities, converting just 12 all season, but that's more because the Astros aren't really managing with respect to saves. Instead, they're doing all they can to keep hitters off-balance and letting the saves take care of themselves. With 44 earned runs given up all year and a 1.11 WHIP, their approach is paying off quite nicely. The Astros believe that when they can hand the game to their bullpen in the seventh inning with the lead, the game is over then and there. So far, they appear to be right.
More Picks: Get Dave's White Sox at Jays MLB Pick >>>
Betting Trends
The Astros are 19-7 in their past 26 games overall.
The Astros are 1-5 in their past six road games against a right-handed starter.
The Athletics are 4-17 in their past 21 home games.
The Athletics are 2-10 in their past 12 home games against a right-handed starter.
The under is 21-5 in the Astros' past 26 games against a right-handed starter.
The under is 20-6 in the Astros' past 26 road games.
The over is 5-2 in the Athletics' past five games overall.
The over is 4-1 in the Athletics' past five games as an underdog.
The Athletics have won five of the past seven meetings overall.
The over is 8-2 in the teams' past 10 meetings.
Weather Report
There's one thing that can push this total over the number: strong winds on the East Bay. At first pitch, it's expected to be pushing between 11 and 13 miles per hour toward right-center field, which could make for difficult conditions. Otherwise, it's expected to be a pleasant 71 degrees in Oakland.
Dan's pick
Montas is likely to keep this game close, but Oakland's pathetic offense has been abysmal at home and isn't giving their ace pitcher anything in the way of run support. The Athletics aren't likely to do much of anything offensively against either Javier or the Houston bullpen, which says that this is likely to be a low-scoring game that plays into the Astros' hands. Give me Houston.
MLB Betting Guide
New to betting on baseball? We've got you covered! Our comprehensive how to bet on baseball article explains all the different types of wagers offered at the sportsbooks including money lines, over/unders, run lines, parlays and more! Also get tips and strategies to increase your odds of beating the bookies!