Chicago Cubs at Philadelphia Phillies Pick 8/14/19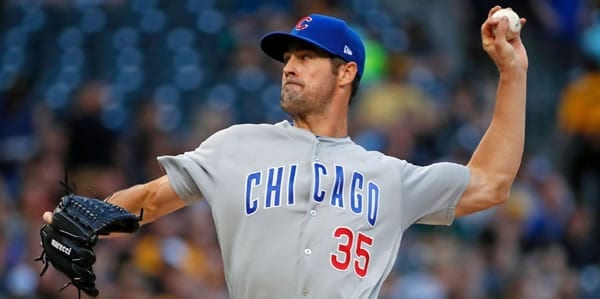 Chicago Cubs (64-55) at Philadelphia Phillies (61-58)
When: 7 p.m., Wednesday, August 14
Where: Citizens Bank Park, Philadelphia
Moneyline: CHC +100 / PHI -121 (SportsBetting.ag)
Runline: Cubs +1.5/Phils -1.5
Total: 9
Starting Pitchers: Cole Hamels (6-3, 3.09 ERA, 1.24 WHIP) vs. Aaron Nola (10-3, 3.67 ERA, 1.29 WHIP)
You Can Go Home Again
But it's taken Cole Hamels a long time to get back to the City of Brotherly Love. Hamels spent a full ten years as one of the anchors of the Phillies' rotation, but he's never made a start at Citizens Bank Park as a member of the visitors. That changes on Wednesday, as Hamels takes the ball for the Cubs for just his third start since the end of June.
This isn't where Hamels would like to be as he gets ready to face his old club, as he's coming off a rough performance in Cincinnati, where he gave up eight hits and five runs in three innings, getting bailed out by his offense. Before his injury in June, Hamels was dynamite for the Cubs, tossing four games where he gave up one run or fewer, but he's yet to show that he's back to his old self.
Good vs. Great
Aaron Nola saw his two-game win streak come to an end in San Francisco, as the Phillies gave him no run support in a 5-0 loss to the Giants. Nola didn't pitch poorly in that game, but it was the sixth straight game where he's alternated between dominant and decent. In this stretch, he's had three starts where he's held the opposition to a mere run and three where he's allowed either three or four runs. The location of the games hasn't mattered, as he's put up two of each in Philadelphia and one of each away from home.
If the pattern holds, he's on track for a one-run start that will go at least six innings, which has been the norm for Nola in 2019. In his past ten games, he's held the opponent to one run or less in seven of them, and all seven of those starts saw him make it through at least the sixth inning for a quality start.
Blast From the Past
With the Phillies sitting two games back of the wild card, they've turned to the man who led them to their most recent World Series: Charlie Manuel. They've hired him as their hitting coach, firing John Mallee and bringing Manuel out of retirement to turn around the offense, which has languished in the bottom third in both batting average and home runs in a year where baseballs have seemingly been flying out of the park with regularity.
Can his message get through to the Phillies, or is there not enough time for him to help turn things around? With 44 games to go in the season, the Phils are just two games out of the wild card, and the pitching has given them a chance to this point. If the hitting picks up, they could be a dangerous team down the stretch.
The Historicals
The teams already met for four games at Wrigley Field this year, splitting them. The Cubs have had the edge in this series for the past three years, but the last two years were tight affairs, with the Cubs winning 4-3 in 2017 and 4-2 last year. They've been almost dead even in Philadelphia for the past four years, with the Cubs holding a 7-6 edge at Citizens Bank Park since 2015.
100% Free Play up to $1,000

Betting Trends
The Cubs are 5-1 in their past six games following a loss.
The Cubs have won Hamels' past four Wednesday starts.
The Phillies are 4-1 in their past five home games against a team with a winning record.
The Phillies have lost their past five games that followed a win.
The under is 7-1 in Hamels' past eight starts.
The over is 4-0 in Nola's past four starts against the Cubs.
Weather Report
Thunderstorms are in the area around the first pitch, with the temperature projected to be around 79 degrees at first pitch if the game starts on time.
Dan's pick
Emotions are going to play a significant role in this game with Hamels making his return to Philadelphia, and the question is how the emotions will affect Hamels. If he's fired up for a big performance, the Cubs will have a considerable advantage, but if the crowd gets to him, it's going to be a good night for the Phillies.
If Hamels were pitching better, I'd probably lean toward taking him in his return to Philadelphia. But in this situation, he's not really at his best. Meanwhile, Nola has been pitching well for a while, and his pattern suggests that he's going to be on top of his game in this matchup.
Hamels' questionable recovery and Nola's strong recent performances have me leaning in Philadelphia's direction here, and I'm going to take the Phillies
Take the Phillies -121