Cincinnati Reds vs. San Diego Padres Pick 6/17/21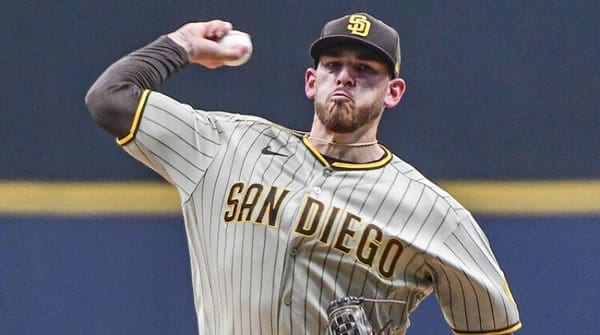 Cincinnati Reds (35-31) vs. San Diego Padres (38-32)
When: 8:40 p.m., Thursday, June 17
Where: Petco Park, San Diego
Moneyline: CIN +155/SD -170 (Best Sportbooks - If you're not betting at reduced odds or grabbing 100% bonuses you're missing out!)
Runline: Reds +1.5/Padres -1.5
Total: 7.5
Starting Pitchers: Wade Miley (6-4, 2.92 ERA, 1.12 WHIP) vs. Joe Musgrove (4-6, 2.50 ERA, 0.83 WHIP)
Padres' Turn to Panic?
There's no question now that in the NL West race, the Giants are for real, and the Dodgers are still the Dodgers. That's put the Padres in a tough position because they're now in a three-team fight that was supposed to be a two-team battle, and they know that all three teams are likely to beat up on Colorado and Arizona for the rest of the season.
I said likely, because there's one exception to that situation, and the Padres just found out the hard way: beating Colorado in Denver is actually hard to do this season. The Rockies barely resemble a major league team on the road, but they're a playoff team at Coors Field, and the Padres just left Denver on the wrong end of a sweep, making it seven losses in eight games.
On the one hand, this team still has plenty of time and talent to get things figured out, but they've got to make sure they don't let last week snowball on them. Arizona is tangible proof of how things can spiral out of control when a team doesn't stop the bleeding in a hurry. The Padres have currently lost two of three to the Cubs, two of three in Queens to the Mets, and three to the Rockies in Denver, all of which are reasonable occurrences. The key now is to get things turned around at home, and that means San Diego has to start hitting.
Miley Making Good
However, this might be the wrong time for San Diego to start hitting because Wade Miley has pitched very well over the past six weeks. Miley has just one dark mark on his resume in 2021, a 9-6 loss in Colorado, which saw the Rockies tag him for eight runs and 11 hits. Otherwise, he's done a fine job scattering runs and hits and limiting the threat on the basepaths. In his past six starts, he's held the opponent to either one run or no runs until he left the game. Strangely, the two exceptions to this were Colorado, but at least in the second meeting with the Rockies, the Reds got the bats going and pounded Colorado 10-3.
Miley's sharp surge is part of why Cincinnati is starting to get some real results. The Reds have always been able to hit the ball, but it's only in recent weeks that they've learned they can actually keep runs from scoring too. Cincinnati just completed a series that saw it hold Milwaukee to a mere four runs, completing a sweep and making it six straight wins and eight wins in 10 games.
Lady Luck is Fickle
Watching Joe Musgrove perform has reminded me a little of something Jim Valvano said after N.C. State got bounced in its regional in the late 1980s: his team got all the breaks in 1983, when it won the national title, and then hadn't gotten one since to make up for that night
.
That's kind of where Musgrove has been at times this year, as it really isn't fair that his record is 4-6 with how well he's pitched this season. He had the ideal game against Texas when he threw the first no-hitter in Padres history, but since then, nothing has seemed to go his way. Case in point: Musgrove hasn't given up more than three runs in any of his past six starts, yet he only picked up two wins in that time and none in his past four because the offense did nothing for him. In his past two starts, both against the Mets, Musgrove gave up three runs and took the loss both times because the Mets gave up just one run in 18 innings.
Betting Trends
The Reds have won their past eight on the road.
The Reds have won six straight as a road underdog.
The Padres are 1-5 in their past six after a loss.
The Padres are 5-0 in their past five against a left-handed starter.
The over is 4-1 in the Reds' past five as an underdog.
The under is 5-2 in the Padres' past seven.
The Reds are 5-2 in the past seven meetings.
The under is 7-0 in the teams' past seven meetings.
Weather Report
The weather couldn't be much better, with temperatures at 72 degrees and winds blowing southwest at seven miles per hour, toward right-center.
Dan's Pick
I know San Diego will eventually get this thing figured out, but I don't think they do it today. Miley is pitching well, and the Reds seem really confident right now. Plus, Musgrove is getting none of the breaks right now, and I'm not sure that changes here. Eventually, the Padres will start hitting, but Miley is pitching too well right now to expect that the slump break in this one.
I'll take a shot with the Reds as the live dog. Bet this week's MLB picks FREE by scoring a 100% REAL CASH bonus on your first deposit of $100 to $300 at the web's most FUN sportsbook! —> MyBookie!