[et_pb_dcsbcm_divi_breadcrumbs_module hide_homebreadcrumb="off" homebreadcrumbtext="Home" separator="sep-raquo" hide_currentbreadcrumb="off" homebreadcrumborientation="left" _builder_version="3.8″ fontsbreadcrumbs_font="Lato||||||||" fontsbreadcrumbs_text_color="#000000″ fontsbreadcrumbs_font_size="15px" fontsbreadcrumbs_line_height="16px" fontsseperator_font="||||||||" fontsbreadcrumblinks_font="||||||||" fontsbreadcrumblinks_text_color="#2567cf" custom_margin="25px|||" custom_margin_phone="30px|||" custom_margin_last_edited="off|desktop" custom_css_main_element="font-family: Helvetica Regular;" global_module="3641″ saved_tabs="all"][/et_pb_dcsbcm_divi_breadcrumbs_module]
Game 4 Pick: Boston Red Sox at New York Yankees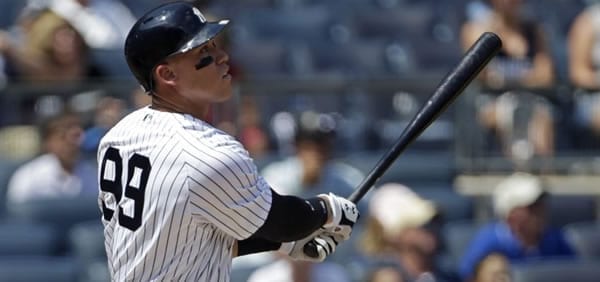 Boston Red Sox at New York Yankees 10/9/18
Time: 8:07 PM ET
Where: Yankee Stadium, Bronx, NY
Listed Pitchers: Rick Porcello (Bos) vs. CC Sabathia (NY)
TV: TBS
Moneyline: Red Sox +110/Yankees -120
Over/Under: 9
Boston grabbed a 2-1 lead in this best-of-five ALDS with a rousing victory Monday night and shoots to close things out Tuesday night at Yankee Stadium. How are we playing this crucial contest with our daily free MLB picks?
MLB Playoff Betting Line
Tuesday's MLB playoff betting odds opened the Yankees at around -120 for this Game 4, with an over/under of 9 runs and with the late posted odds their hasn't been much movemen.
Set-Up
These teams split the first two games of this series up in Boston, but the Red Sox grabbed a 2-1 lead with a 16-1 romp over the Yanks Monday night. The Sox scored a run in the top of the second inning to take the lead for good Monday, added two more in the third then posted a seven-spot in the fourth for a 10-0 lead. They later added six runs over the final three innings to complete the blowout.
Boston cashed in as +150 dog Monday against Luis Severino, and that game cruised over a total of 8.5 runs.
The Red Sox took the regular-season series from the Yanks 10 games to nine.
Tuesday's Game 4 Starters
Sabathia (9-7, 3.65), by our strict standards, is only 10/29 on quality starts this season and only one for his last five. Most recently, 12 days ago, he held Tampa Bay scoreless on one hit through five innings, and just before that he held Baltimore to two runs through six innings. But in his three starts previous to that he gave up 11 runs through 10 2/3 innings.
On the season New York is 16-13 with Sabathia, 2-0 over his last two outings.
In three starts this season against Boston Sabathia allowed seven runs and 18 hits through 14 innings. The Yanks went 1-2 those games.
Porcello (17-7, 4.28) is 16/33 on quality starts this year, but 0 for his last seven. Last Friday he tossed 2/3 of an inning of scoreless relief in Game 1 of this series, and nine days ago he started and tossed two scoreless innings against these Yankees. But in his three starts previous to that he gave up 10 earned runs through 15 2/3 innings.
On the season Boston is a sharp 22-11 with Porcello, 5-1 over his last six starts.
Over four starts this year against New York and those two recent relief appearances Porcello allowed six runs and 12 hits through 26 innings. The Red Sox went 3-1 in those four starts.
Based on recent performance against tonight's opponents we're giving Boston and Porcello the edge in this pitching match-up.
Game 4 Batting Splits
Boston posted a .250/.325/.395 team batting average/OBP/slugging percentage split against left-handed pitching this year.
New York posted a .250/.329/.445 split against right-handed pitching this season.
We'll give the Yankees a short edge in the splits with the sticks for Game 4.
The Bullpens
The Boston bullpen posted a 3.72 ERA and a 1.29 WHIP this season while going 46/66 on save opportunities. This unit has thrown 13 innings in this series, allowing five runs on 10 hits.
The Yankees pen put up a 3.38 ERA and a 1.21 WHIP this season while going 49/67 on save opportunities. But this unit, after a disastrous Game 3, has now thrown 16 innings in this series, allowing 11 runs on 17 hits.
We'd usually give New York the edge in the comparison of the bullpens here, but that unit might be a bit shell-shocked at the moment.
Totals Report
Overs played 44-35 at Yankee Stadium this season, as New York home games averaged 9.9 total runs per.
Overs are 9-1 in New York's last 10 games.
Overs are 11-2-1 in Boston's last 14 games.
Overs are 19-12 in Porcello's starts this year.
Unders are 16-11 in Sabathia's starts this year.
Overs are 13-7-2 in Yanks-Sox games this year.
Overs are 2-1 in this ALDS.
Free MLB Playoff Picks
We're pegging this game as a total pick 'em on our own private MLB betting line, which indicates to us value on the underdog Red Sox. And Boston already leads the season series with New York 12 games to nine. We're betting the Red Sox with our free MLB playoffs pick on Game 4 and guys if you still don't have an online betting account, check out our our look at the top reduced juice sportsbooks for the best lines for MLB, NFL and NBA and more!
<aside><!-- [et_pb_line_break_holder] --><div class="widget105"><!-- [et_pb_line_break_holder] --><h4 class="cash">Best Sportsbook Bonuses</h4><!-- [et_pb_line_break_holder] --><div class="widgetlist"><!-- [et_pb_line_break_holder] --><div class="col1"><!-- [et_pb_line_break_holder] --> <a href="https://www.predictem.com/out/IntertopsB"><img src="https://www.predictem.com/wp-content/uploads/2018/04/intertops.png" width="" alt="Bovada" /></a><!-- [et_pb_line_break_holder] --></div><!-- [et_pb_line_break_holder] --><div class="col2"><!-- [et_pb_line_break_holder] --><span class="list"><b>50% Cash</b></span><br><!-- [et_pb_line_break_holder] --><span class="list">4x Rollover</span><!-- [et_pb_line_break_holder] --> </div><!-- [et_pb_line_break_holder] --> <div class="col3"><!-- [et_pb_line_break_holder] --><a href="https://www.predictem.com/betting-sites/intertops/"><button class="btn-widget">Review</button></a><!-- [et_pb_line_break_holder] --></div><!-- [et_pb_line_break_holder] --></div><!-- [et_pb_line_break_holder] --><div class="widgetlist"><!-- [et_pb_line_break_holder] --><div class="col1"><!-- [et_pb_line_break_holder] --> <a href="https://www.predictem.com/out/BovadaB"><img src="https://www.predictem.com/wp-content/uploads/2018/04/bovada.png" width="" alt="Intertops" /></a><!-- [et_pb_line_break_holder] --></div><!-- [et_pb_line_break_holder] --><div class="col2"><!-- [et_pb_line_break_holder] --><span class="list"><b>50% Cash</b></span><br><!-- [et_pb_line_break_holder] --><span class="list">10x Rollover</span><!-- [et_pb_line_break_holder] --> </div><!-- [et_pb_line_break_holder] --><div class="col3"><!-- [et_pb_line_break_holder] --><a href="https://www.predictem.com/betting-sites/bovada/"><button class="btn-widget">Review</button></a><!-- [et_pb_line_break_holder] --></div><!-- [et_pb_line_break_holder] --></div><!-- [et_pb_line_break_holder] --><div class="widgetlist"><!-- [et_pb_line_break_holder] --><div class="col1"><!-- [et_pb_line_break_holder] --> <a href="https://www.predictem.com/out/GtbetsB"><img src="https://www.predictem.com/wp-content/uploads/2018/05/gt-bets.png" width="" alt="GtBets" /></a><!-- [et_pb_line_break_holder] --></div><!-- [et_pb_line_break_holder] --><div class="col2"><!-- [et_pb_line_break_holder] --><span class="list"><b>100% Cash</b></span><br><!-- [et_pb_line_break_holder] --><span class="list">20x Rollover</span><!-- [et_pb_line_break_holder] --> </div><!-- [et_pb_line_break_holder] --> <div class="col3"><!-- [et_pb_line_break_holder] --> <a href="https://www.predictem.com/betting-sites/gtbets/"><button class="btn-widget">Review</button></a><!-- [et_pb_line_break_holder] --></div><!-- [et_pb_line_break_holder] --></div><!-- [et_pb_line_break_holder] --><div class="widget-footer"><a href="https://www.predictem.com/best-sportsbooks/bonuses/">See all sportsbook bonuses</a></div><!-- [et_pb_line_break_holder] --> </div></aside>
<div style="width:340px; margin: 0 auto;"><!-- [et_pb_line_break_holder] --> <a class="twitter-timeline" data-width="340" data-height="500" data-link-color="#008156" href="https://twitter.com/PredictemPicks?ref_src=twsrc%5Etfw">Tweets by PredictemPicks</a> <script async src="https://platform.twitter.com/widgets.js" charset="utf-8"></script><!-- [et_pb_line_break_holder] --></div>