Giants vs. Brewers Total & Side Pick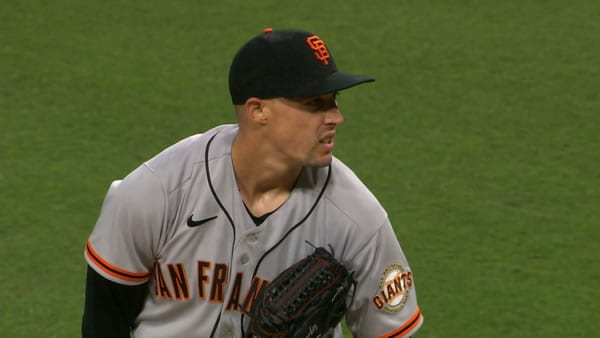 San Francisco Giants (69-41) vs. Milwaukee Brewers (66-44)
When: 7:10 p.m., Saturday, August 7
Where: American Family Field, Milwaukee
Moneyline: SF +150/MIL -170 (Find better lines >>> Ditch your overpriced bookie!)
Runline: Giants +1.5/Brewers -1.5
Total: 7.5
Starting Pitchers: Aaron Sanchez (1-1, 2.97 ERA, 1.26 WHIP) vs. Brandon Woodruff (7-6, 2.26 ERA, 0.88 WHIP)
Working Overtime
If you're looking at totals, you might want to approach the Giants with caution. San Francisco has been an under team for the majority of the year, but that's not the reason that I'm skittish about backing the Giants' totals. My main concern is because of what could happen in extra innings, as baseball still uses the man-on-second base rule (which I personally like, honestly) to start extra frames.
My personal feelings on the rule aside, the Giants have gone into extras in three of their past five games, and there aren't many more nervous feelings in baseball betting than knowing that you've backed the under when each team gets a guaranteed runner in scoring position to start each inning. So far, it's only turned a win into a push on one occasion out of the past three games, but it's definitely a big concern. If you're going to bet the Under with San Francisco, make sure you know what you're getting into.
Holding Down the Fort
That said, here's a reason you might want to consider the under: Aaron Sanchez is actually pitching pretty well for the Giants this season — in the brief amount of time that he's on the mound. Sanchez doesn't tend to last long when he pitches, but when he does, runs usually come at a premium.
Over his eight appearances this season, only one team has scored more than twice against Sanchez, and that was in Denver, where the Rockies somehow turn into a playoff team, and the elevation works against everyone. The problem is that he doesn't tend to last very long, as he hasn't gone more than five innings in an appearance this year.
Given his performance and his opponent in Brandon Woodruff, there's a solid case to be made for a first-five under in this one. With the total at a reasonably high 4.5 for the first five, these two pitchers should combine for a relatively low scoring start to this game.
Sleeping Well at Home
That's especially true with Brandon Woodruff at home because the Milwaukee pitcher has been outstanding at keeping runs off the board at what used to be Miller Park. In his past three games, the runs just have not come for either side at home, as he's pitched a pair of 3-1 losses and a 2-1 win over the Cubs.
For the year, nobody in the National League has managed to get more than two earned runs off Woodruff in Wisconsin. The only teams to even get three were the White Sox in his most recent start and the Twins in his first start of the season, which was also the only time all year that Woodruff has failed to go five innings.
That's why I'm confident in the first five bet here: you're almost certainly getting Woodruff for all San Francisco outs. Not Milwaukee's bullpen, not any lesser pitcher, just the Milwaukee ace in his home park, where he's been as reliable as they come.
Betting Trends
The Giants are 1-5 in their past six against the NL Central.
The Giants are 1-5 in their past six Game 2's of a series.
The Brewers are 20-6 in their past 26 against the NL West.
The Brewers have won five of seven at home.
The under is 3-0-1 in the Giants' past four road games.
The under is 7-3-1 in the Giants' past 11 games as a road underdog.
The under is 5-2 in the Brewers' past seven against the NL West.
The over is 4-1-3 in the past eight meetings.
The Giants are 2-5 in their past seven meetings in Milwaukee.
Weather Report
Temperatures will be at 77 degrees and wind blowing in at eight miles per hour, but there's rain in the forecast in Wisconsin, so the Brewers will likely play it safe and close the roof.
Dan's Pick
There's no way that I'm going against Woodruff at home, even though he's been on the losing end of his past two starts in Milwaukee. Sanchez isn't going to last long enough in this game for me to consider that a worthwhile bet. Instead, I'm going to play a first-five under here and try to take advantage of what both starters give me.
For the entire game itself, I'm going to go with the Brewers. Bet your MLB predictions FREE this weekend by scoring a 100% real cash bonus on your first deposit of $100 to $500 at GTBets!