Houston Astros vs. Boston Red Sox Pick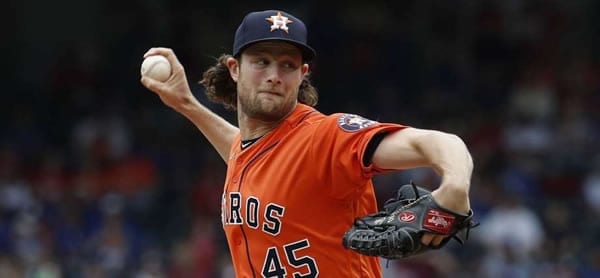 Houston Astros (29-15) at Boston Red Sox (23-20) Pick
When: 7 p.m., Friday, May 17
Where: Fenway Park, Boston
Opening Line: HOU -135/BOS +125
Runline: Astros -1.5/Red Sox +1.5
Total: 9.5
Starting Pitchers: Gerrit Cole (4-4, 3.88 ERA, 1.01 WHIP) vs. Rick Porcello (3-3, 5.15 ERA, 1.47 WHIP)
Streaking Stros
To say Houston is on fire right now is a major understatement. The Astros have won eight in a row and none have been particularly close, as only Texas was able to stay within two runs of Houston. The margin of victory in their other games? Nine, 3, 7, 10, 7, 7 and 4 runs, good for an average margin of victory of just over six runs per game. That's a ridiculous number, and it speaks to just how good the Astros' offense has been during this stretch. Going back a bit further, Houston has won 11 of 12, and only three of their 11 wins even offered a save opportunity for Roberto Osuna. That's incredible.
The key to the Astros' success? The hot bats of Alex Bregman and George Springer. Bregman has nine home runs in May, and there's still two weeks to go in the month. Springer's right up there with seven, and the center fielder is hitting .418 this month to match those blasts. In the name of fairness, nobody is going to confuse the Royals, the Tigers, the Rangers and the Angels with the 1927 New York Yankees, but the Astos can only beat the teams on their schedule, and they've done exactly that.
Bettor's Note: Betting baseball is like buying product for your retail store. It's not just about getting the winning items, it's about getting the margins that will make you profitable at the end of the year. That's how sports betting is and why we suggest dime line MLB sportsbooks. We call can hit 60% winners betting huge favorites but did you get a good enough price to create a profit margin at the end of the year? It's a must to shop lines and to use sportsbooks with 10 cent dime lines. 
Boston Bouncing Back
Anybody remember when the Red Sox were 11-17 and seemingly stuck in an endless World Series hangover? Yeah, didn't think so. Boston has blistered through May, winning 12 of its past 15 games and climbing right back into the thick of things in the AL East. Like the Astros, the Red Sox haven't exactly been facing a murderer's row slate of opponents, as the White Sox, Orioles, Athletics, Mariners and Rockies are all sub-.500 teams. But in the era of active tanking, there are going to be far more bad teams than good ones, and good teams need to beat up on the bad teams. The Red Sox have done that, and now they need to show they can beat good teams as well. To do that, they'll need Rick Porcello to continue the strides he's shown in the past four weeks.
Porcello got off to a horrible start, giving up 19 runs in his first three starts and failing to reach the fifth inning in any of them. Those days are gone, and he's been outstanding in his past four starts. All of his past four starts went six innings or more, and only Seattle managed more than three earned runs against him, as he put three wins and a no-decision on his ledger. In fact, Boston has won the past five games where Porcello has pitched — but the Astros are his toughest test since his April 20 no-decision in a win at Tampa Bay.
Avalanche of Runs
If you like offense, you should tune into this series. These two teams are simply killing the ball right now. Houston leads the majors in May with 102 runs in the month, and Boston is right behind at 96. These teams know how to score, and they have the bats to produce a big inning at any point. This is not one you'll want to turn away from.
The Historicals
To say there's history here is a little like saying the Republican and Democratic Parties don't exactly get along. These are the two most recent World Series champions, and Boston took Houston's title in a five-game ALCS rout last year, taking all three games in Texas in dominating fashion. But this series is at Fenway Park, and as big as that home-field advantage usually is, it doesn't seem to affect the Astros. Over the past two seasons, Houston is 7-4 at Fenway Park, including two postseason victories.
Betting Trends
The Astros are 5-1 in Cole's past six series-opening starts.
The Red Sox are 6-0 in their past six against the AL West.
The over is 4-0 in the Astros' past four road games against a right-hander
The under is 4-1-1 in the Astros' past six Friday games.
The over is 6-0 in the Red Sox's past six home games.
The over is 7-1 in Porcello's past eight starts.
Weather Report
The temperature is supposed to be 66 degrees at first pitch, with showers in the Boston area forecast up until the first pitch is scheduled.
Dan's pick
These two teams are flying high right now, and I don't really want to pick against either of them. But the Astros appear to be the stronger side, they have the better pitcher, and the fact that the game is at Fenway is actually an advantage for Houston given how comfortable the Astros are in Massachusetts. I just don't see the Red Sox keeping pace with the Astros should the pitching be unable to tame the hitting, and I'm not sure Porcello can keep the Astros from putting up runs. I like Houston in this one.
TIRED OF YOUR CREDIT CARD NOT WORKING AT SPORTSBOOKS? IT WILL AT MYBOOKIE+ GET UP TO $1000 IN FREE PLAYS!
Who else wants $60 of FREE MLB picks & predictions?
(NO commitments. NO Credit Card. NO Salesman.)