Houston Astros vs. LA Angels Predictions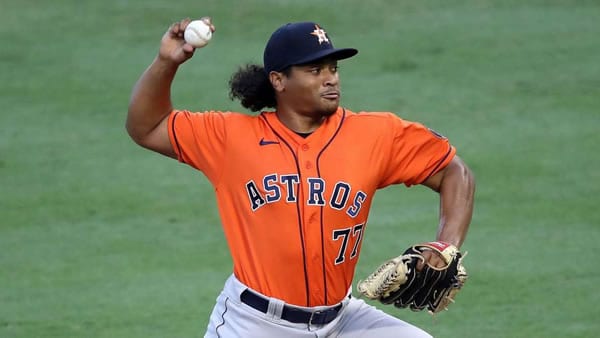 Houston Astros (69-46) vs. Los Angeles Angels (58-59)
When: 9:07 p.m., Saturday, August 14
Where: Angel Stadium, Anaheim, Calif.
Moneyline: HOU -175/LAA +160
Runline: Astros -1.5/Angels +1.5
Total: 9.5
(Get the best MLB Lines >>>)
Starting Pitchers: Luis Garcia (8-6, 3.29 ERA, 1.09 WHIP) vs. Jamie Barria (2-0, 4.21 ERA, 1.21 WHIP)
Living in the Past
The stats say that the Angels are a solid offensive team, but recent numbers just are not bearing that out right now. With the Texas outliers starting to fade from the team's last ten games, the Angels are down to just 3.1 runs per game over their past ten games, and they've managed to bunch 17 of their 31 runs into just three games. With those three removed, the Angels are down to just two runs per game.
For the year, the Angels average 4.56 runs per game, which says a lot about the slump they're in at this point. The Angels have gone under their number six times in the past ten games, and in two of those contests, it's because the pitching staff failed to do the job, and the opposition teed off on the Angels.
Travel Issues
On the other side of the coin, this could be the rare moment when the Angels' bats actually break out because Luis Garcia has been hit pretty hard when he's had to leave southeastern Texas. When Garcia pitches at home, he's been a reliable pitcher, giving up just one earned run in his past three home starts. On the road, it's a different story, as his past two starts have seen him tagged for 11 runs in 9.1 innings of work.
There's also not an easy explanation of facing top offenses, as one of the outings in which Garcia got shelled came against light-hitting Seattle, which isn't an offensive threat no matter where it plays. For the year, Garcia has a 5.08 ERA, compared to 2.02 at home. If the Angels don't get their bats going here, it's hard to see when they actually will get the bats going.
Bouncing Back and Forth
Jaime Barria has been the classic young pitcher who struggles to get much consistency going in the early stages of his career. Barria has bounced between Triple-A Salt Lake and Anaheim, and when he has stuck in the Angels' rotation, he's bounced between good appearances and bad. So far, it's seemed that he's much more comfortable at Angel Stadium, as he's not yet given up a run in 10.2 innings pitched in Anaheim.
On the road, he's been much like Garcia, getting tagged for 12 earned runs and a 7.20 ERA. But the Angels have been patient with him and have limited him to pitching in Southern California as of late, as they try to get a look at what they have in a season that appears to once again be slipping away from them. Both of the Angels' wins in Barria's starts have come as an underdog, so there might be some value here.
Betting Trends
The Astros are 16-5 in their past 21 games as a road favorite.
The Astros are 24-9 in their past 33 against the AL West.
The Angels are 1-4 in their past five home games.
The Angels are 1-6 in their past seven home games against a right-handed starter.
The under is 5-1-1 in the Astros' past seven overall.
The under is 6-2 in the Astros' past eight Saturday games.
The under is 9-2 in the Angels' past 11 against the AL West.
The under is 7-2-1 in the Angels' past ten as a home underdog.
The Angels have won four of five matchups in Anaheim.
The over is 8-3 in the past 11 meetings in Anaheim.
Weather Report
It should be a pretty nice day in Southern California, with temperatures at 78 degrees and wind blowing at eight miles per hour toward the right-center field bleachers. As the north continues to deal with humidity, California is having no such issues.
Dan's pick
I don't trust Garcia in this situation, as he's shown a lot of problems pitching away from home. Barria seems really comfortable in Anaheim, and even though the Angels' offense has been weak at best, they're facing a pitcher who's been very hittable away from home, and they have done very well against Houston when the Astros have made the trip to Orange County. Given the gap in talent and the Angels' struggles at the dish, this is definoitely a risk, but the conditions are right to take a shot with the Angels as a home dog. Bet your baseball picks for free this weekend by taking advantage of a 100% real cash bonus on your first deposit up to $300 when you use promo code PREDICT100 at MyBookie Sportsbook!