LA Dodgers at Colorado Rockies Pick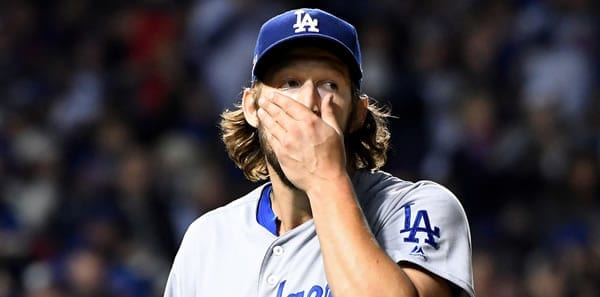 Los Angeles Dodgers (56-28) at Colorado Rockies (43-39)
When: 8 p.m., Saturday, June 29
Where: Coors Field, Denver
Moneyline: LAD -145/COL +135 (BetNow)
Runline: Dodgers -1.5/Rockies +1.5
Total: 12.5
Starting Pitchers: Clayton Kershaw (7-1, 3.07 ERA, 1.07 WHIP) vs. Jon Gray (8-5, 3.92 ERA, 1.35 WHIP)

Comfortable Clayton
For most pitchers, the prospect of going to Coors Field is something to dread. Not so for Clayton Kershaw. The Dodgers' ace is comfortable just about anywhere that he pitches, but he seems to be at his best every time he takes to the mound in Denver. In seven of his past eight trips to Coors Field, the Dodgers have left as winners, and in six of those appearances, the Rockies scored two runs or less against the Los Angeles pitcher.
So why is Kershaw so comfortable in Denver, a place where pitchers usually get left to die? Surprisingly, it's not because of preparation from the Dodgers' organization. Given that the Dodgers' Triple-A farm club used to be in Albuquerque, N.M. while Kershaw would have been at that level, it's natural to think that he prepared himself to pitch at Colorado by pitching in similar elevations in New Mexico. But Kershaw never actually played at the Triple-A level, going straight to the Dodgers from Double-A. So it's either because he's pitched at Coors so many times that the prospect doesn't bother him, he's comfortable facing the Rockies' hitters because he sees them two or three times a year in most seasons and knows them well, or he's just the rare pitcher who's mentally tough enough to overcome Coors.
Whatever the reason is, he's about as sure a thing as it gets in Denver, even with the thin air.
Gray Stretch
Jon Gray has pitched very well in his past two games against NL West rivals, shutting out the Giants and holding the Diamondbacks to one run while scattering six hits. But when Gray's bad, he can be mediocre to poor, as he was by walking three of four batters he faced in a 14-13 loss to San Diego. Six times this year, Gray has given up four runs or more, and he's usually proven to be good for at least two of those outings in a month.
Another worry here is that Gray doesn't have anywhere near the kind of positive experience against the Dodgers that Kershaw does with his club, as Gray has only faced the Dodgers once this year (a 7-2 loss) and has seen his team lose in each of his past three starts against Los Angeles.
They'll Be a Runaway
Can the Dodgers keep their focus as it becomes clear that the NL West is once again theirs to lose? Los Angeles holds a 12-game lead on Colorado as they prepare for the final game of the season, and there's nobody closer to the Dodgers than the Rockies. San Diego is still a year away from being a real contender on the Dodgers' level, Arizona has faded back to the pack, and the less San Francisco has to say about Bruce Bochy's final season, the better. Los Angeles hasn't shown any signs of losing focus yet, but that'll be something to watch as the Dodgers continue to dominate the division.
The Historicals
Finally, it happened. The Dodgers had won 12 straight against Colorado dating back to last year before the Rockies finally broke through on Friday. Even with that win, the series has been pretty one-sided: Los Angeles is 7-1 against Colorado this season.
Betting Trends
The Dodgers have won four of their past five Saturday games.
The Rockies are 6-1 in their past seven against a team with a winning record on the road.
The Dodgers are 41-10 in Kershaw's past 51 starts against NL West foes.
The Rockies have won Gray's past eight starts with four days of rest.
The over is 9-0 in the Dodgers' past nine road games against a team with a winning record.
The over is 4-0 in the Rockies' past four home games against a left-handed starter.
Weather Report
The temperature is projected to be a beautiful 70 degrees at first pitch in Denver.
Dan's pick
The Rockies have a fair amount going for them in this game, as Gray is a solid pitcher who knows how to get the job done against most of his NL West foes. But there's no way I can pick against Clayton Kershaw in this situation. Not only is he essentially lights out against his own division, but he's incredibly comfortable when pitching in Denver against the Rockies.
I'm not going to overthink this one. Gambling is all about risk and making the right risk, and I don't think betting against Clayton Kershaw against an NL West opponent is a necessary risk. Give me the Dodgers to pick up another solid win for them.
Take the Dodgers -145