Los Angeles Angels at Seattle Mariners Pick 8/4/20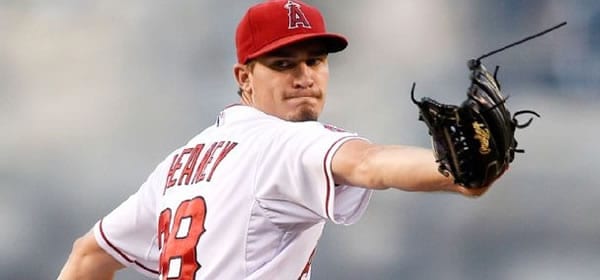 Los Angeles Angels (3-7) at Seattle Mariners (4-7)
When: 10:10 p.m., Tuesday, August 4
Where: T-Mobile Park, Seattle
TV: ESPN
Moneyline: LAA -200/SEA +175
Runline: Angels -1.5/Mariners +1.5
Total: 9
Get the best odds by playing at a Dimeline Sportsbook (Get Paid MORE!)
Starting Pitchers: Andrew Heaney (0-0, 2.79 ERA, 0.83 WHIP) vs. Justin Dunn (0-0, 6.00 ERA, 1.33 WHIP)
The Return of the King
At first glance, it might seem like ESPN could have done better by showing reruns of the World Series of Poker instead of a game between two teams that lost 90 games a season ago. But there's a reason that this game's on national television. It marks the return of Mike Trout to the field after he took time off for the birth of his son.
The Angels really need him back, because this is fast turning into yet another lost year for the Halos. Trout has now been an All-Star eight times in his career. Still, he has yet to even win a playoff game in his career, as the Angels have missed the postseason seven times with Trout, haven't posted a winning record since 2015, and got swept by Kansas City in their one trip to the playoffs with Trout on the field.
When Trout is on the field, he's one of the best players in the game. But with a weak team around him, it's hard to see this as being anything but another lost campaign in a career that's proving long on statistical success but short on wins.
Aggressive Approach
When the Mariners get on base, their speed is an outstanding weapon that they've used pretty well. Seattle has been aggressive on the basepaths, ranking second in the majors to the Padres in stolen bases with 10. But while the aggressive approach has worked out for the Mariners when they've gotten on base, it's also been a disaster for them at the plate.
That's because the Mariners don't get on base too often and don't even put the ball in play in the process. Seattle ranks third in the majors in strikeouts, fanning 100 times this season. Put another way. The Mariners average just under one strikeout per inning, which is a great way to quickly kill a rally. It's one reason that Seattle ranks only 17th in on-base percentage, hardly a situation you want to be in when your team doesn't exactly excel at run prevention.
Stoppable Force vs. Movable Object
While the Mariners have really struggled with putting the ball in play, they've also made matters worse by ranking 28th in team ERA (and it's really 29th, because one of the teams behind Seattle is the infected Phillies, who have played just three games to Seattle's 11). But things haven't been much better for the Angels, who post a team ERA of 4.83.
Andrew Heaney has been the one pitcher who could probably turn that around for the Halos, as he's given up just three runs this season against Seattle and Oakland. But Heaney's got a serious issue with longevity, as he couldn't get out of the fifth inning against Oakland and left once the fifth was over against the Mariners. That's really not what you want from your ace, especially when you really can't trust the bullpen to get the job done.
Seattle has similar problems, as Justin Dunn has been a reliever more than a starter in his career. Seattle might opt to use him as an opener, but that tends not to work very well when your bullpen is as bad as the Mariners' pen has been. That's especially true since the Angels tend to bring runners home once they get on base, as they rank fifth in RBIs despite being 21st in batting average.
Betting Trends
The Angels have won 19 of their past 63 games.
The Angels are 7-22 in their past 29 against the AL West.
The Mariners are 3-7 in their last ten home games.
The Mariners are 1-5 in their past six series openers.
The over is 5-1 in the Angels' past six games.
The over is 6-2 in the Angels' past eight road games.
The under is 9-1 in the Mariners' last ten home games.
The over is 4-0 in the teams' past four meetings.
Weather Report
It should be a perfect night for baseball in the Pacific Northwest, with temperatures at 78 degrees and partly cloudy skies.
Dan's Pick
I like to take home underdogs whenever I can justify doing so, but I can't justify it in this situation. The Angels shouldn't lose in Trout's return, especially not against the Mariners. Seattle is coming off a terrible loss to Oakland, and the Angels didn't play Monday, so they should be well-rested and ready for this matchup. Bet your MLB picks for FREE by taking advantage of a special deposit $200 and get $200 FREE offer at MyBookie!