Los Angeles Dodgers vs. Houston Astros Pick 5/25/21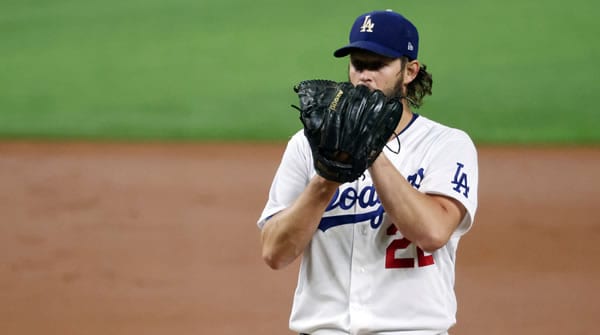 Los Angeles Dodgers (29-18) vs. Houston Astros (26-21)
When: 8:10 p.m., Tuesday, May 25
Where: Minute Maid Park, Houston
Moneyline: LAD -139/HOU +115 (BetNow - Deposit $100 to $1000 and receive a 100% REAL CASH bonus!)
Runline: Dodgers -1.5/Astros +1.5
Total: 8
Starting Pitchers: Clayton Kershaw (6-3, 3.18 ERA, 0.95 WHIP) vs. Zack Greinke (4-1, 3.77 ERA, 1.17 WHIP)
Full Support
For whatever reason, the Astros really seem to want to give Zack Greinke plenty of support when he takes the hill. Most pitchers of Greinke's reputation and stature have to worry about whether they'll need the shutout in order to get the win, but Greinke hasn't had to worry at all about whether there will be enough runs for him because the Astros have produced enough offense to trigger the over in each of his past six starts.
A bigger help to both Greinke and his bettors has been the way those overs are hitting. It would be one thing if Greinke were pitching poorly and the over was cashing simply because the Astros had no choice but to send him to the hill. But as he closes in on matching the total number of innings he posted in 2020's sprint, the veteran appears to be in solid form. He did give up four runs on two occasions, but those were both games where the Houston hitters struck for seven runs.
Greinke doesn't have enough left in his arm to be a strikeout pitcher, but he still fans about five hitters per game, and his control remains excellent. He might not be overpowering any longer, but he's got more than enough to earn results by out-thinking the opposition — and getting six or seven runs of support doesn't hurt either.
More Picks: Get baseball analysis each day >>> Free MLB Picks
Returning to Form
Unlike Greinke, Clayton Kershaw is still a power pitcher, and after the first month of the 2021 season where he didn't appear to be himself, his past two starts suggest that he's back to his old self. Giving up five runs to Miami was a bit of a worry, but the main number from that performance was the 11 strikeouts he registered.
Kershaw is at his best when he's missing bats, and in his past two starts, he's punched out 19 hitters without the ball ever being put in play. Oddly enough, though, the over has cashed in seven of his past eight starts, suggesting that the over might actually be a reasonable play despite the two aces pitching. But this isn't a trend you should read into for two reasons. First, Kershaw struggled to find his footing in April but appears to be back on track in May. Second, the Dodgers' pitching has been so strong that they have played to some absurdly low numbers in the first few weeks of the season. In Kershaw's past eight starts, two of them saw a total of under 7, almost unheard of for nine-inning games.
Both of those games did go over, but Los Angeles' focus on pitching and defense means that a repeat seems a little unlikely. In the Dodgers' past nine games, six of them have seen the opponent score two runs or less, with another two seeing the opponent manage to push three runs across.
Producing at Both Ends
If either pitcher falters in this matchup, this could get one-sided because both teams have shown that they can take advantage of any weakness the other team shows them at the plate. Houston and Los Angeles both sit in the top five in runs per game, and Houston, in particular, has been excellent at scoring at home, plating at least four runs in each of their past nine home games.
From the Dodgers' perspective, this could be a case of something has to give because they've been more focused on defense than offense during their winning streak. The Dodgers can certainly produce runs (witness the 11 runs they just hung on San Francisco on Sunday), but they've been more interested in winning with pitching and defense as of late.
Betting Trends
The Dodgers are 7-1 in their past eight interleague games against a right-hander.
The Dodgers have won five straight against teams with winning records
The Astros have won five of their past six interleague games at home.
The Astros are 3-10 in their past 13 against the NL West.
The over is 9-2 in the Dodgers' past 11 road games.
The under has cashed in nine consecutive matches involving Houston!
The under is 12-4-2 in the past 18 meetings.
The Dodgers have won four of five against the Astros.
Weather Report
The wind could carry the ball to the wrong part of the park, as it's blowing out to dead center at 14 miles per hour. However, with temperatures predicted to be hovering in the low 80s, the Astros might opt to just close the roof.
Dan's pick
I don't feel comfortable going against either of these teams at the moment, as the Astros have been a strong home team, and the Dodgers are playing very well regardless of where the game is played. With Kershaw looking stronger than he was at the start of the year, I have to lean toward Los Angeles in this one. I think I'll wait to live bet it until I have a better understanding of whether Greinke also has his best stuff.
But that said, if you have to place a bet beforehand, I'm taking the Dodgers here. With the Astros reeling after their failed road trip, now is the time to bet against Houston. Want more bonus loot? Deposit $100 to $300 and get a 100% REAL CASH bonus at MyBookie Sportsbook! (Must use bonus code PREDICT100).