Milwaukee Brewers at Atlanta Braves Prediction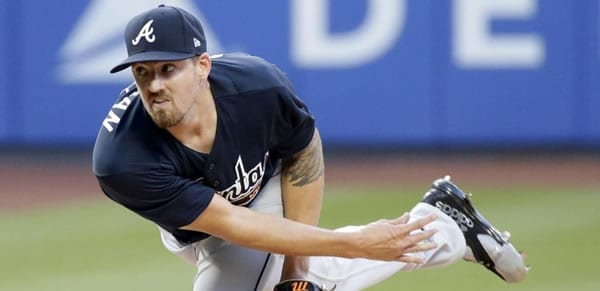 Milwaukee Brewers (27-20) at Atlanta Braves (24-21)
When: 7:15 p.m., Saturday, May 18
Where: SunTrust Park, Atlanta
Opening Line: MIL +109/ATL -119 (BetOnline)
Runline: Brewers +1.5/Braves -1.5
Total: 9.5
Starting Pitchers: Chase Anderson (2-0, 3.20 ERA, 1.27 WHIP) vs. Kevin Gausman (2-3, 4.50 ERA, 1.24 WHIP)
Return to the Roster
Kevin Gausman's status is a major question mark in this game, as he recently served a suspension after throwing at Miami's Jose Urena and is only now returning to the rotation after initially appealing his suspension. He only had to skip one day in his start, so things shouldn't be too much different, but pitchers are usually creatures of habit. When a pitcher gets into a groove and then doesn't get to pitch every Xth day, it can mess with their mentality. Plus, Gausman wasn't exactly throwing all that great before the suspension anyway. In the two games leading up to the Miami game, he gave up a combined 11 runs, and he followed his brief Miami showing with another poor outing, giving up five runs in 4.1 innings to the Dodgers. Gausman did pitch well against Arizona on Saturday, but how much of that was him and how much was anger over his suspension? It's very much a mystery as to what he'll be in this game.
Start or Relieve?
The Brewers don't seem to know what to do with Anderson, who has made seven appearances this year, with five of them coming in relief. That versatility has been helpful to Milwaukee, but it's not exactly a great way for Anderson to get himself in a groove. He did pitch well in a shutout of the Dodgers in April, but five innings is the longest he's gone on the mound this season, and that was before he went to the injured list with a cut on his right middle finger.
This will mark his first start since April 26, and it's an even bigger question mark than Gausman as to what kind of pitcher he will be when he returns to the mound. One thing he probably will do is walk batters and get those who hit the ball to fly out. In his two starts, he walked five batters in just over nine innings, and the majority of those who put the ball in play did so by putting the ball in the air. Against Atlanta, that's not a dangerous combination. The Braves are somewhat patient and can hit home runs, but they're middle-of-the-pack in both categories.
Starting with Acuna
Ronald Acuna Jr. might be one of the best players in baseball, but he's not a cleanup hitter. It's not that he's not a solid power hitter, it's just that that isn't where he's most effectively used. The Braves learned their lesson with him and moved him back up to the top of the lineup last week, and they've won six of their past seven since they made that move. Acuna is a combination of speed and power that can do it all, and now that the Braves are using him as intended, their offense is right on track.
The Historicals
There will always be history between these two clubs, given that the Braves were in Milwaukee in 1953 before settling in Atlanta. As National League rivals, the competition hasn't been all that fierce, as they're in different divisions and rarely play with something on the line between them. That was the case last year even with both teams making the playoffs, as they did not meet in the postseason. Had they done so, it might have been a compelling series, as the Brewers took four of seven from the Braves, going 2-2 in Atlanta.
Betting Trends
The Brewers are 7-1 in their past eight against a right-hander.
The Brewers are 9-2 in their last 11 against the NL East.
The Braves are 6-1 in their past seven against a right-hander.
The under is 5-0 in Milwaukee's past five Game 2s.
The under is 4-1 in Anderson's past five starts.
The over is 6-0 in the Braves' past six Saturday games.
Weather Report
The temperature is supposed to be a mild 66 degrees at first pitch, a nice night in Atlanta.
Dan's Pick
I don't really like either of these teams too much. There are good reasons for taking both of them, but nothing that really stands out about either one. About the only thing that's really guiding me here is that Gausman has pitched against Milwaukee before and stymied them last year after joining the Braves. That's not a great way to go, but as the teams are pretty much dead even, it's about the best way that exists. I'm going to go with Atlanta here, given that they're playing well and aren't that expensive to back at home.
Take the Braves - 119