Milwaukee Brewers at Philadelphia Phillies Pick 5/13/19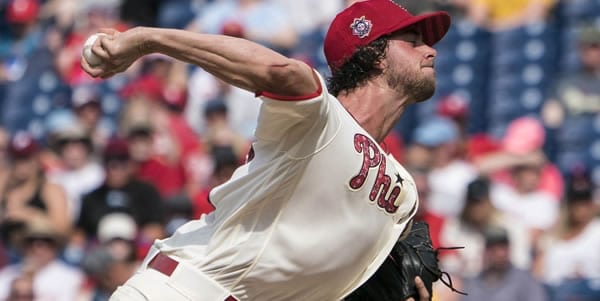 Milwaukee Brewers (24-18) at Philadelphia Phillies (23-16)
When: 7 PM, Monday, May 13, 2019
Where: Citizens Bank Park, Philadelphia
Opening Line: MIL Off/PHI Off
Runline: Off
Total: Off
Starting Pitchers: Freddy Peralta (2-1, 6.75 ERA, 1.61 WHIP) vs. Aaron Nola (3-0, 4.57 ERA, 1.48 WHIP
The Problems With Peralta
Freddy Peralta has had two fantastic starts this year: shutting down Cincinnati in a two-hit performance over eight innings (at Great American Ball Park, no less) and blanking Washington in his most recent start, where he held the Nationals to three hits in five innings. But in between those starts, things have gotten pretty ugly for the Milwaukee hurler. Against Colorado, and without the excuse of Coors Field because the game was a home game for the Brewers, Peralta gave up nine runs and eight hits in four innings on the hill. Things weren't much better against the Angels, who tagged him for seven earned runs in an 11-8 loss in Anaheim.
Peralta can be quite maddening to see in a game where you have money on the line because he's got the talent to produce a fantastic performance on the hill that can leave you in a tight spot. When he's on, he's a fine pitcher who can lead his club to a victory by himself. But as evidenced by an ERA that's over 6, Peralta has had more poor performances than good ones this year.
April Struggles Bring May Gems
Aaron Nola's April went about as well as Cersei Lannister's attempts to keep hold of King's Landing in the face of Daenerys Targaryen's army. The Phillies' ace was lit up on four different occasions to start the first full month of the baseball season, giving up a combined 19 runs in four starts against Colorado, the Mets, and Washington (twice). Only once did he make it past the sixth inning, and that was only one out into that frame before he was replaced.
But since the calendar has flipped, Nola has returned to form. He showed signs of becoming his old self in his final April start against Miami, but got no run support and had to watch his team drop a 3-1 decision to the Marlins after he tossed 6.2 innings of holding Miami to one run. Against Detroit and St. Louis, however, the Phillies hit well and gave Nola the support he needed. He held both teams to a run each, and the Phils put both games in the win column. In his past 18.1 innings, he's allowed just three runs to cross the plate. That's a worrisome thought for the Brewers, mainly because they might be without Ryan Braun in this matchup, as Braun is still recovering from a hamstring injury.
Citizens Bank Blasts
To say that Citizens Bank Park is a hitter-friendly park might be one of the most obvious statements in baseball. With fences so short that pitchers such as John Smoltz and Curt Schilling have said several less-than-pleasant things about it, Philadelphia's park has become legendary for its inviting flower beds for home run hitters. The reputation might have been a bit overblown at times, but Citizens Bank Park has still proven to be a hitter's park, and this is one time when that might really work against the Phillies. The Brewers lead the National League in round-trippers, hitting 67 home runs this season. They've shown no issues connecting for big hits this season, and one in three of their runs this year have come via the home run.
Philadelphia, despite its park, isn't that kind of team. The Phillies have only managed 44 home runs this year, ranking 23rd in the league. But what the Phillies don't do with the big fly, they manufacture. Despite Milwaukee being homer happy this season, the Phillies have scored just two fewer runs than the Brewers, showing they can create something out of nothing better than just about any team in baseball. But will it be enough against Milwaukee's power?
The Historicals
Over the past three years, this matchup has been an incredibly close one. Because of baseball's unbalanced schedules and the teams not being in the same division, the Phillies and Reds only meet six or seven times a season, and they've been fantastic at going back and forth with each other. In the past 19 games, 10 have gone to Philadelphia and nine to Milwaukee. In other words, you can't count on much of anything from this trend.
Betting Trends
The Brewers are 6-0 in their past six against the NL East.
The Phillies are 6-1 in their past seven home games against a right-hander.
The Brewers are 4-1 in Peralta's past five starts when they scored two or less in their previous game.
The over is 4-0 in Peralta's past four starts against the NL East.
The under is 7-0 in the Phillies' past seven series openers
The under is 8-1 in Nola's past nine Monday starts.
Weather Report
The temperature is supposed to be 47 degrees at first pitch, creating chilly conditions for this contest in Philadelphia.
Dan's pick
Two straight setbacks against the Cubs have made the Brewers a riskier proposition than they were 48 hours ago when they were in the midst of a seven-game win streak. But here's the hard reality when it comes to the Brewers: Milwaukee's a much better team in its Miller Park fortress than it is when it steps outside of Wisconsin.
That's an obvious statement, as most teams are much better at home than on the road, but the Brewers take the disparity to another level. Only the Dodgers and Cubs have a better home record than the Brewers, and of the nine NL clubs with a winning record, only Milwaukee and St. Louis are under .500 on the road.
The Phillies have won four of six, and they did it in Missouri, taking two of three from both the Royals and the Cardinals. Beating Kansas City in a series is expected, but going to Busch Stadium and winning is a big deal, and it's a sign that the Phils are for real. Even with the small park being an easy target for the Brewers, I think Nola pitches well again, and the Phillies keep things rolling. I'm taking Philadelphia here.
Take the Phillies