New York Yankees at Washington Nationals Picks 7/23/20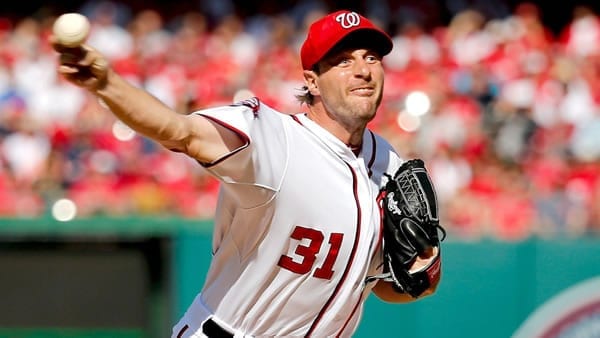 New York Yankees (0-0) at Washington Nationals (0-0)
When: 7 p.m., Thursday, July 23
Where: Nationals Park, Washington
Moneyline: NYY -139/WAS +125 at 5Dimes (Nickel overnight lines!)
Runline: Yanks -1.5/Nats +1.5
Total: 7.5
Starting Pitchers: Gerrit Cole (0-0, 0.00 ERA, 0.00 WHIP) vs. Max Scherzer (0-0, 0.00 ERA, 0.00 WHIP)
Back to Baseball
It's taken a while, but we're finally going to see live American baseball again, eight months after the epic seven-game duel between the Astros and the Nationals. Thanks to free agency, we're going to open with a rematch of Game 1 of that epic Fall Classic, as Cole gets to pitch his first game in blue and white against the defending world champions. The pressure is definitely on the Yankees here, as not only were they the preseason favorite, but the Bronx has now gone ten seasons without a world championship, and the Yankees are down to their last shot to win a World Series in this decade (2020 is still part of the 2010s).
Meanwhile, the Nationals played with house money last year and cashed in for the franchise's first-ever World Series title, so there's no pressure at all on them. The only negatives from the Nats' perspective are that they won't get to raise the World Series banner in front of their fans and that they're going without their longtime leader Ryan Zimmerman.
DEPOSIT $100 AND GET $100 FREE AT MYBOOKIE!
Long Layoff
This is the biggest question: how will these teams react to playing for the first time in more than eight months? None of these players have ever been away from the game for so long unless they were rehabbing an injury, and as we've seen in the MLS tournament, it takes time to get yourself back to normal. Obviously, baseball and soccer are very different sports, but the fact remains that this matchup is going to be full of question marks until we see how everyone adjusts to the new season.
One positive is that these teams have been playing exhibition games, so some of the rust might not be as apparent as it was in MLS. But just as we never know what we're going to get from spring training, we still don't know what we're going to see from either Cole, Scherzer, or either lineup.
More Picks: Brewers at Cubs Predictions 7/24/20 >>>
Dead Silence
This is going to be another wild card: how will these teams react to playing in front of nobody? Because baseball is the only sport without a clock, it's also the sport where players are most often alone with their thoughts. There's no crowd to feed off of for these games, so pitchers especially will have to pitch a strong mental game. This lends itself to favor veterans and strikeout pitchers, as these players are used to thinking ahead and should have an easier time staying focused.
Strength on Strength
The Bronx Bombers lived up to their name last season, as they led the majors with 943 runs scored last season in a year that was full of offense. Meanwhile, the Nationals ranked fifth in the National League in run prevention and were better than anyone in the East except for Tampa Bay at keeping runs off the board. Both teams should be solid in those areas again, so it's the weaker end that's worth examining. The Nats lost Anthony Rendon to free agency and Zimmerman to fears of coronavirus, which begs the question of whether their offense can really compete with a team like the Yankees. Meanwhile, New York shored up its weaker end by bringing in Cole, but the real question is how well the Yankees' new keystone combination works. With Didi Gregorius now in Philadelphia, Gleyber Torres moves to shortstop, and DJ LeMahieu becomes the everyday second baseman. They've got to be on the same page for the Yankees to do anything.
Betting Trends
The Yankees are 3-7 in their last ten road games.
The Nationals are 6-2 in their past eight games as an underdog.
The Nationals are 9-3 in their last 12 interleague games.
The under is 6-1 in the Yankees' past seven interleague games.
The under is 4-0 in the previous four meetings between these teams.
The over is 9-1-1 in the Nationals' past 11 interleague games.
Weather Report
It's not going to be a great day for baseball. Temperatures are expected to hit 95 degrees in the District, and a strong thunderstorm is expected in the afternoon.
Dan's Pick
The bet I want most here is the under. I think both pitchers are going to miss plenty of bats, and this will be a low-scoring contest that's decided late. Given that the Yankees should have the stronger overall lineup, I think they're going to have just enough to get a couple runs off Scherzer and let Cole do the rest. I'm going to back New York to win a close one, but I don't think the Yankees will cover the runline, as I expect the Yankees to earn a one-run victory here. Note: If  you plan on betting a bunch of MLB games this season and aren't betting at a sportsbook with 10-cent lines, you're flushing money down the toilet. Check out our list of dimeline sportsbooks and be sure you have at least one or two. Picking a winner is difficut enough! Don't get beat up by the odds too!