NY Mets vs. Philadelphia Phillies Pick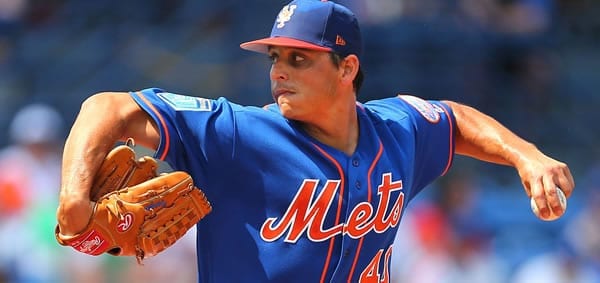 New York Mets (37-43) at Philadelphia Phillies (41-38)
When: 7 p.m., Wednesday, June 26
Where: Citizens Bank Park, Philadelphia
Moneyline: NYM +130/PHI -149
Runline: Mets +1.5/Phils -1.5 (Betnow)
Total: 10.5
Starting Pitchers: Jason Vargas (3-3, 3.75 ERA, 1.33 WHIP) vs. Nick Pivetta (4-2, 5.54 ERA, 1.45 WHIP)
Metropolitan Mess
No, those standings aren't deceiving you: the Mets really are now closer to the Marlins than they are to the Braves in the NL East standings. Granted, not all of this is the Mets' fault, as the schedule has stepped up its difficulty in recent games, but that was something that was always going to happen, regardless of whose idea it was in the first place. It could be that the Mets were simply never that good to begin with and are now getting exposed, but that invites its entirely new set of problems, none of which are accurate.
The simple fact is that the Mets are now in fourth place in the National League East and are just 5.5 games ahead of the Marlins, who have started to make serious progress as a squad. The Mets simply do not have time to wait around for the Braves to play better competition; they have to start making their own luck happen in order to take care of the Phillies and get back in the race.
Pitching For the Flowers
This might be one of the weirdest lines there is about a pitcher in recent memory: Nick Pivetta's stat lines. It's not at all unusual for a pitcher to be better in their own park than they are on the road, but it is unusual when that pitcher happens to play for the Phillies, as Citizens Bank Park is not exactly what one would call pitcher-friendly. A better term for it might be hitter-inviting, given those short porches where flowers bloom and absorb home runs during the summer.
Where should you Bet Baseball? See Predictem's Lowest Prices
Yet in his two starts at home since returning from Triple-A Lehigh Valley, Pivetta has been sharp when he's pitched at home, tossing a complete game and holding the Reds to one run in a 4-1 win on June 8 and beating the Cardinals by a 4-3 count on May 28. In contrast, he's gotten roughed up by both Atlanta and Washington, and while SunTrust Park is known as a hitter's paradise, Nationals Park is not. Neither is Dodger Stadium, where Pivetta pitched well but got a no-decision because the Dodgers roughed up the bullpen over the final three innings and turned a scoreless game into an 8-0 rout.
Maybe it's the quality of the opposition, or maybe Pivetta is the one pitcher who genuinely enjoys pitching at Citizens Bank Park, but the Phillies are definitely hoping that it's the latter.
Patience, Phils
Jason Vargas has done a nice job at limiting opponents' hit and run totals and restricting their opportunities to push runs across the board. He hasn't allowed more than seven hits in a start (that came against the Yankees) and hasn't allowed more than three runs in that time frame, which is a pretty impressive state. The one area where Vargas hasn't been able to do the job is in terms of walks. He's walked at least two hitters in eight of his past 10 starts, and a patient team can take advantage of those errors and make them into opportunities. That describes the Phillies quite well, as Philadelphia ranks eighth in the majors in walks this season with 291 and won't be tempted to chase Vargas' pitches out of the zone.
The Historicals
Not only have the Phillies now won four straight at home against the Mets since dropping their first meeting in Philadelphia, but the Mets have lost three in a row to Philadelphia and now trail the series by five games to three.
Betting Trends
The Mets are 1-4 in Vargas' past five starts with four days of rest.
The Mets are 2-7 in their past nine Wednesday games.
The Phillies have won five of Pivetta's past six home starts.
The Phillies have lost five consecutive Game 3's of a series.
The over is 6-1 in the Mets' past seven against the NL East.
The over is 4-1 in the Phillies' past five games against a left-handed starter.
Weather Report
It's projected to be a partly cloudy 72 degrees in the City of Brotherly Love on Wednesday, making for a perfect night for baseball in south Philadelphia.
Dan's pick
Lost in the Mets' struggles is the fact that the Phillies aren't playing particularly well either, having been swept by both Miami and Washington leading up to this series to complete a seven-game losing streak. But the Mets continue to be the tonic the Phillies need, as Philadelphia bounced back beautifully in the first two games of this series to get itself moving in the right direction again. Now they've got Pivetta going to the mound in a park where he clearly feels comfortable, going against Vargas, who the Phillies already beat once this year at home.
Given how well Pivetta does pitching in Philadelphia, the most likely outcome seems to be that he comes up big and leads the Phillies to another confidence-building victory over their big rival. The price isn't too terrible either, so I'm comfortable backing Philadelphia to keep the win streak going with another extension of the Mets' misery.
STOP LOSING TODAY! START WINNING WITH DOC'S TEAM OF PROFESSIONALS! GET A FREE NO STRINGS ATTACHED $60 FOR THIS WEEKEND'S GAMES!