[et_pb_dcsbcm_divi_breadcrumbs_module hide_homebreadcrumb="off" homebreadcrumbtext="Home" separator="sep-raquo" hide_currentbreadcrumb="off" homebreadcrumborientation="left" _builder_version="3.2.1″ fontsbreadcrumbs_font="Lato||||||||" fontsbreadcrumbs_text_color="#000000″ fontsbreadcrumbs_font_size="15px" fontsbreadcrumbs_line_height="16px" fontsseperator_font="||||||||" fontsbreadcrumblinks_font="||||||||" fontsbreadcrumblinks_text_color="#2567cf" custom_margin="25px|||" custom_margin_phone="30px|||" custom_margin_last_edited="off|desktop" custom_css_main_element="font-family: Helvetica Regular;" global_module="3641″ saved_tabs="all"][/et_pb_dcsbcm_divi_breadcrumbs_module]
Baltimore Orioles at Atlanta Braves Pick 6/22/18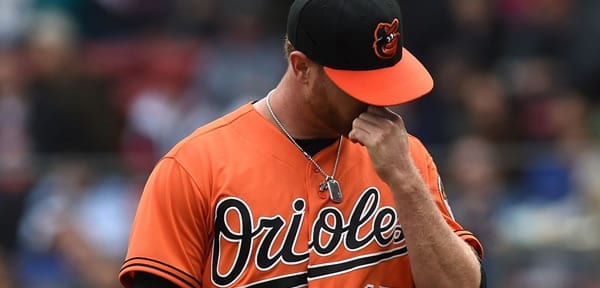 Baltimore Orioles @ Atlanta Braves (6/22/18)
Time: 7:35 PM ET
Venue: SunTrust Park
Location: Atlanta, Georgia
TV: FOX Sports South
Moneyline: Baltimore (+170) / Atlanta (-200)
Over/Under: 8.5
After an off-day Thursday, the Atlanta Braves play host to the Baltimore Orioles in the Friday night opener of a three-game interleague series at SunTrust Park. Baltimore dropped a 4-2 decision in the Nation's capital last night. The game was knotted at two apiece heading into the bottom of the eighth, when rookie sensation Juan Soto's two-run double gave the Nationals the lead for good. At 21-52, the Orioles own the worst record in the majors. 
Atlanta owns a 43-30 (.589) record nearing the midpoint of the Regular Season and lead the National League East Standings by three games over the Washington Nationals. Baltimore's 2-8 in their last 10 games, while Atlanta's 7-3 in their last 10 decisions. There's a 35% chance for scattered thunderstorms in the Atlanta Area tonight, but Zephyr shall blow any ominous skies away from SunTrust Park because there's a ballgame to be played.
O's futility continues
The Baltimore Orioles have struggled mightily so far this season, compiling an overall record of 21-52 (.288). With 52 losses, Baltimore's tied with the Kansas City Royals for most "L's" in the League. On the road, the poor birds own the worst record in the Majors: 10-29 (.256). Baltimore's 260 runs scored is fewest in the League and their run differential of -114 is the second-worst in all of baseball. The O's are 2-8 in their last 10 games, getting outscored by a 50-34 margin. After losing two of three in a three-game set in Washington D.C., the birds aim to right the ship against the Braves Friday night. First baseman Chris Davis is set to return to the lineup, hoping to spur the Orioles onto victory. The 2013 Silver Slugger Award winner has had a rough go of it this season. He's averaging .150 with four homeruns, 15 RBI and a .227 on-base percentage in 58 games this year. It'll be Davis's first start since June 11th, as he took 10 days off to work with his hitting coach to exorcise the demons.
On the mound for Baltimore will be veteran right-hander Alex Cobb (2-9, 7.14 ERA & 1.71 WHIP). After a breakout year for Tampa Bay last year, Cobb has regressed exponentially with the birds. In his last two starts, Cobb's gotten plucked like the silver queen corn he's named after. He's gone 0-2 with a 12.35 ERA and 2.06 WHIP, allowing four homeruns in 10.2 innings.
On the road, he's 2-5 with an 8.01 ERA and 1.91 WHIP this season. Cobb's opponents are averaging .362 against him in the confines of their home ballparks. Lefties are averaging .376 against Cobb with a .405 on-base percentage.
Atlanta Braves are for real
Nearing the halfway point of the season, the NL East leading Atlanta Braves are half a game behind Milwaukee for best record in the National League. The Braves have scored 359 runs, which is best in the National League. Their +73 run differential is second best in the NL behind only the Chicago Cubs. In SunTrust Park, the Braves have compiled a 21-13 (.618) record thus far. A trio of dangerous hitters lead the way for Atlanta, striking fear into all opposing pitchers who face them. Second baseman and leadoff man, Ozzie Albies (.249, 16 HR and 42 RBI), is second in the National League with 16 dingers. He's recorded an extra-base hit in three straight games. First baseman Freddie Freeman (.332, 15 HR & 49 RBI) leads all first baseman in the league with 49 RBI. He's also tied for the league-lead in hits with cleanup man Nick Markakis (.323, 8 HR & 44 RBI). Both players have 93 hits for the year. An underrated superstar, Freeman boasts the second-best batting average in the National League (.332). In June, Freeman has hit .324 with six homeruns and nine RBI. At SunTrust Park, Freddie's hitting .325 with seven homers and 25 RBI thus far.
Taking the hill for the Braves is Sean Newcomb (8-2, 2.70 ERA & 1.18 WHIP). The big lefty has been sensational this season and faces a Baltimore team for the first time in his young career Friday night. In his last start on June 16th versus San Diego, Newcomb allowed no runs and just two hits over six innings in a 1-0 victory. He struck out seven and only allowed one walk, throwing 84 pitches over the six frames. The University of Hartford product looks like a gem. Newcomb appears to be well on his way to becoming the ace of the Braves pitching staff. He leads the team in wins (8) and has allowed two or fewer runs in 10 of 14 (71.4%) starts this year. In June, Newcomb's gone 2-1 with a 2.63 ERA and 1.05 WHIP. At home, he's 3-1 with a 3.09 ERA and 1.13 WHIP. The second-year lefty might be nocturnal. He's 6-1 with a 1.87 ERA and 0.98 WHIP in night games this season.
What's going to happen?
The oddsmakers peg Atlanta to win this one 66.7% of the time with a -200 line. Baltimore owns the League's worst road record, losing 74.4% of such games. The Orioles are 4-8 in interleague play this year, with six of the eight losses occurring by two or more runs. The pitching matchup in this one is a monumental mismatch. Newcomb's been stellar, and Cobb's been pitiful. In his last nine starts, Newcomb hasn't given up an earned run five times (55.6%). To the contrary, Cobb's been getting roughed up with regularity and struggles against left-handed hitters. Atlanta has a plethora of great lefty hitters: Albies, Freeman, Markakis, Inciarte and Camargo. The Braves have the most potent offense in the National League, and I think they'll tee-off on Cobb
in the series opener Friday night. I'd advocate for taking the Braves on the run line -1.5 (EVEN). The book says this bet is a pure toss-up at 50-50, but according to my analysis the Braves win this specific matchup by two or more runs 72.8% of the time. So, we have a 22.8% edge here. Atlanta has one of the best offenses in the League with an ace on the mound, going up against a team with the most anemic offense and a dude throwing meatballs on the regular. Everything points toward a rout in favor of Atlanta. Bet your O's/Braves pick for FREE by taking advantage of a generous 100% real cash bonus at Bovada Sportsbook.