[et_pb_dcsbcm_divi_breadcrumbs_module hide_homebreadcrumb="off" homebreadcrumbtext="Home" separator="sep-raquo" hide_currentbreadcrumb="off" homebreadcrumborientation="left" _builder_version="3.8″ fontsbreadcrumbs_font="Lato||||||||" fontsbreadcrumbs_text_color="#000000″ fontsbreadcrumbs_font_size="15px" fontsbreadcrumbs_line_height="16px" fontsseperator_font="||||||||" fontsbreadcrumblinks_font="||||||||" fontsbreadcrumblinks_text_color="#2567cf" custom_margin="25px|||" custom_margin_phone="30px|||" custom_margin_last_edited="off|desktop" custom_css_main_element="font-family: Helvetica Regular;" global_module="3641″ saved_tabs="all"][/et_pb_dcsbcm_divi_breadcrumbs_module]
Philadelphia Phillies at Toronto Blue Jays Pick
Philadelphia Phillies at Toronto Blue Jays 8/26/18
Time: 1:05 PM ET
Where: Rogers Centre, Toronto
Listed Pitchers: Vince Velasquez (Phil) & Marco Estrada (Tor)
TV: Rogers Sportsnet, NBC Sports-Philadelphia
Moneyline: Phillies -120/Blue Jays +110
Over/Under: 9
The Philadelphia Phillies are still trying to track down their first playoff berth since 2011, but they're not helping their cause as of late, and stand in danger of fading away. Can Philly avoid suffering a sweep Sunday in Toronto? And which way are we going here with our daily free MLB picks?
MLB Betting Line
Sunday's MLB betting odds opened Philly at around -115 over Toronto, with an over/under of 9 runs. The early betting action then bumped that line about a nickel, to the -120 range.
The Phillies could also be found getting +130/+135 at most betting sites giving the run and a half on the MLB run line.
Set-Up
The Jays have taken the first two games of this series by scores of 4-2 Friday and 8-6 Saturday. Toronto trailed Saturday 5-0 into the bottom of the fourth inning, but rallied and eventually won it with three runs in the bottom of the eighth. The Blue Jays cashed in as +120 home dogs Friday and at +125 Saturday.
So Toronto owns a five-game winning streak heading into Sunday, while Philadelphia is 1-6 over its last seven games.
At 69-60 overall the Phillies trail division-leading Atlanta, which is stumbling a bit itself at the moment, by three games in the NL East. But Philly is also only two games out in the battle for the second National League wild-card spot, so they're not dead yet.
Meanwhile, at 60-69 the Blue Jays are 17.5 games away from the nearest American League wild-card spot, relegated to playing spoiler now, and doing a good job of it this weekend.
On the season Toronto has taken four of five meetings from Philly.
Sunday's Starting Arms
Estrada (7-9, 4.88), by our strict standards, is 8/22 on quality starts this season and 0 for his last three. Monday he gave up three runs on seven hits and three walks through 5 1/3 innings against Baltimore, and over his previous three outings, he's allowed 12 runs through 17 1/3 innings, with five home runs. On the season Toronto is 11-11 with Estrada, with unders going 11-10.
This will be Estrada's first start against Philadelphia since 2016 when he fashioned a quality outing in a 7-2 Jays victory.
Velasquez (8-9, 4.06) is 10/24 on quality starts this season, and also 0 for his last three. Tuesday he held Washington to one run through a rain-shortened four innings, but in his two starts previous to that against Arizona and Boston he gave up seven runs on 10 hits and six walks through just 6 1/3 innings. On the season Philly is 10-14 with Velasquez, with unders going 13-11.
This will be Velasquez' first-ever start against Toronto, which might give him an edge, at least for the first couple of times through the lineup.
For our handicapping purposes, we're going to give Philly and Velasquez a slight advantage in this pitching match-up.
Sunday's Batting Splits
Against right-handed pitching this year Philadelphia goes .251/.330/.394 across the team batting average/OBP/slugging percentage splits.
Toronto goes .253/.320/.443 against RH pitching.
We'll give the Blue Jays the check-mark with the sticks for Sunday.
The Bullpens
The Phillies bullpen owns a 4.11 ERA and a 1.33 WHIP.
The Toronto bullpen owns a 4.39 ERA and a 1.36 WHIP.
We'll call the comparison of the bullpens here a wash.
Totals Report
Unders are 35-27 in games played at Rogers Centre this year, even though Jays home games are averaging 9.3 total runs per.
Overs are 3-2 in Phillies-Jays games this season, which have averaged 8.4 runs.
Free MLB Picks
Toronto actually owns one of the largest lefty-right splits in MLB right now; the Blue Jays are 16 games under .500, 14-30, against LH starters, but seven games over .500, 46-39, against RH starters. Also, Toronto is hot, riding the momentum from Saturday's comeback, while Philly just can't do much right at the moment. We'll take the home-dog at BetOnline Jays here to complete the sweep.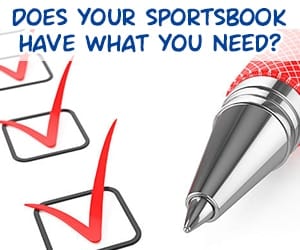 <aside><div class="widget105"><!-- [et_pb_line_break_holder] --><h4 class="baseball">Baseball Sportsbooks</h4><!-- [et_pb_line_break_holder] --><table id="dimeline"><!-- [et_pb_line_break_holder] --> <tr><!-- [et_pb_line_break_holder] --> <th></th><!-- [et_pb_line_break_holder] --> <th width="110px">10¢ to:</th><!-- [et_pb_line_break_holder] --> <th width="110px">20¢ to:</th><!-- [et_pb_line_break_holder] --> </tr><!-- [et_pb_line_break_holder] --> <tr><!-- [et_pb_line_break_holder] --> <td><div class="col1"><a href="https://www.predictem.com/out/Sportsbetting"><!-- [et_pb_line_break_holder] --> <img src="https://www.predictem.com/wp-content/uploads/2018/06/SportsBettingDark.png" width="150" alt="SportsBetting" /></a><!-- [et_pb_line_break_holder] --> </div></td><!-- [et_pb_line_break_holder] --> <td>-200</td><!-- [et_pb_line_break_holder] --> <td>-279</td><!-- [et_pb_line_break_holder] --> </tr><!-- [et_pb_line_break_holder] --> <tr><!-- [et_pb_line_break_holder] --> <td><div class="col1"><a href="https://www.predictem.com/out/Betonline"><img src="https://www.predictem.com/wp-content/uploads/2018/06/betonline-xs.png" width="150" alt="BetOnline" /></a></div></td><!-- [et_pb_line_break_holder] --> <td>-200</td><!-- [et_pb_line_break_holder] --> <td>-270</td><!-- [et_pb_line_break_holder] --> </tr><!-- [et_pb_line_break_holder] --> <tr><!-- [et_pb_line_break_holder] --> <td><div class="col1"><a href="https://www.predictem.com/out/%Dimes"><img src="https://www.predictem.com/wp-content/uploads/2018/06/5Dimes_sm.png" width="150" alt="5Dimes" /></a></div></td><!-- [et_pb_line_break_holder] --> <td>-195</td><!-- [et_pb_line_break_holder] --> <td>-266</td><!-- [et_pb_line_break_holder] --> </tr><!-- [et_pb_line_break_holder] --></table> <!-- [et_pb_line_break_holder] --><div class="widget-footer"><a href="https://www.predictem.com/best-sportsbooks/mlb-dimeline/">See all Dimeline Sportsbooks</a></div><!-- [et_pb_line_break_holder] --> </div></aside><!-- [et_pb_line_break_holder] --><!-- [et_pb_line_break_holder] --><style><!-- [et_pb_line_break_holder] --> #dimeline {border: 0px;}<!-- [et_pb_line_break_holder] --> #dimeline th{color:#000;}<!-- [et_pb_line_break_holder] --> #dimeline td{padding: 2px; text-align: center;}<!-- [et_pb_line_break_holder] --> #dimeline td, #dimeline th{padding: 8px 2px; text-align: center;border-bottom: 1px solid #bbb;}<!-- [et_pb_line_break_holder] --> .img-hover {border: 1px solid #fff; padding:5px}<!-- [et_pb_line_break_holder] --> .img-hover:hover {background: #edeef0; border: 1px solid #008156; margin-top:1px; padding:5px}<!-- [et_pb_line_break_holder] --></style>