Philadelphia Phillies vs Chicago Cubs Pick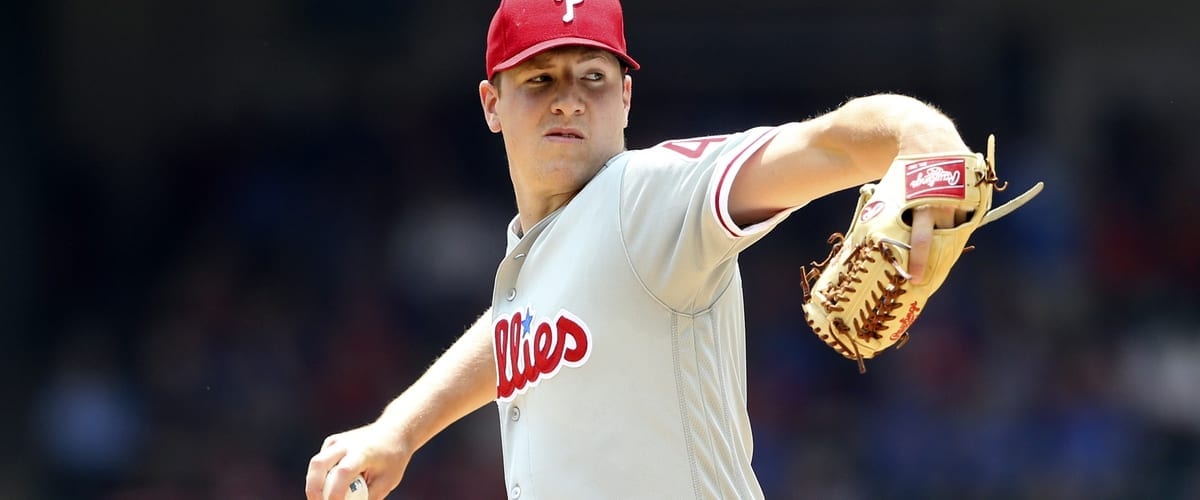 Philadelphia Phillies (28-19) at Chicago Cubs (27-18)
When: 7 p.m., Tuesday, May 21
Where: Wrigley Field, Chicago
Opening Line: PHI +110/CHC -132
Runline: Phillies +1.5/Cubs -1.5
Starting Pitchers: Zach Eflin, Phillies (5-4, 2.89 ERA, 1.09 WHIP) vs. Jose Quintana, Cubs (4-3, 3.68, 1.27)
Coming Down from the Hype
Wrigley Field was pumped for the return of Jake Arrieta, who made his first start in Chicago since the 2016 World Series on Monday and did enough to help the Phillies stay in the game long enough to win the game off the Cubs' bullpen. This game likely won't be anywhere near as hyped, even with it being a nationally televised contest. What it will be is a matchup between two talented teams that look like early contenders to top their respective divisions, and that makes it a critical game as well as a measuring stick for both clubs. Whichever one can shake off the hype and get back to baseball will have the edge in this matchup.
Feast or Famine
In the current era, it's pretty rare for a pitcher to go for a complete game unless he's got a no-hitter going. Nobody told Zach Eflin, who has two complete games to his name to lead the National League. Both times, he controlled the game from start to finish, holding his opponents to zero and one run respectively in a pair of wins over Miami and Kansas City.
Read Our Free NBA Playoff Picks
Great thing to have, right? Well, it comes with a bit of an asterisk, because Eflin is either going to pitch late into the game or he's going to have to come out fairly early. In the five games the Phillies have won with him on the mound, he's gone at least seven innings four times, and the one time he didn't came with a bit of an asterisk because it was raining off and on in Washington and there was no need to risk Eflin on a wet mound with the game safely tucked away after five innings. Aside from that one start, when he's failed to go seven innings, the Phils are 0-4 and have been outscored 36-8.
In other words, Eflin has no middle ground: he's either going to go out and dominate or he's going to get shelled. As Eflin goes, so goes his team, as the Phillies have managed to bunch their run support into games where Eflin didn't really need much help. In his five wins, the Phillies have given up just five runs while scoring 29 of their own, and they haven't conceded more than once when Eflin goes at least seven innings.
Bullpen Blues
 Quintana has been remarkably consistent in his past five starts for the Cubs. Here's who he is at the moment: he's going to go six or seven innings and he's going to give up two or three runs before handing the game over to the bullpen. Unfortunately for the Cubs, that's tended to be where things have gone awry. A great example came two starts ago when Chicago hosted Milwaukee.
Quintana didn't have a fantastic night on the mound, but he delivered a good performance, leaving in the seventh after giving up three runs to give his team a chance to come back. The bullpen promptly gave up two runs each in the eighth and ninth innings, putting the game well out of reach. The same thing happened to Chicago on Monday, as the Phillies came back from a 4-3 deficit by tying the game in the ninth and winning it in the 10th.
The Historicals
Since undergoing their rebuild, the Phillies had been just an awful road team, and Wrigley Field was no exception to that. Philadelphia is just 3-8 since 2016 at Wrigley, having won one game in each of the past two seasons as well as this one. The Phillies haven't come close to finishing at .500 on the road in any of those previous seasons, though, and they're at .500 this year, so there's a chance this is a Phillies squad that is comfortable enough to win a series at Wrigley, something Philadelphia hasn't done since 2015.
Betting Trends
The Phillies are 5-1 in their past six road games.
The Phillies are 6-1 in Eflin's past seven starts when the opponent allowed five or more runs in their previous game.
The Cubs are 5-0 in their past five Tuesday games.
The Cubs are 5-1 in Quintana's past six starts during Game 2 of a series.
The under is 13-3 in the Phillies' past 16 games after scoring five or more in the previous game.
The under is 5-1 in the Cubs' past six home games.
Weather Report
 The temperature is supposed to be a chilly 56 degrees at first pitch, which could lead to the ball staying in the ballpark as winds come off Lake Michigan.
Dan's pick
 I hate Eflin's inconsistency, but I like his ceiling a lot more than I trust the Cubs' bullpen. I just have a feeling that if the game is close, Chicago's bullpen is going to do what it's done too often this season: blow a lead and give up a cheap win to the Phillies. However, Eflin doesn't pitch close games, so that's not a possibility worth considering when you're thinking about this game. You have to assume that either Eflin will have his good stuff and shut the Cubs down, or he's going to get rocked. Based off the fact that he got rocked at home against Milwaukee, I'm betting that he won't have two bad games in a row. I'm going to gamble on the Phillies and hope that Eflin can do enough to give his team a chance to win.
Who else wants $60 of FREE member picks & predictions?