Philadelphia Phillies vs. St. Louis Cardinals Pick 4/26/21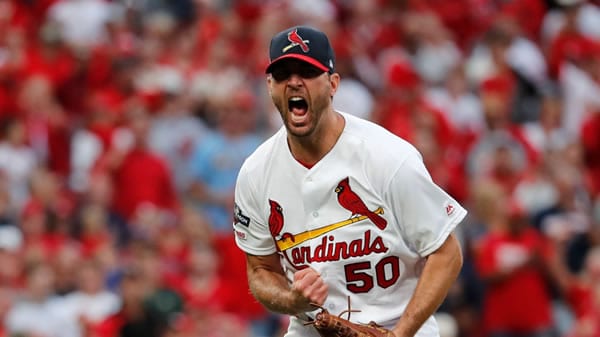 Philadelphia Phillies (10-11) vs. St. Louis Cardinals (11-10)
When: 7:45 p.m., Monday, April 26
Where: Busch Stadium, St. Louis
Moneyline: PHI -105/STL -105 (BetOnline - Awesome live betting platform! 35% crypto reloads!)
Runline: Phillies +1.5/Cardinals -1.5
Total: 8
Starting Pitchers: Zack Wheeler (1-2, 3.80 ERA, 1.31 WHIP) vs. Adam Wainwright (0-2, 5.03 ERA, 1.53 WHIP)
Early Series Struggles?
The Phillies followed a set path in their past two series with San Francisco and Colorado. In both series, the Phillies needed a game to figure out their opponent's starting pitching, leading to the under cashing in the series opener. But once the Phils did figure it out, they quickly made up for the lost time. In the past four non-series opener games, the Phillies and their opponent managed to combine for 54 runs, just over 13.5 runs per game.
Those numbers aren't a fluke either, because the Phillies have been one of the best over bets on the board all season. For the year, only Boston and Tampa Bay can match the 13 times the Phillies have cashed on the over. However, beware in this series if you want to try these trends because St. Louis didn't follow that equa-tion when it came to Philadelphia. The teams spent two days blasting the ball out of Citizens Bank Park in that series, only to see a combined two runs cross the plate in the series finale. Taking the over does make sense here, but be warned that the Phillies have had a tendency to occasionally put together a strong defensive performance that leads to solid bets becoming losing ones.
Good Help is Hard to Find
At 39 years old, it's clear that Adam Wainwright can still get the job done, but he needs a little help around him to have the kind of success that he used to have a decade ago. Unfortunately for Cardinals bettors, help has been hard to come by when Wainwright is on the slab. In four appearances, St. Louis' lineup only did its job once, scoring six runs against the Reds. However, that was also the one game where Wainwright didn't pitch well, as Cincinnati's small park led to six runs in 2.1 innings for the Reds and a defeat.
Since that debacle, Wainwright has pitched well, holding two opponents to a single earned run. But the Car-dinals' hitters apparently decided that once was enough as far as supporting their former ace, as they've pro-vided Wainwright with just five runs of support in his past three starts. When Wainwright is on, he continues to do one thing well, and that's miss bats. In his past three starts, he's averaged close to eight strikeouts per contest, and given that the Phillies strike out close to 10 times a game if Wainwright is on, he could be worth backing for a solid performance.
More Picks: Get Dan's analysis and predictions every day of the week >>> MLB Picks
On the Road, Where the Night is Black
With apologies to Lee Roy Parnell, the road has been a dark and depressing place for the Phillies in 2021, as only Colorado (which has yet to win outside of Denver) has seen less success than the Phillies have outside their home ballpark. The Phillies are still under .500 despite a glittering home record because they haven't seen much success at all outside of Citizens Bank Park, as their Saturday win marked just their second away from home this season.
With the Phillies playing poorly away from home, it's worth remembering that their struggles haven't been limited to either offense or defense. No, the Phillies have struggled on both sides of the equation outside of eastern Pennsylvania. In Zack Wheeler's past two road starts, the Phillies gave him just a run of support each time, not nearly enough to survive.
Betting Trends
The Phillies are 4-1 in their past five following a loss.
The Phillies are 10-4 in their past 14 against the NL Central.
The Phillies have dropped four straight when playing a team above .500 on the road.
The Cardinals have won four of five at Busch Stadium.
The over is 4-1 in the Phillies' past five games.
The under is 6-1 in the Cardinals' past seven Monday games.
The Phillies are 5-12 in their past 17 meetings in St. Louis.
Weather Report
If the runs are going to come via the home run in this situation, it's almost certainly going to be off a home run hit by a right-handed batter. That's because the wind will be pushing everything down the third-base line at 17 miles an hour, with temperatures reaching 77 degrees.
Dan's pick
The Phillies have had a fair amount of recent success with this matchup, but there's no denying the fact that Philadelphia is not the same team when it has to play on the road and lost an hour while traveling from Den-ver to St. Louis to start this series.
Wainwright has pitched well enough to win in two of his past three starts, and a win is coming sooner rather than later for him. I'll take a shot on it happening tonight; give me the Cardinals. Bet your MLB picks for FREE this week by taking advantage of a 100% real cash bonus at MyBookie Sportsbook! Simply deposit $100 to $300 and use bonus code PREDICT100 and they'll credit you with the extra loot! Go here to register now!