[et_pb_dcsbcm_divi_breadcrumbs_module hide_homebreadcrumb="off" homebreadcrumbtext="Home" separator="sep-raquo" hide_currentbreadcrumb="off" homebreadcrumborientation="left" _builder_version="3.8″ fontsbreadcrumbs_font="Lato||||||||" fontsbreadcrumbs_text_color="#000000″ fontsbreadcrumbs_font_size="15px" fontsbreadcrumbs_line_height="16px" fontsseperator_font="||||||||" fontsbreadcrumblinks_font="||||||||" fontsbreadcrumblinks_text_color="#2567cf" custom_margin="25px|||" custom_margin_phone="30px|||" custom_margin_last_edited="off|desktop" custom_css_main_element="font-family: Helvetica Regular;" global_module="3641″ saved_tabs="all"][/et_pb_dcsbcm_divi_breadcrumbs_module]
San Diego Padres at Philadelphia Phillies (7/21/18)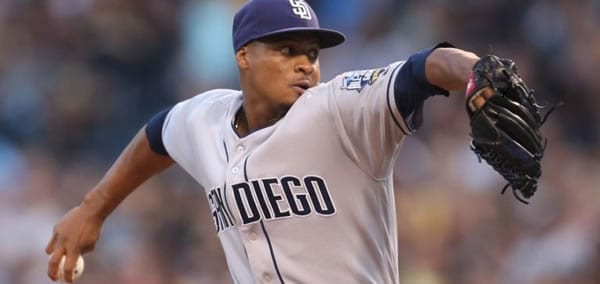 Time: 7:05 PM ET
Venue: Citizens Bank Park
Location: Philadelphia, Pennsylvania
Moneyline: San Diego (+167) / Philadelphia (-177)
Over/Under: 8.5
It's game two of a three-game set at Citizens Bank Park in Philadelphia, Pennsylvania Saturday night between the San Diego Padres and Philadelphia Phillies. The hometown team took the series opener 11-5 Friday night, rewarding those who followed our own Kevin West's sage advice. This will be the second game of six slated between these two clubs this season. San Diego will host the Phillies at Petco Park for a three-game set August 10th-12th. Saturday night's scheduled starters are Luis Perdomo (SD) and Vince Velasquez (PHI).
Game 1
Philadelphia bettors were probably a little uneasy after starter Jake Arrieta (7-6, 3.47 ERA & 1.27 WHIP) allowed four runs on three hits in the top of the first inning Friday night versus San Diego. Then, Carlos Santana (.209 AVG, 15 HR, 56 RBI & .350 OBP) got the Phillies on the board in the bottom of the first with an RBI groundout which plated Cesar Hernandez (.273 AVG, 8 HR, 33 RBI & .381 OBP) to cut the deficit to 4-1. The Phillies weren't down for long and erupted for six runs in the bottom of the second to take a 7-4 lead. With the bases loaded and two outs, San Diego starter Clayton Richard (7-9, 4.82 ERA & 1.35 WHIP) walked in a run, allowed a two RBI single to Odubel Herrera (.278 AVG, 16 HR, 54 RBI & .328 OBP) and a three-run jack by Carlos Santana.
Richard took the loss for the Padres, lasting only three innings in the process. He allowed seven earned runs on four hits, struck out three and allowed four free passes. Arrieta threw 82 pitches, but only went 3.1 innings making him ineligible for the victory. So, lefty Austin Davis (1-0, 3.46 ERA & 1.31 WHIP) earned the "W" in relief. In 1 2/3 innings, Davis allowed one hit while striking out three and walking just one.
Padres – Basement
With the loss Friday night, San Diego's increased their current losing streak to six games. During the streak of futility, the Padres opponents have outscored them 41-23. In the last six games, San Diego's allowed opponents to score an average of 6.83 runs per game. Unfortunately, the Padres have only countered with an average of 3.83 runs scored per game. Needless to say, this isn't a recipe for success and viola. San Diego's now 20 games under .500 at 40-60 (.400) this year.
The Padres haven't made the playoffs since 2006, and judging by their recent play and transactions it looks like it'll be another October-less year for them. Appearing to be in tank mode, San Diego traded away relievers Brad Hand and Adam Cimber to the Cleveland Indians on Thursday. In 41 appearances with the Padres, Hand converted 24 of 29 (.828) save attempts with a 3.05 ERA and 1.08 WHIP. Cimber appeared in 42 games for the Padres this year, registering a 3.12 ERA and 1.08 WHIP.
San Diego's 15.5 games behind the Los Angeles Dodgers in the National League West Division with 62 games remaining. The Padres own the worst record in the NL at this point in the season. Their -106 run differential in second-worst in the NL and their 370 runs scored ties them for the worst offense in the NL with the New York Mets. In sum, the Padres offense is abysmal, and their pitching is pitiful too. What a combination! However, San Diego's slightly better on the road this year for some reason with a 20-29 (.408) record thus far.
Philadelphia – 1st Place
At 54-42 (.563) on the year, the Philadelphia Phillies are atop the Standings in the National League East Division. However, they only hold a slim ½ game lead over second-place Atlanta. The Phillies own the second-best record in the NL, behind only the Chicago Cubs. In their last 16 games, Philadelphia's 11-5 outscoring opponents 71-51. At home, the Phillies are 31-16 (.660) this season. Only the New York Yankees and Boston Red Sox own better home records thus far. Philadelphia's won five straight decisions at Citizens Bank Park heading into Saturday night's showdown with the sinking San Diego Padres.
Perdomo vs. Velasquez
Saturday night's game will be the first career start against the Phillies for the 25-year-old right-hander, Luis Perdomo. In his third season in the Big Leagues, Perdomo's been nothing short of awful thus far. He's 1-4 with a 7.55 ERA and 2.10 WHIP. In his last four starts, Perdomo's gone 0-3 with a 9.00 ERA and 2.10 WHIP. Perdomo's compiled an 18-25 record in his brief career coupled with a 5.38 ERA and 1.60 WHIP.
The Phillies intend to counter with hard-throwing righty Vince Velasquez (5-8, 4.39 ERA & 1.24 WHIP). In his most recent outing, Velasquez earned a no-decision despite throwing six scoreless innings allowing just two hits opposite Jake DeGrom at Citi Field. Velasquez is rounding into form lately, going 0-1 in his last three starts while posting a 1.93 ERA and 1.00 WHIP. This year, Velasquez owns a tidy 110:35 strikeouts to walks ratio. In one career start versus San Diego, Velasquez pitched a gem inside Citizens Bank Park. He threw 113 pitches in a complete-game shutout, allowing just three hits while striking out 16 batters and giving zero free passes.
Where's the value?
According to my calculations, the Phillies have an 80% chance to win this game. With San Diego at +167, the Padres would have to win the game 37.5% of the time for it to be a profitable bet. Clearly, there's a -17.5% value in betting on San Diego. So, don't do that unless you want to lose money. Everybody's got their own thing, but we prefer winning around these parts. Oddsmakers have the Phillies -177, which means they'd need to win 63.9% of the time for betting on them to be profitable. Consequently, we have a pleasant 16.1% edge against the number taking Philadelphia on the money line. The Phillies are stronger all across the board in this one, and we're getting a quality discount-price to capitalize on here.
For more opinions on who to bet check out our Posting Forum.
<aside><!-- [et_pb_line_break_holder] --><div class="widget105"><!-- [et_pb_line_break_holder] --><h3>Biggest Sportsbook Bonuses</h3><!-- [et_pb_line_break_holder] --><div class="widgetlist"><!-- [et_pb_line_break_holder] --><div class="col1"><!-- [et_pb_line_break_holder] --><img src="https://www.predictem.com/wp-content/uploads/2018/04/bovada.png" width="150" alt="Bovada" /><!-- [et_pb_line_break_holder] --></div><!-- [et_pb_line_break_holder] --><div class="col2"><!-- [et_pb_line_break_holder] --><span class="list"><b>50% Cash</b></span><br><!-- [et_pb_line_break_holder] --><span class="list">5x Rollover</span><!-- [et_pb_line_break_holder] --> </div><!-- [et_pb_line_break_holder] --> <div class="col3"><!-- [et_pb_line_break_holder] --><a href="https://www.predictem.com/betting-sites/bovada/"><button class="btn-widget">Review</button></a><!-- [et_pb_line_break_holder] --></div><!-- [et_pb_line_break_holder] --></div><!-- [et_pb_line_break_holder] --><div class="widgetlist"><!-- [et_pb_line_break_holder] --><div class="col1"><!-- [et_pb_line_break_holder] --><img src="https://www.predictem.com/wp-content/uploads/2018/04/intertops.png" width="150" alt="Intertops" /><!-- [et_pb_line_break_holder] --></div><!-- [et_pb_line_break_holder] --><div class="col2"><!-- [et_pb_line_break_holder] --><span class="list"><b>50% Cash</b></span><br><!-- [et_pb_line_break_holder] --><span class="list">4x Rollover</span><!-- [et_pb_line_break_holder] --> </div><!-- [et_pb_line_break_holder] --><div class="col3"><!-- [et_pb_line_break_holder] --><a href="https://www.predictem.com/betting-sites/intertops/"><button class="btn-widget">Review</button></a><!-- [et_pb_line_break_holder] --></div><!-- [et_pb_line_break_holder] --></div><!-- [et_pb_line_break_holder] --><div class="widgetlist"><!-- [et_pb_line_break_holder] --><div class="col1"><!-- [et_pb_line_break_holder] --><img src="https://www.predictem.com/wp-content/uploads/2018/05/gt-bets.png" width="150" alt="GtBets" /><!-- [et_pb_line_break_holder] --></div><!-- [et_pb_line_break_holder] --><div class="col2"><!-- [et_pb_line_break_holder] --><span class="list"><b>150% Cash</b></span><br><!-- [et_pb_line_break_holder] --><span class="list">4x Rollover</span><!-- [et_pb_line_break_holder] --> </div><!-- [et_pb_line_break_holder] --> <div class="col3"><!-- [et_pb_line_break_holder] --> <a href="https://www.predictem.com/betting-sites/gtbets/"><button class="btn-widget">Review</button></a><!-- [et_pb_line_break_holder] --></div><!-- [et_pb_line_break_holder] --></div><!-- [et_pb_line_break_holder] --><div class="widget-footer"><a href="https://www.predictem.com/best-sportsbooks/bonuses/">See all sportsbook bonuses</a></div><!-- [et_pb_line_break_holder] --> </div></aside>
<div style="width:340px; margin: 0 auto;"><!-- [et_pb_line_break_holder] --> <a class="twitter-timeline" data-width="340" data-height="500" data-link-color="#008156" href="https://twitter.com/PredictemPicks?ref_src=twsrc%5Etfw">Tweets by PredictemPicks</a> <script async src="https://platform.twitter.com/widgets.js" charset="utf-8"></script><!-- [et_pb_line_break_holder] --></div>
<div class="widget105"><!-- [et_pb_line_break_holder] --><h4 class="baseball">Baseball Sportsbooks</h4><!-- [et_pb_line_break_holder] --><table id="dimeline"><!-- [et_pb_line_break_holder] --> <tr><!-- [et_pb_line_break_holder] --> <th></th><!-- [et_pb_line_break_holder] --> <th width="110px">10¢ to:</th><!-- [et_pb_line_break_holder] --> <th width="110px">20¢ to:</th><!-- [et_pb_line_break_holder] --> </tr><!-- [et_pb_line_break_holder] --> <tr><!-- [et_pb_line_break_holder] --> <td><div class="col1"><a href="https://record.commission.bz/_BhTQDVOVie23_O3IiMN7EWNd7ZgqdRLk/1/"><!-- [et_pb_line_break_holder] --> <img src="https://www.predictem.com/wp-content/uploads/2018/06/SportsBettingDark.png" width="150" alt="SportsBetting" /></a><!-- [et_pb_line_break_holder] --> </div></td><!-- [et_pb_line_break_holder] --> <td>-200</td><!-- [et_pb_line_break_holder] --> <td>-279</td><!-- [et_pb_line_break_holder] --> </tr><!-- [et_pb_line_break_holder] --> <tr><!-- [et_pb_line_break_holder] --> <td><div class="col1"><a href="https://www.predictem.com/betting-sites/heritage-sportsbook/"><img src="https://www.predictem.com/wp-content/uploads/2018/06/heritage-xs.png" width="150" alt="Heritage" /></a></div></td><!-- [et_pb_line_break_holder] --> <td>-200</td><!-- [et_pb_line_break_holder] --> <td>-240</td><!-- [et_pb_line_break_holder] --> </tr><!-- [et_pb_line_break_holder] --> <tr><!-- [et_pb_line_break_holder] --> <td><div class="col1"><a href="https://affiliates.5dimes.eu/tracking/Affiliate.aspx?idBook=1&mediaTypeID=220&AffUrlID=80&LandingPageID=2"><img src="https://www.predictem.com/wp-content/uploads/2018/06/5Dimes_sm.png" width="150" alt="5Dimes" /></a></div></td><!-- [et_pb_line_break_holder] --> <td>-195</td><!-- [et_pb_line_break_holder] --> <td>-266</td><!-- [et_pb_line_break_holder] --> </tr><!-- [et_pb_line_break_holder] --></table> <!-- [et_pb_line_break_holder] --><div class="widget-footer"><a href="https://www.predictem.com/best-sportsbooks/mlb-dimeline/">See all Dimeline Sportsbooks</a></div><!-- [et_pb_line_break_holder] --></div><!-- [et_pb_line_break_holder] --><!-- [et_pb_line_break_holder] --><style><!-- [et_pb_line_break_holder] --> #dimeline {border: 0px;}<!-- [et_pb_line_break_holder] --> #dimeline th{color:#000;}<!-- [et_pb_line_break_holder] --> #dimeline td{padding: 2px; text-align: center;}<!-- [et_pb_line_break_holder] --> #dimeline td, #dimeline th{padding: 8px 2px; text-align: center;border-bottom: 1px solid #bbb;}<!-- [et_pb_line_break_holder] --> .img-hover {border: 1px solid #fff; padding:5px}<!-- [et_pb_line_break_holder] --> .img-hover:hover {background: #edeef0; border: 1px solid #008156; margin-top:1px; padding:5px}<!-- [et_pb_line_break_holder] --></style>