Tampa Bay Rays vs. Miami Marlins Pick 4/2/21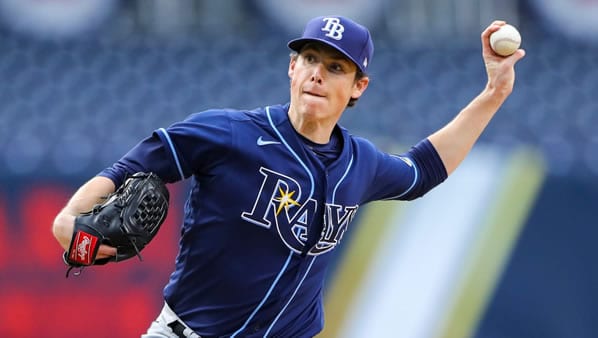 Tampa Bay Rays (1-0) vs. Miami Marlins (0-1)
When: 7 p.m., Friday, April 2
Where: LoanDepot Park, Miami
Moneyline: TB -108/MIA -102
Runline: Rays -1.5/Marlins +1.5
Total: 7.5
Starting Pitchers: Ryan Yarbrough (0-0, 0.00 ERA, 0.00 WHIP) vs. Pablo Lopez (0-0, 0.00 ERA, 0.00 WHIP)
Predictable Unpredictability
With the Rays, there's always a little bit of guesswork, and with Yarbrough on the mound, that's usually true as well. The Tampa Bay left-hander is capable of pitching fairly deep into games, but the Rays sometimes choose to take him out after three or four innings, and as we saw in the World Series, the Rays do not deviate from their analytics for anyone or any situation.
What that means is we know Yarbrough will not pitch past the seventh under any circumstances, but he's equally likely to pitch three innings as he is to pitch six, and there's no trend predicting when either will happen. However, from a bettor's standpoint, Yarbrough was as reliable as it got on the under last season, as only two starts all year saw more than eight runs come across the plate for both teams. Given what happened on Thursday in the opener, there's reason to suggest that the under might cash again, as both teams should have rested bullpens that are ready should the need arise.
Tale of Two Seasons
The 60-game season is a terrible sample size to judge, but it's all we have to go on from 2020, and it says that last year, Lopez was solid in the first month of the season but very hittable in the second half. When the calendar turned from August to September,
Lopez's ERA suddenly started to rise, ending with his numbers double what they were in the first month of the year.
The question is, why did it happen? Lopez isn't a power pitcher who gets a lot of wins via strikeout; he's the kind of pitcher who wins by getting opponents to chase his pitch and create an easy task for his fielders. Th could be the problem, as once someone sees him on enough occasions, it becomes a lot easier for hitters to handle him. That is the benefit of Tampa Bay's analytics: someone like Lopez would never pitch more than five or six innings in order to ensure that hitters never got three shots at him in the same game. The Marlins are more willing to let pitchers try to figure things out, and how Lopez looks against the first few
Tampa Bay hitters should tell us whether he is the same. If he labors through the first few batters, it might be a good idea to live bet and go the other way.
QUESTION: WHY PAY OLD/HIGH PRICES FOR MLB ODDS WHEN YOU COULD BE BETTING AT DISCOUNTED ODDS AT BETANYSPORTS? STOP WASTING YOUR HARD EARNED $! MAKE THE SWITCH TODAY! YOU'LL BE SO GLAD YOU DID!
Pressure At the Plate
These teams combined for just eight hits on opening day, and the one run came courtesy of a solo home run. That can really weigh on the hitters, who had been anxious to get the season started and have ended up struggling to start the year because of the sharp performances from the opposing pitcher. When that happens, some hitters start to grip the bat a bit tighter, wondering why they're doing everything right, and everything they do ends up finding a fielder's glove. In turn, that becomes a vicious cycle which sucks down good players and prevents them from getting the job done when it counts.
This is about mental toughness because a lot of lineups are going to struggle to plate anything against either Tyler Glasnow or Sandy Alcantara. Whichever team's hitters come in ready to go, as opposed to struggling to maintain their confidence, will likely have a significant advantage in breaking the game open.
Betting Trends
The Rays are 18-6 in the past 24 meetings in Miami.
The Rays are 23-11 in their past 34 road games.
The Marlins are 2-5 in their past seven coming off a loss.
The Marlins are 7-19 in their past 26 games as a home underdog.
The under is 9-2 in the Rays' past 11 meetings with NL East clubs.
The under is 19-6-2 over the last 27 meetings in Miami.
Weather Report
There's a good chance that the roof is closed and the point is moot, but if it stays open, these teams are going to be looking at strong winds that send every ball to the first-base side. Temperatures will be in the mid-60s with 22-mile per hour winds pushing north-northeast.
Dan's pick
Early-season baseball betting is always challenging because you don't know how much carryover exists from the previous season and what you learned about each team over 162 (or, last year, 60) games. But for the time being, I'm concerned about Lopez and his ability to get outs. I'm also very concerned about whether he's struggled because he hit a wall from too many games too soon (remember, the Marlins did have to make up several games because of COVID) or because teams started to figure him out. Give your bankroll a HUGE boost by taking advantage of a 100% real cash bonus on your first deposit of $100 to $300 at MyBookie Sportsbook! (Must use bonus/promo code PREDICT100 on registration page to have the special bonus credited). Click here to register now!
MLB Betting Guide
New to betting on baseball? We've got you covered! Our comprehensive how to bet on baseball article explains all the different types of wagers offered at the sportsbooks including money lines, over/unders, run lines, parlays and more! Also get tips and strategies to increase your odds of beating the bookies!