[et_pb_dcsbcm_divi_breadcrumbs_module hide_homebreadcrumb="off" homebreadcrumbtext="Home" separator="sep-raquo" hide_currentbreadcrumb="off" homebreadcrumborientation="left" _builder_version="3.8″ fontsbreadcrumbs_font="Lato||||||||" fontsbreadcrumbs_text_color="#000000″ fontsbreadcrumbs_font_size="15px" fontsbreadcrumbs_line_height="16px" fontsseperator_font="||||||||" fontsbreadcrumblinks_font="||||||||" fontsbreadcrumblinks_text_color="#2567cf" custom_margin="25px|||" custom_margin_phone="30px|||" custom_margin_last_edited="off|desktop" custom_css_main_element="font-family: Helvetica Regular;" global_module="3641″ saved_tabs="all"][/et_pb_dcsbcm_divi_breadcrumbs_module]
Washington Nationals at Pittsburgh Pirates Pick 7/9/18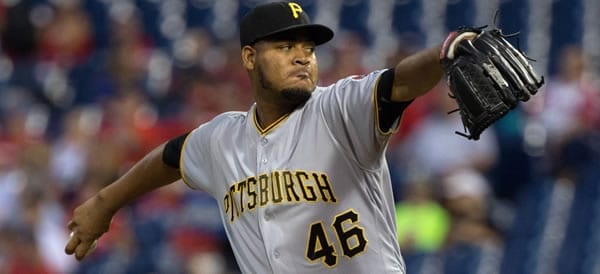 When: Monday, July 9th, 2018 (7:10 PM EST)
Where: PNC Park, where balls go to die.
TV: ESPN, MASN2
Betting Odds: Wash -110/Pit +100
Over/Under: Opened at 9, currently 9.5
by Kevin West, MLB Handicapper, Predictem.com
The Nats come into this contest winners of 3 of their last 4, but it was vs. Miami, so does that really count? Prior to stopping into Marlins Park to beat up on the weakest kid in the neighborhood, Washington had dropped 5 in a row and 8 of their last 9.
The Pirates aren't exactly killing it either, having dropped 5 of their last 6, but something has to give here. I generally avoid games that appear to be a tossup, but can't help myself from fading National's rookie Jefry Rodriguez.
While handicapping this game, I found something very interesting regarding the 24-year-old Nats hurler. He spent 2012 through 2017 in rookie and A ball. SIX YEARS of rookie/A ball is a LONG time to spend at the lower levels.
This season, he finally got bumped up to AA-ball where he threw pretty well, allowing only 55 hits in 68 innings, while fanning 72. As you can imagine, the organization took notice and bumped him up to AAA Syracuse where he had one start, allowing 3 earned runs over 5 innings.
Rodriguez didn't earn himself a spot in the rotation, and he surely doesn't belong there. The only reason he's up is because Erick Fedde went down with inflammation in his right shoulder. This presents us with a true "Lickin' my chops" opportunity. Rodriquez simply isn't ready to face MLB pitching as evidenced by his track record and stats from this season which include allowing 9 earned runs in 14.2 innings, 8 bases on balls and 3 dingers. He's plucked a couple batters too. All these stats point to a nervous/inexperienced pitcher who lacks control.
Get the best baseball lines at a dime line sportsbooks. Check out our favorite
MLB sportsbooks
.
On the flip side, Ivan Nova isn't a pitcher you were clamoring to bet/back when you looked at today's odds, as he's got a smelly 4.48 ERA. However, when you dig into the stats, you'll find that this guy LOVES to pitch at PNC Park, where he's allowed a respectable 2.77 ERA there this season, 2.63 last season and 2.45 in 2016. Overall during his career, he's got a nifty 2.62 ERA over 147.2 innings. Those my friends are GOOD numbers that will cash winning tickets!
Nova had been red-hot in June with a 1.75 ERA, 0.86 WHIP and only allowing a .185 batting average to opposing hitters before getting blasted in his last start at Dodger Stadium, which we'll happily throw out because Nova has always had problems on the road.
More Reasons I like the Pirates to Win Tonight
The Nats bats. They're COLD. Over the past 7 days, Rendon is only hitting .150, Severino .188, Murphy .235, Harper .238, Eaton .250 and Soto .261. Mark Reynolds is the only Nat really swinging it well, and it's likely that he won't even be in the lineup tonight vs. the RH Nova.
As noted above, Nova loves to pitch at the ballpark where balls go to die. He's only allowed 3 dingers in 39 innings (which is outstanding) and even better, he's only walked 4 batters in those 39 innings. He is allowing less than one walk/hit per winning (0.94 WHIP) which is outstanding.
Pittsburgh's key players are hot! Sterling Marte is batting .529 over the past 7 days and Corey Dickerson .474. Josh Bell has been cold and will be replaced by David Freese tonight, which is good news for us.
The Nationals are 6-13 in their last 19 games vs. a right-handed starter, 7-16 in their previous 23 overall, 2-8 in their last 10 during game 1 of a series, 1-7 in their last 8 road games vs. a right-handed starter and 1-8 in their last 9 road games.
Kevin's Pick to Win
The Pirates aren't a great hitting club but are likely to look like one tonight vs. a pitcher who doesn't belong in the Bigs. Bet the Pirates at +100 as a 2 unit top play.
Get more opinions and projected winners each day in our MLB Forum.
<div class="widget105"><!-- [et_pb_line_break_holder] --><h4 class="baseball">Baseball Sportsbooks</h4><!-- [et_pb_line_break_holder] --><table id="dimeline"><!-- [et_pb_line_break_holder] --> <tr><!-- [et_pb_line_break_holder] --> <th></th><!-- [et_pb_line_break_holder] --> <th width="110px">10¢ to:</th><!-- [et_pb_line_break_holder] --> <th width="110px">20¢ to:</th><!-- [et_pb_line_break_holder] --> </tr><!-- [et_pb_line_break_holder] --> <tr><!-- [et_pb_line_break_holder] --> <td><div class="col1"><a href="https://record.commission.bz/_BhTQDVOVie23_O3IiMN7EWNd7ZgqdRLk/1/"><!-- [et_pb_line_break_holder] --> <img src="https://www.predictem.com/wp-content/uploads/2018/06/SportsBettingDark.png" width="150" alt="SportsBetting" /></a><!-- [et_pb_line_break_holder] --> </div></td><!-- [et_pb_line_break_holder] --> <td>-200</td><!-- [et_pb_line_break_holder] --> <td>-279</td><!-- [et_pb_line_break_holder] --> </tr><!-- [et_pb_line_break_holder] --> <tr><!-- [et_pb_line_break_holder] --> <td><div class="col1"><a href="https://www.predictem.com/betting-sites/heritage-sportsbook/"><img src="https://www.predictem.com/wp-content/uploads/2018/06/heritage-xs.png" width="150" alt="Heritage" /></a></div></td><!-- [et_pb_line_break_holder] --> <td>-200</td><!-- [et_pb_line_break_holder] --> <td>-240</td><!-- [et_pb_line_break_holder] --> </tr><!-- [et_pb_line_break_holder] --> <tr><!-- [et_pb_line_break_holder] --> <td><div class="col1"><a href="https://affiliates.5dimes.eu/tracking/Affiliate.aspx?idBook=1&mediaTypeID=220&AffUrlID=80&LandingPageID=2"><img src="https://www.predictem.com/wp-content/uploads/2018/06/5Dimes_sm.png" width="150" alt="5Dimes" /></a></div></td><!-- [et_pb_line_break_holder] --> <td>-195</td><!-- [et_pb_line_break_holder] --> <td>-266</td><!-- [et_pb_line_break_holder] --> </tr><!-- [et_pb_line_break_holder] --></table> <!-- [et_pb_line_break_holder] --><div class="widget-footer"><a href="https://www.predictem.com/best-sportsbooks/mlb-dimeline/">See all Dimeline Sportsbooks</a></div><!-- [et_pb_line_break_holder] --></div><!-- [et_pb_line_break_holder] --><!-- [et_pb_line_break_holder] --><style><!-- [et_pb_line_break_holder] --> #dimeline {border: 0px;}<!-- [et_pb_line_break_holder] --> #dimeline th{color:#000;}<!-- [et_pb_line_break_holder] --> #dimeline td{padding: 2px; text-align: center;}<!-- [et_pb_line_break_holder] --> #dimeline td, #dimeline th{padding: 8px 2px; text-align: center;border-bottom: 1px solid #bbb;}<!-- [et_pb_line_break_holder] --> .img-hover {border: 1px solid #fff; padding:5px}<!-- [et_pb_line_break_holder] --> .img-hover:hover {background: #edeef0; border: 1px solid #008156; margin-top:1px; padding:5px}<!-- [et_pb_line_break_holder] --></style>