Darlington 400 Race Analysis & Predictions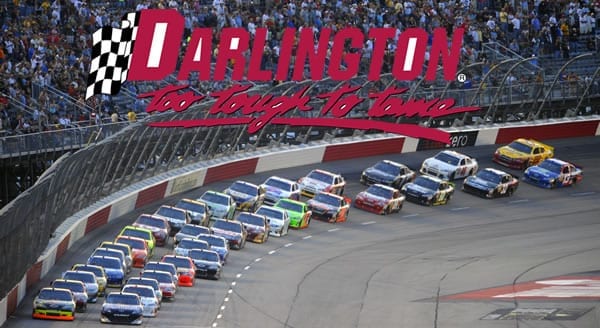 Race: Darlington 400
Date: Sunday, May 17, 2020
Track: Darlington Raceway
Time: 3:30pm ET
Channel: FOX
What Did We Learn From…COVID?
Seventy-one days…71 DAYS! That's how long we've had a hiatus in the NASCAR Cup Series due to the COVID-19 situation. Needless to say, I'm ready to see some cars back on the track, and NASCAR is making that happen with a very different schedule moving forward. Granted, there will be numerous precautions taken, namely a no-fan race for the foreseeable future, to abide by CDC guidelines and still allow racing to continue. I have my own feelings on all of this, but I will just say that I'm happy we are going to be able to hear these cars going around the track again. This will definitely bring back some joy, excitement, and somewhat of a sense of normalcy to just have a sport, any sport, being broadcast again on live TV.
That said, Darlington is where these drivers are going to begin the continuation of the season. We are going to see 2 Cup races run here, one this Sunday and another the following Wednesday under the lights. NASCAR is doing its best to get in the number of races missed in order to make the points situation as fair as possible for all of the teams. This is a tricky concept because there are going to be multiple races at the same track, so of which really put a hardship of the teams that don't race well at those particular tracks. Regardless, it's go time, so they're going to have to make it work. After the drivers and teams finish up at Darlington, they're moving on to Charlotte. There will also be 2 Cup races at Charlotte to be held on May 24 and then again on Wednesday, May 27. Both of those races will be under the lights. In between the Cup races, the Xfinity and Gander Truck Series guys will also be getting their races in at the same tracks. As you can imagine, this is going to be a tricky situation for crews to workout. Either way, there's an enormous amount of comradery amongst all of NASCAR, so I can only imagine everyone at the track will just be happy to be there. AT.THE.TRACK. I know how hard it's been for myself not to be able to participate in the things I'm passionate about lately, so it's got to be so awesome to be able to be back where their hearts are.
Where Are We Headed This Weekend?
Darlington in and of itself is quite the track to kick off NASCAR's Cup Series. It is drenched in history and has a notorious reputation as both "the track too tough to tame" and also "the lady in black." It's a unique configuration when compared to other tracks on the circuit. At 1.366 miles, you can already see this it's layout is a bit wonky. It's an asphalt track shaped like an egg. Yes. An egg. The story behind that is the original owner refused to move a minnow pond that was very close to one of the ends of the track, causing it to be much different than the other end when construction was finalized. The turns are somewhat even in banking, with 1 and 2 having 25 degrees and 3 and 4 having 23 degrees. The frontstretch has minimal banking at just 3 degrees, with the backstretch also minimal at 2 degrees. If you ever listen to interviews with the drivers, it's evident that drivers come to this track not fearful or intimidated by their fellow drivers but by the track itself. It's always said that the track is the biggest competition here. No one has been able to explain how a driver earns his "Darlington Stripe," but we very often see unexpected hits to the outside wall after a driver navigates seamlessly through much of the race. The tires don't need to be going down. There isn't any debris on the track. Drivers just come off the corner and nail the wall. Chalk it up to the mystery of the Lady in Black, I guess. Tires do become a valuable commodity here, though. Don't get me wrong. This track will eat this away. That's not to say that tires are always the cause of drivers catching the wall, however.
Odds And Value Picks
When it comes down to picking a winner for this race, well, this is going to be interesting. With very little remaining the "same," we're going to have to go off of pure history here. I don't even think that this year's results have much credence in them, to be honest. So many drivers and teams just haven't been behind the wheel and conditioning and testing like they're used to. They've been doing virtual racing, which is helpful to an extent, but there's absolutely no replacing being on the asphalt. That said, the lineup this weekend will be based on the owner's points, so there isn't going to be a window of opportunity to gauge where the drivers are at. The starting lineup has Kevin Harvick and Joey Logano on the front row, followed by Chase Elliott and Alex Bowman. Jimmie Johnson, Ryan Blaney, Matt Kenseth, Aric Almirola, Matt DiBenedetto, and Brad Keselowski round out the top 10 spots. Let's take a peek at your potential winners heading into our return to NASCAR this weekend:
Favorite: Kyle Busch (+600)
Middle of the Road: Erik Jones (+1600). Bet your Darlington 400 picks FOR FREE by taking advantage of a special 100% REAL CASH bonus we've negotiated for you with MyBookie Sportsbook. Simply register through this special link and it'll activate a bonus where you can deposit $100 to $300 and they'll match those funds in your account with additional $! 
Dark Horse: Matt DiBenedetto (+5000)
I know that Matt seems like a dark horse. I mean, he is. But given the right opportunities, he seems to be turning the wheel on some consistency and some success. This weekend will be a crucial weekend for him. With the owner's points setting the starting lineup, he's given a unique opportunity to start in the top ten. Track position at Darlington is very important. If he can maintain what he's been handed, he's going to be a strong contender for a Hail Mary throw this weekend. Erik Jones is getting better and better. If you follow him on social media, you'll enjoy seeing his dog, Oscar, and also listening to his read-aloud storytime for the kids. This guy is just likable. But aside from being likable, he's got the skill to back up his ride. He's only had three career starts at Darlington, but boy if he didn't make the most of them. In 2017, he finished fifth. The following year, he brought home another top 10 finish. In 2019, he won, and that was from not the greatest starting spot. Look for Jones to be at the front of the pack when it matters most. This kid is coming on strong. Finally, well, there's Kyle Buch. I mean, what is there really to say? I think that when there's a bout of adversity, Kyle rises above most and proves that he's the real deal. That's really what I'm counting on with Kyle. I think that his level of motivation is just through the roof when there's a point to be proven, and if there ever was one, it's that his team can come back the strongest out of the entire field. Look for Busch to be the one to beat. I think we'll see the aggressive side of him come out on Sunday. Let's take a look to see where Busch and the rest of the drivers were at in the points prior to this hiatus.
NASCAR Standings
Kevin Harvick (+800)
Joey Logano (+1000)
Chase Elliott (+1000)
Alex Bowman (+1200)
Jimmie Johnson (+2500)
Ryan Blaney (+3000)
Kyle Larson (N/A)
Aric Almirola (+5000)
Matt DiBenedetto (+5000)
Brad Keselowski (+1000)
Denny Hamlin (+700)
Kyle Busch (+600)
Clint Bowyer (+6600)
Chris Buescher (+8000)
Martin Truex Jr. (+850)
Kurt Busch (+1800)
There are a lot of teams that are going to come on strong this weekend, trying to chase down Kyle Busch. The Penske drivers, Logano and Keselowski, have some good odds of being up front as do Denny Hamlin, Kevin Harvick, and Martin Truex Jr. This weekend will give a lot of insight into driver skills, in my opinion. Virtually everyone has been off the track for some period of time. Cars aren't going to be set up correctly. And Darlington holds a grudge against everyone. Stay tuned for some great racing this Sunday afternoon as we get back to racing, get back to the fun, and get back to life! Note: If your betting site only offers drive to win odds, we recommend that you check out 5Dimes Sportsbook, where they offer TONS of props for each NASCAR race. These usually come out VERY close to raceday, so be patient. This will enhance your race day experience a TON!
100% REAL CASH up to $300

USE BONUS CODE:
PREDICT100