Folds of Honor QuikTrip 500 Analysis & Predictions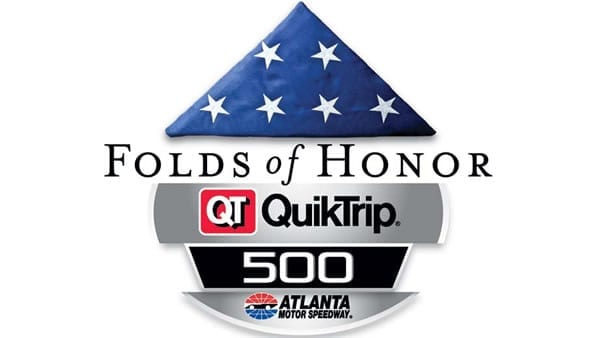 Race: Folds of Honor QuikTrip 500
Date: Sunday, June 7th, 2020
Track: Atlanta Motor Speedway
Time: 3 pm ET
Channel: FOX
What Did We Learn From Last Weekend?
Wow! Talk about a wild finish at Bristol. That was one of the best finishes I've seen in quite and while and definitely nothing any of us were expecting. Brad Keselowski took home the checkered flag and seemed just as surprised as we did. He lucked into that win, but sometimes that's just how racing goes. Keselowski had a good car but not a great car. He was a top 5 or top 10 car, but he really never had the equipment to get to the front, let alone stay there. Luckily for him, hard racing at Bristol allowed the front of the field to open up, leaving the other drivers chasing his rear bumper. If that wasn't crazy enough, here comes Clint Bowyer to take home the second place trophy followed by Jimmie Johnson, Kyle Busch, and Erik Jones to round out your top five spots. As for my prediction to win, well, Kyle Busch had an up and down day. He was driving the wheels off his car, rallying back from 31st position to the top 5 after a speeding penalty on pit road. His car just wasn't there on the short runs, though. He struggled with passing and just didn't have the speed he needed to stay in the front despite leading 100 laps.
It was just a wild ride there at the end. It looked like Denny Hamlin had the race wrapped up before he managed to wreck with six laps to go, ending his bid for the checkers. Joey Logano and Chase Elliott took over, battling hard for the top spot when Elliott got loose and drove into the side of Logano, forcing Logano into the wall and Elliott not faring much better. After the race, it was clear that Logano was hot. He took his helmet and gear off and threw it on the roof of his #22 and then proceeded to head over to Chase Elliott. It's kind of hard to fight with social distancing, though. Honestly, it was pretty awkward watching these obviously heated grown men try to maintain distance while having a discussion and really wanting to fight. Logano ultimately was mad that he had to force an apology from Chase. If I'm being real here, welcome to Bristol. That's racing, and no one really needs to apologize. Chase didn't dumb Logano. It was a racing incident. Nothing more. Nothing less. I understand Logano's frustration, but let's be adults. Speaking of being adults, Clint Bowyer had the quote of the night when discussing trying to win. In his post-race interview, he said, "I wasn't going to have a problem apologizing to Brad for dumping him at the end." See, that's when an apology is warranted. Had Bowyer purposefully dumped Brad for the win, we would've seen a few fists, but likely an apology as well. Nicely done, Bowyer.
Where Are We Headed This Weekend?
This weekend, the drivers and teams are headed back to the intermediate configuration at Atlanta Motor Speedway. They also get a few days of rest, with no racing on Wednesday night like they've been doing the last couple of weeks. What will remain the same is no practice and no qualifying. I'm not a fan of the no qualifying situation, but I like the no practice. I understand the necessity of practice to set these cars up correctly, but it makes for better racing as a fan to see them wrenching the cars throughout the race. They're not able to nail the setup from the get-go, so it almost evens the playing field. That said, Atlanta is a long race. The drivers are going to need to take care of their cars, and tires are going to be a considerable obstacle. These guys are going to be playing a strategy game with tires here, as there's a good amount of banking around this track. This place is a 1.54-mile quad-oval with 24 degrees of banking through the turns and 5 degrees on the straights. As you can imagine, that configuration makes it very fast. Drivers are used to run near 200mph around this track way back when. With this newish aero package, speeds have been reduced around here, but they're still fast. Drivers will have to maintain track position with solid pit stops. We saw Kyle Busch put himself in a bad spot at Bristol with a speeding penalty. That potentially cost him the race. With a track as big as Atlanta, you're not going to drive to the front of the field from 33rd after a penalty, so the drivers need to be wary of making mistakes.
Odds and Value Picks
With the recent multitude of races we've had, the rookies have put on a good show. We have seen Tyler Reddick, Christopher Bell, and others making a name for themselves by driving up front and staying there for much of the race, regardless of what track we go to. I anticipate Atlanta to be another showcase for the young guns. They have their work cut out for themselves as per usual, but they seem to be holding their own. When it comes to choosing an overall winner, Joey Logano is the name to look out for at the end of the race. Has Atlanta been his best track? Nope. But with Paul Wolfe on the top of his pit box, it seems like Logano has found a fire that he was missing for a minute. With the exception of the incident with Elliott at Bristol, Logano could've walked away with a win. If Logano can stay out of trouble and away from the troublemakers, I think that he's going to come away with the victory this weekend. He's looking for redemption after last weekend's unfortunate debacle. That tends to light a fire in these guys. Let's take a look at your potential winners heading into the race on Sunday:
Favorite: Joey Logano (+900)
Middle of the Road: Jimmie Johnson (+1600)
Dark Horse: Matt Kenseth (+6000)
Kenseth is also in the boat of never having a win here, but over his entire career, he's been very good. With a total of 17 top 10 finishes in 29 starts, Kenseth is consistent. In terms of a dark horse, I think that he's our best bet. Interestingly enough, both he and Tyler Reddick are evenly matched with +600 odds heading into the weekend. I think Kenseth's experience will trump Reddick when it comes to a potential win. Jimmie Johnson is another guy to watch this weekend. He's the active driver with the most wins at five coming into this race. Because it's a long race, if Johnson can come to the track with a halfway decent car, he will have time to make any necessary adjustments. He will be chasing the bumper of Joey Logano until the end, though! Logano is fast, and that's what the drivers need to be here. With his recent successes and consistently good cars, Logano is on the point for a win this weekend. Here's a look at the current standings as we head to Atlanta from Bristol:
Bet on who wins plus driver vs. driver matchups at
Bovada
! Credit cards work there for deposits and you get a 50% cash bonus up to $250 FREE!
NASCAR Standing
Kevin Harvick (+500)
Joey Logano (+900)
Chase Elliott (+600)
Brad Keselowski (+700)
Alex Bowman (+800)
Martin Truex Jr. (+1000)
Denny Hamlin (+1200)
Ryan Blaney (+1600)
Kyle Busch (+600)
Kurt Busch (+1800)
Aric Almirola (+6600)
Clint Bowyer (+2500)
Matt DiBenedetto (+4000)
Erik Jones (+2200)
Jimmie Johnson (+1600)
Austin Dillon (+6600)
Tyler Reddick's unfortunate wreck at Bristol knocked him out of the top 16, but I think that we will see him rally back this weekend. Jimmie Johnson is holding steady in 15th, but he should improve on that position after Atlanta as well. Overall, there hasn't been too much movement among the top 16, but I anticipate some larger jumps and bumps after Sunday. Stay tuned for an awesome afternoon of live NASCAR Cup Series action as these teams make their way around Atlanta Motor Speedway!