Geico 500: Nascar Picks & Odds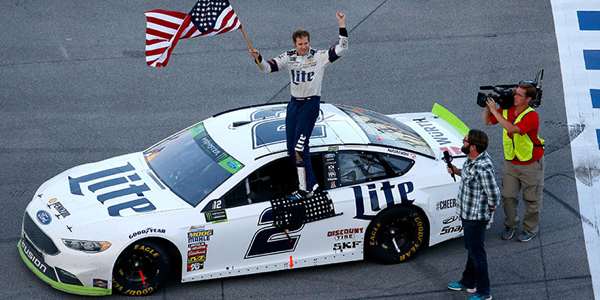 Race: Geico 500
Date: Sunday April 28, 2019
Track: Talladega Superspeedway
Time: 2pm EST
TV: FOX
By: Virginia Vroom, NASCAR Handicapper, Predictem.com
What We Learned From Last Weekend
The drivers enjoyed their Easter break and are now heading back to racing at Talladega this weekend. Martin Truex Jr. is our most recent winner. He managed to lead the most laps and end a very long winless streak to win under the lights.
This weekend, the drivers are heading to a very different track. We've spent a lot of time at the short tracks recently, potentially leaving us with a false sense of semi-good racing. With the lack of control from NASCAR, the drivers have been able to take a little more risk and show what it is that they really do on these shorter tracks. However, we are heading back into the territory of NASCAR taking over with their packages. With Talladega, though, we won't see much difference than what we're used to. Being a superspeedway, we have always seen a restrictor plate and tighter restrictions on the cars and drivers for safety precautions. There is a difference in the plate this year, though, that we have to recognize. The idea is that it creates more horsepower and gives drivers more options to move around the track and to get around traffic. Typically, Talladega is actually one of the better races of the year. It's very unpredictable, leading to a lot of implications in the points standings by the end of the race. We will likely see one or more pretty big wrecks, where top contenders are wiped out in the blink of an eye. Don't be surprised. That's totally normal.
We Are We Heading This Weekend?
This is a complete 180 degree turn around from the short track racing we've been watching for the last couple of weeks. Talladega is a nail-biter because you just never know when the field is going to run into each other and cause some sort of catastrophic wreck. You also never know if and when you'll see a car flying into the catch fence. It's a pretty crazy race no matter how you play your cards, thus the predictability kind of flies out of the window. This track is quite a site, sitting at 2.66-miles. Think about that. Richmond was 0.75 miles…Talladega is literally more than 3 times the size of Richmond. That's bananas. This asphalt tri-oval boasts 33 degree banking through turns one and two, 32.4 degrees in turn three, and 32.5 degrees in turn four. The tri-oval itself has a relatively mild 16 degrees of banking, with only 3 degrees of banking on the backstretch. With this size of a track, we are talking track position as being absolutely critical. The difference here is that track position is dependent on the drafting. We've seen the field change from tandem drafting to full on group drafting. It seems with the makeup of these cars that group drafting is favored once again, which, as a fan, makes the racing better in my opinion. That being said, drivers really have to be confident in their spotters because we're talking inches determining a catastrophe.
Potential Odds and Winners at Talladega
Our winners are going to be a tough prediction, but there are always a few solid veterans that just nail these superspeedways. One of those guys is Brad Keselowski. I'm going out on a limb this weekend. Brad has had his share of struggles and successes this year so far, but this kid knows how to get around Talladega. He's coming off a top 10 from Richmond, which isn't typically his best race anyway. With a win already under his belt this season, I think that we are going to see Keselowski really put a lot out there in terms of risks to get those stage wins and the checkered flag. Those extra points are a big deal now as we move along this season. Who can beat Keselowski? Well, there's a few potential guys. Let's take a look at your potential winners heading into Sunday's big race.
My Pick to Win: Brad Keselowski (8-1)
Middle of the Road Pick: Aric Almirola (14-1)
Dark Horse Prediction: Ricky Stenhouse Jr. (18-1)
With 5 consecutive top 10 finishes, how do you count Almirola out? This guy has something figured out at Talladega. He punched his ticket to the playoffs because of this track last year. Look for him to be a sleeper this weekend. He definitely cannot be forgotten. Stenhouse is actually another one to watch. He's managed to somehow come out with a win and 4 top 5 finishes in his last 5 races here. He's got a knack for drafting at Talladega and will likely look to makeup a bit of ground this weekend. Overall, Keselowski is just a strong driver here. He's won this race 3 times and has 5 total Talladega wins. There's something about this superspeedway that he just gets. It's different than Daytona, but it seems like this fits the bill for Keselowski and team. While he's had his fair shares of struggles at the superspeedways, look for Keselowski to jump onboard a consistency train this weekend and be in championship form.
Here are your current top 16 after last week's race:
1. Kyle Busch (10-1)
2. Joey Logano (8-1)
3. Denny Hamlin (10-1)
4. Kevin Harvick (10-1)
5. Brad Keselowski (8-1)
6. Martin Truex Jr. (18-1)
7. Kurt Busch (18-1)
8. Clint Bowyer (10-1)
9. Ryan Blaney (14-1)
10. Chase Elliott (14-1)
11. Aric Almirola (14-1)
12. Daniel Suarez (18-1)
13. Jimmie Johnson (18-1)
14. Austin Dillon (40-1)
15. Ryan Newman (40-1)
16. Paul Menard (18-1)
Paul Menard is holding on tight to that last spot. I will take a gander and say he falls off the wagon after not too long. I don't anticipate him staying for the playoffs. The other guys have a lot of work to do. Jimmie Johnson, in particular, is someone we've seen struggling over the last few seasons. This year seems to be no exception. Hopefully, he can find a little bit of speed somewhere along the way to find a little bit of the old Jimmie that we're used to. This weekend will belong to the Penske drivers in my opinion. Johnson and the others will be chasing Keselowski and Logano amongst others to victory lane. There's just something that this garage has figured out at Talladega, so don't be surprised to see them dominating the weekend. Hamlin and the Busch brothers will be contenders, but the horsepower belongs to Penske this weekend. Stay tuned for an exciting weekend of restrictor plate racing at Talladega!
50% Cash up to $250